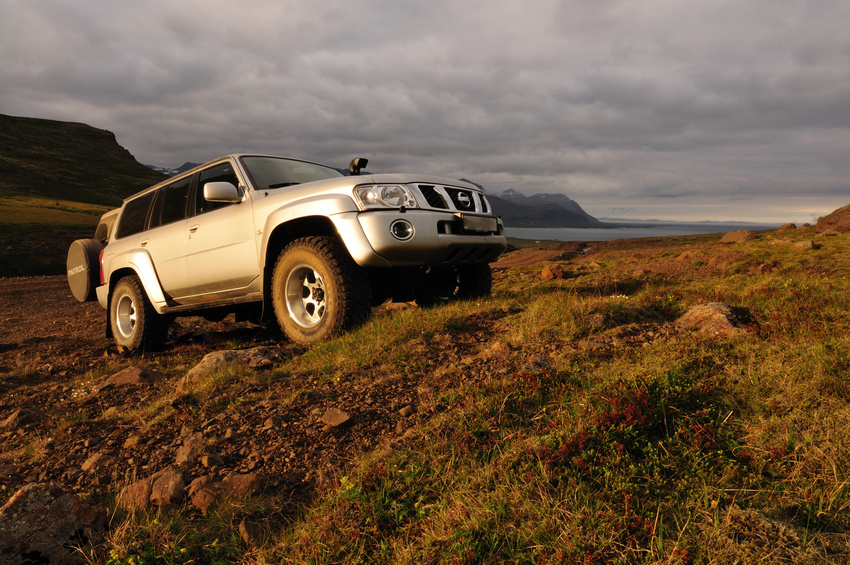 A jeep is a practical sports and utility vehicle, but in recent years its image has undergone something of an overhaul to broaden its lifestyle applications. Today's jeep functions as both a four-wheel drive, an urban cruiser, and everything in between. The jeep is founded on a basic concept of safety, strength and durability. Although it varies considerably between make and model, these fundamental principles have been the central focus since World War II. The early jeeps were not necessarily the most comfortable, but they were comparatively safe. What was true of the jeep then is true of it today, with the exception of extra strength, safety, comfort and broader usage.
Your jeep may not have every modern convenience you wish it did, but does it need to? Keeping your jeep basic may in itself retain a more authentic jeep identity. The features you can find on eBay should enhance rather than detract from the spirit of the jeep.
Feature Options
The various accessories you choose for your jeep depend on what you use the jeep for. The vast range of accessories available on eBay include those for external and interior styling. If you want to keep your jeep relatively close to the original jeep ethos, it is a good idea to concentrate on the kind of features that enhance safety, driving performance, cargo capacity, jeep body protection, and other such items, rather than on electronic gadgets and superfluous luxuries.
Exterior Features
Exterior non-standard features can add to the performance of your jeep, particularly when driving in rugged conditions. If you frequently take your jeep off-road, consider the following suggestions to enhance your experience.
Bonnet Protector
The bonnet protector can preserve the integrity of your jeep's front bodywork, which is most prone to stone damage. It also serves an additional purpose as it deflects stones, bugs and other debris away from your windscreen. This device does not require specialist installation, so you can do it yourself.
Roof Rack
The roof rack is an indispensable feature for a jeep, especially for holidaying and camping purposes. Depending on size, they can accommodate an enormous amount of luggage.
Tow Bars
Tow bars for your jeep may be a valuable addition if you intend to pull a trailer, caravan or something similar. There are many different types of tow bars, so you must choose a type that is compatible with your jeep.
Tow Bar Electrics Kit
If your tow bar does not come with a tow bar electrics kit,, you need to purchase one separately. The kit connects the power source in your jeep to the electrical wiring in your trailer or caravan.
Winch Recovery
The winch recovery is shown to be one of the most invaluable accessories you can have. It can save you and others with you from potentially dangerous situations, such as sliding down into a ditch. These can be sold as a winch only, with rope included, or as a kit that includes other peripherals including gloves.
Fender Flares
If fender flares did not come as a standard part of your jeep, you can purchase them separately. They are a highly practical asset to your jeep for all occasions, but especially so when you take it off road. They are very effective in protecting your vehicle, and perhaps those behind you, from loose stones on the road. Fender flares also make a smart addition to your jeep's styling. Again, you must ensure you purchase the type that is compatible with your make and model.
Bumpers
If you find the bumper that came with your jeep to be too lightweight or otherwise inadequate, you can modify your vehicle with a stronger or reinforced bumper. Bumpers can be replaced with relative ease, provided you know what you are doing. If not, solicit a professional.
Light Bar
The light bar may be an essential accessory if you intend to drive your jeep through rugged country at night. Depending on make and model, a light bar can be fitted onto the roof or bumper. Spotlights can then be attached, normally without any modifications being necessary.
Internal Features
As previously suggested, if you would like to maintain a rugged look for you jeep, exercise moderation with interior features. Some interior features to look for are those that enhance comfort, stability, and ride. A satellite navigation unit may possibly be necessary, but you probably do not need a bluetooth stereo.
Steering Wheel Cover
Your jeep may already have a perfectly serviceable steering wheel, but if you require extra wheel control, consider a steering wheel cover made for your specific jeep make and model. Steering wheel covers vary greatly, and a steering wheel with heavy duty grip is ideal for driving through rugged terrain.
Jeep Cargo Liner
A cargo liner is a must have for your jeep when you need to stow outdoor camping gear, particularly in wet and muddy conditions. The raised lip perimeter protects surrounding and underneath carpet from water, snow or mud. These are manufactured model specific so you must ensure that you order according to your particular jeep model.
Seat Covers
Seat covers can add flair and individuality but their main purpose is to protect the seats. Choose hard wearing seat covers and save the plush variety for your sedan. The covers should lend themselves to easy cleaning as you and others with you may get in and out of your jeep with wet or dirty clothes.
Rubber Mats
Rubber mats are essential in protecting the floor of your jeep if it is carpeted. They are preferable to fabric if you take your jeep off road regularly, and dirty boots present no problem to rubber mats as they can be shaken off or hosed down later.
Summary
In order to make the right feature choices for your jeep, you simply need to know what your intended driving purposes consist of. If you never go off-road, most of the above accessories are unnecessary, but if your favourite jeep driving activity is rugged, mountainous, and otherwise rough, you should purchase all of these and perhaps more. The below chart summaries the importance of the items previously mentioned.
| Item | Purpose | Importance |
| --- | --- | --- |
| Bonnet protector | To prevent stone chipping and protect windscreen | High |
| Roof rack | To securely stow cargo | Moderate |
| Tow bar | To tow a trailer, caravans or other | High |
| Tow bar electrics kit | To attach electric signals to trailer or caravan | High |
| Winch recovery | To retrieve a vehicle from an embankment or bog | High |
| Fender flares | To protect jeep from stones, branches or other debris | Moderate |
| Bumper | To protect occupants and jeep body from impact | High |
| Light bar | To attach floodlights to jeep | Low |
| Steering wheel cover | To increase grip and control | Moderate |
| Cargo liner | To protect floor of jeep | Moderate |
| Seat Covers | To protect seats, add flair | Low |
| Rubber mats | To protect carpeted floor | Moderate |
The above list is not exhaustive. There are many additional features or accessories that could be added to a jeep, depending on intended driving purpose. Importance values indicated on each listed item also depends on the type of driving application undertaken.
How to Buy Jeep Accessories on eBay
When you are ready to shop for various jeep gear on eBay,, enter a keyphrase such as "jeep cargo liner&", and search through all relevant listings. Check all item specifications, because the type of accessory you choose often depends on the make and model of your jeep. Compare this listing with any other listed item that corresponds with the same specifications, as you may find another one listed cheaper. Ensure you thoroughly read the terms of sale and returns policy, as these vary between sellers. Also consider the type of postage and handling being offered and choose the most appropriate type for you.
It is a good idea to check the eBay reputation of your designated seller so that you feel confident in making a purchase from them. You can do this by reading their customer feedback and taking note of the feedback score. Ideally, the seller has a positive feedback score of at least 97 per cent.
Conclusion
There is a fundamental question you need to ask yourself before you order any equipment for your jeep. You need to have a clear head about what you need it for. Naturally, this clear-headedness applies even more so when you make the move to buy a jeep in the first place. You would naturally only buy one that fulfills the vision you have for your intended purpose. When this vision becomes fully developed, you are then in a better position to purchase the right features that can enable you to get the most out of your jeep driving adventures.
eBay provides the ideal online market platform from which to order all types of needed jeep gear, whether for on or off road purposes, camping or towing. Rather than roam the streets only to be confronted with more limited choices, you can acquire all that you need in one online location, and save both valuable time and hard earned cash in the process.