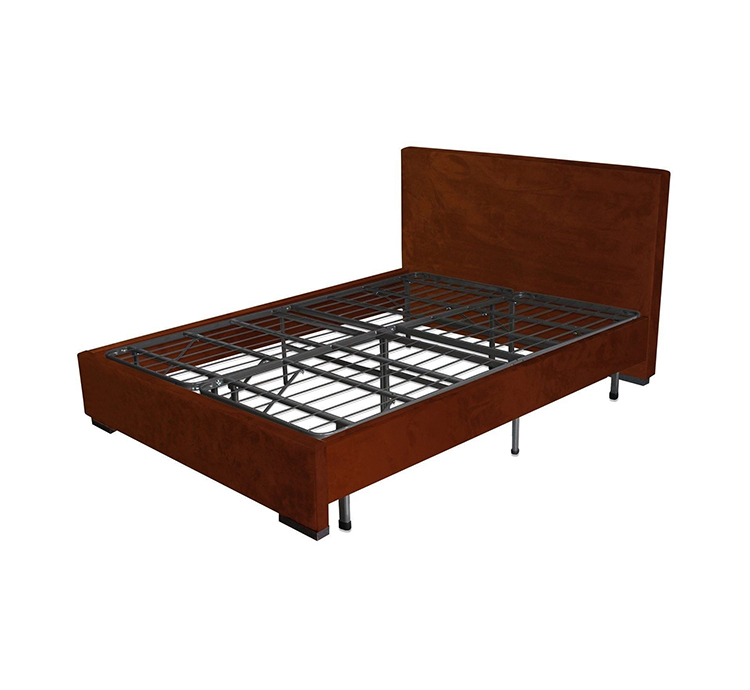 Choosing the right bed frame is important, and there are many different elements to consider when choosing a frame. There are many different types of frame available, each offering different features and benefits which may be more suitable to different people. A variety of different materials are also commonly used in making bed frames, such as wood or metal, and these can have differing characteristics, such as durability and appearance.
A bed frame is also a key part of the bedroom, and it can be important to match its style and features to fit with the other furniture present in the room, as well as the space available. From traditional, simple wooden frames to those boasting a range of features such as additional storage, a wide variety of bed frames can be found on eBay.
Match a Frame to the Bedroom
When purchasing a frame for a king sized bed it is important to bear in mind the room it is going to be placed in.
* Many people prefer their frame to match the other items of furniture they have in their bedroom, and this can be achieved by matching colours as well as materials. If much of the furniture in a bedroom is made of wood, for example, it can be desirable to buy a bed frame, which is made of the same type of wood.
* It is also important to ensure that there is enough room in the bedroom for the frame. Ensure that the bed can be easily walked around, with enough distance between the bed and any other furniture. In addition, if a frame featuring storage drawers is being purchased, ensure there will be adequate space for these to open and close.
* Another element to consider is if a bed than can be moved easily is needed. If so, a bed frame featuring wheels, or a lighter frame made of less heavy materials, may be preferable.
Choose a Bed Frame Type
There is a wide choice of different types of bed frame, with different characteristics that can be suitable for different needs and situations.
Divan

The divan bed frame is a simple and widely popular type of frame. Divan frames serve as a flat base for the bed, upon which a mattress and headboard can be placed. There are two main types of divan frame widely available. The pocket sprung divan frames feature springs in the base, which offers extra comfort and a softer feel. Less expensive divans have a hard top without these springs, and a softer mattress may be advisable.

Divan frames are the most affordable type of frame, and can easily be found for king size beds. However, there can be little if any storage space available, and some prefer less simple designs.

Sleigh Bed

The key, distinctive feature of the sleigh bed is the curved design of the headboard and footboard. Many find this style appealing, and sleigh beds are available in a variety of different materials including wood and faux-leather.

If space is limited, the curves of the sleigh bed should be taken into consideration. If they curve outward, the bed will not sit flush with the wall and will take up slightly more space than a flatter alternative.

Storage Bed

Storage beds are available in a variety of different styles and many different materials. The main feature of a storage bed is the storage that it offers, often in the form of built-in drawers. These can be highly convenient, and very useful in keeping a bedroom tidy.

A storage bed may be a good choice if space is limited and extra storage is needed, though it is important to leave space around the bed for accessing the drawers.

Ottoman

An ottoman bed is a type of bed frame that enables the mattress to be lifted up, providing access to storage space beneath the mattress and top of the frame.

Ottoman beds are available in a variety of materials, and are a popular alternative to storage beds featuring drawers. Gas lift ottomans are also available, which make lifting up the mattress easier. Ottomans are, however, often very heavy, meaning that it may not be the best option if the bed is likely to be frequently moved.

Bedstead

The bedstead is the classic bed frame, and this style has long served as one of the most popular and widespread types of bed frame. The base of this type of frame is made up of slats, rather than the solid base of the divan, and is most often available made out of wood or metal. Bedsteads also offer a wider range of styles than many other types of bed frame. The wooden slats of a bed frame can weaken over time and may eventually break and have to be replaced.

The TV bed frame is a more recent type of frame, becoming available with the development of flat screen televisions. These frames feature a television at the foot of the bed, and often include a fold away mechanism that neatly stores away the television when not in use. This frame can be a good choice for those who lack space and enjoy watching TV in bed. The price of the television should also be considered when purchasing a TV bed frame.
Choose a Bed Frame Material
The material that a frame is made out of is another factor to consider when choosing a frame. The material can impact not just the look of the frame, but also the feel of the bed.
| | |
| --- | --- |
| Solid Wood | Solid wood is one of the oldest types of material used for bed frames. The particular appearance of a solid wood frame may depend heavily upon the type of wood used, such as pine or oak. Different woods can have different grains and colours, while different wood treatments, such as staining, can also produce a different effect. Solid wood can vary greatly in price, and a wide range of styles is available. |
| Wood Veneer | Bed frames made of wood veneer are often less expensive than those made of solid wood, though can appear similar. They are made with a thin veneer of wood laid over a core panel, and designs not possible with solid wood can be made through this process. While cheaper, veneer does not often last as long as wood, and over time can begin to peel and delaminate. |
| Metal | Metal bed frames are another type of frame that has been used for a long time. Many different types of metal frame are available, including aluminium and chrome. Metal bed frames are often among the more affordable types of frame, and are also among the most durable and long lasting. |
| Leather | Bed frames made of leather are a popular choice, and many people find the appearance and texture to be highly desirable, and are also very long lasting. Leather frames are also among the most expensive available, and real leather can be difficult to properly clean. |
| Faux Leather | Faux leather bed frames offer a similar appearance to leather, but at a reduced price. Faux leather is easier to clean and maintain than real leather, and is available in number of different colours. |
How to Buy a Frame for a King Sized Bed on eBay
A wide selection of bed frames, in different designs, materials and styles, can be found on eBay. The full listing of available bed frames can be found in the Furniture section, in the Home & Garden category. Frames can be found under Bed Frames and Divan Bases, which is under Beds & Mattresses. Items can be arranged by categories including material, type, price and condition. The buying options Auction and Buy it Now are also available, offering flexibility in how a bed frame can be bought.
The key characteristics of a frame, such as the material, colour and style, will often be prominently displayed in the item listing, making it easy to quickly establish if an item meets any requirements. Further information can be accessed on the item page, along with information about the seller such as item reviews and feedback ratings. This helps to ensure that a purchase can be made with confidence. It is also possible on this page to ask the seller a question about the item.
If looking for a specific bed frame, it may be easier and more effective to make use of the search function available at the top of every page. Searches can be made to return results from within a category, or from across the whole site. Further information on getting the most out of the search function can be found on the Search Tips page.
Conclusion
The bed frame is an important part of the bed, and can have a great impact on both how the bed feels, and how well it fits into the surrounding room. A wide range of different frames for king sized beds, featuring a variety of materials and designs.
There is a wide selection of bed frames and accessories such as headboards and footboards, on eBay, and through PayPal, a buyer can purchase an item in a safe and secure fashion.