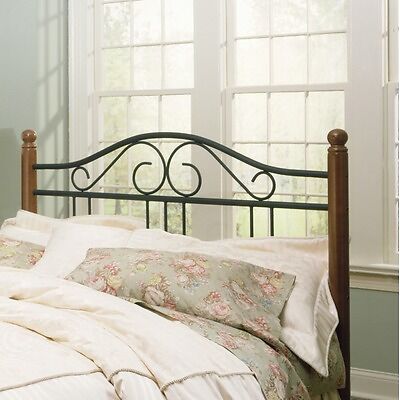 There are plenty of different colours and materials that can be used in the manufacturing of headboards for king size beds, and choosing the right one will tie a room together while also adding comfort. The right sized headboard will fit securely into the bed and should add to the visual element of the furniture. The sheer number of headboard options available may confuse buyers, and at times it can seem hard to locate an appropriate model.
It's a good idea to shop for king size bed headboards on eBay as the site has a large selection to choose from, and many of the models can be bought at less expensive prices than those found in furniture stores or on bed websites. This guide will examine the various headboards for sale, and help buyers to navigate eBay to find a suitable headboard for them.
King Size Bed Dimensions
It's important to know the dimensions of a bed when shopping for accessories. King size bed dimensions are not universal and instead relate to where the mattress was manufactured. The following are the standard king size bed dimensions, reflective of the region that the bed has been made in.
North America

King size beds bought in North America are slightly larger than those bought in other regions. The dimensions for king size beds are

76 Inches x 80 Inches

Australia

King size beds bought in Australia are slightly smaller than those in North America. The dimensions are

72 Inches x 80 Inches

United Kingdom &

Ireland

Kings size bed bought in the UK and Ireland are slightly smaller again, measuring in at

72 Inches x 78 Inches

Continental Europe &

Latin America

King size beds bought in Europe or South America are unique, and measure at

71 Inches x 79 Inches

Japan

Japan have the most square dimensions for king size beds, measuring at

76 Inches x 77 Inches
Although this is the standard for the majority of king size beds in the various regions, it is advised that buyers double check the measurements of theirs to ensure that their selected headboard will fit along the top of the bed. Some bed and mattress companies use their own unique manufacturing measurements.
Types of King Size Headboard
There are many different materials used in making headboards, and colours and heights can vary. Below are some of the most popular headboards available today.
| | |
| --- | --- |
| Wood | Wooden headboards are extremely popular and can be found in houses all around the world. These are considered to be a very traditional style of headboard, and the benefit of using wood is that it is compatible with almost any type of room décor and bed. The wood used for bed headboards is sturdy and hardwearing, and they will last for a very long time. Headboards can be made from a number of different types of wood, including Oak, Mahogany, and Pine. The material of the bed frame should be taken into consideration if thinking about purchasing a wooden headboard, as a dark wood headboard will look strange with a light wood bed frame. However, another benefit of using wood is that can easily be sanded down and treated to suit the bed. |
| Upholstered | Another popular choice for king size beds, upholstered headboards work especially well in homely rooms that have carpet. These headboards will add to the cosiness of a room, and can be made from a large range of fabrics. This also allows the buyer to choose from a seemingly unlimited amount of different colours. The most common types of upholstered headboards used in bedrooms today are freestanding, wooden, fixed and straight. Padded headboards are also quite popular and will protect the head if it accidently bumps into the frame. Because of the variety in fabrics and colours, upholstered headboards work with almost every type of bed and room combination. These headboards come in plenty of different shapes and sizes, so buyers will find themselves spoilt for choice. |
| Leather | Leather and faux leather headboards add a level of sophistication to a bedroom, and this material is very durable and resistant to wear. It's important to note that real leather was once an animal hide, and because of this there may be scratches or marks sustained when the animal was still alive. This does not lessen the quality or value of the leather, and instead is seen as a standard occurrence. Leather headboards can be quite expensive, but buyers will be paying for quality. Faux leather is considerably less costly but does not have the same smooth touch as real leather. Regardless of choice, real and faux leather headboards are available in a wide choice of colours and finishes. These work best with dark wooden or metal bed frames, and look nice in minimalistic bedrooms. |
| Metal | Metal headboards became very popular during the early years of the twentieth century and have remained so ever since. Metal headboard frames come in a large variety of shapes and designs, and these include romantic, contemporary and classic. Metal headboards can be made from a number of different materials, and the type of metal used influences what type of bedroom it should be kept in. Brass frames have a classic feel, chrome is suitable for contemporary bedrooms, and nickel is often used to make the elaborate frames associated with romanticism. Silver plated frames are quite common, and also frames that have been powder coated. However a metal frame will look out of place in a room with wooden floors and a wooden bed frame. |
| Suede | Suede is very soft to touch and using it on a headboard can add a luxurious element. However, this material is quite expensive so buyers may find that using faux suede is a better option. Both suede and faux suede are available in a number of different colours and designs, and using this material will add warmth and vibrancy to a room. |
Attaching the Headboard
The majority of headboards come with small metal plates that can be attached to the bed frame by using screws and a power drill. Buyers may be required to mark the entry points of the screws onto the frame. Be careful not to enter the screw in at an angle as this can damage the frame. Also make sure that the straps are not too tight, as this can cause them to snap if excess weight is placed on the bed.
Buying King Size Headboards on eBay
eBay has a large selection of new and used headboards manufactured from the various materials mentioned in the table above. Spend some time thinking about the décor of the room that the bed will be kept in, and have a look at the frame of the actual bed. It may be wise to try and obtain a small sample of the material of the different headboards to see which one will suit. With an idea of what headboard will work best, head to eBay.co.uk to begin a search.
On the eBay homepage, click on the Shop By Category tab that's located to the left of the search bar. This will open a drop down menu, and from here click on the See All Categories link at the bottom.
Buyers should then scroll down to the Home, Furniture & DIY heading and click on the Furniture link.
Following this, click on the Beds & Mattresses title found on the left hand side of the page underneath the Categories heading.
Searching Tips
Buyers should click on the 5FT Kingsize filter as this removes other sized headboards.
Use the material filter to refine the search. Materials listed on eBay include Wood, Fabric (Upholstery), and Leather. To access more materials simply click on the see all button.
If searching for a specific brand or model make sure to enter this information into the search bar.
Buyers can choose to list New or Used headboards. Used headboards will often be less expensive, but buyers should read the description box on the item page to see if the headboard has sustained any damage.
Buyers are also advised to read the Seller's History box, also located on the item page. This is a quick way to see how other eBay users have rated a seller, and from this buyers can tell if the items delivered will be as described.
The Customer Support page will help buyers experiencing difficulty while using the site, and the Resolution Centre will help with any discrepancies between buyer and seller.
Conclusion
King size headboards come in a variety of styles and can be manufactured from a number of materials including wood and metal. It's important that buyers spend some time thinking about the material of the bed frame and the style of the room, as this should influence what headboard they buy. Buyers should also measure the width of their bed, just to be sure that the headboard frame will fit.
eBay is a great place to search for new and used king size headboards, and buyers can expect to find these items at prices lower than those in stores or on other sites. With a little diligence and some time spent browsing, buyers will be able to find a headboard suitable for their bed.