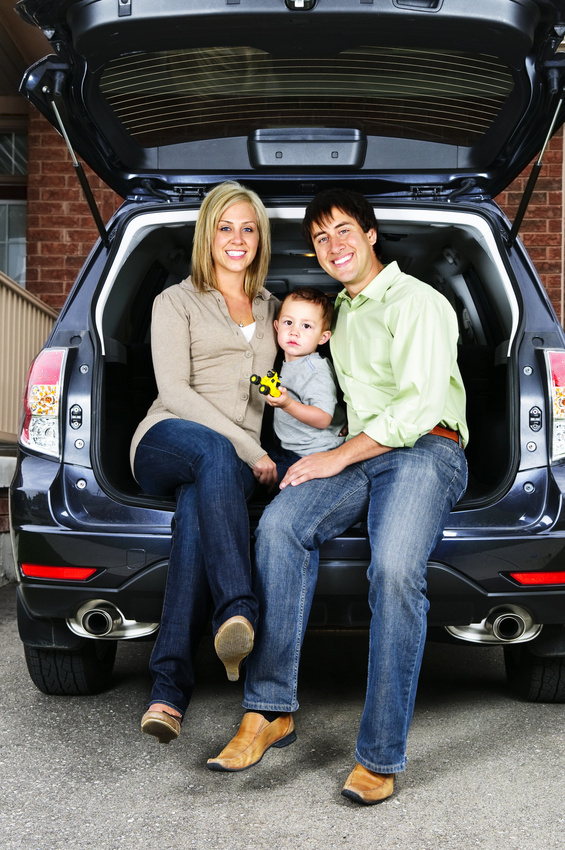 Lexus, the luxury line of vehicles produced by Toyota, has become synonymous with style, comfort, and reliability. When shopping for a Lexus, buyers can expect a quality build, posh interior, and extensive range of standard options. Those looking for a family vehicle have a specific set of needs, including safety, economy, dependability, and interior layout. There are great new and used Lexus models that meet these requirements.
Finding the right Lexus for family use involves several steps. To focus the buying process, consumers should decide on a budget in advance, as well as consider what features their particular family needs. Researching safety ratings, fuel economy, and reliability through independent expert reviews helps buyers find a model they can trust. Dependability, practicality, and a spacious interior make the Lexus CT hatchback and RX four-by-four excellent options. Whether purchasing a new or used vehicle, from a dealer or private seller, informed consumers are likely to find the Lexus that is right for their family.
Set a Budget
Deciding in advance how much they are able to spend can help consumers focus during the shopping process. As luxury vehicles, Lexuses are pricier than many other cars on the market. Fortunately, because the set of standard equipment is usually extensive, buyers may find they do not need to spend more on additional options. Lexus reliability means that used models are a viable choice for those on a more limited budget.
Another consideration is that, while a Lexus may cost more to purchase, they often cost less to own than other vehicles. Better fuel economy and lower emissions help reduce running costs and taxes. Plus, thanks to their quality, servicing is generally kept to a minimum. This is something buyers should research in connection with the particular model or models they are considering.
Decide on Priorities
There are several things for buyers to consider when looking for a family car. Usual factors like performance and handling may be eclipsed by needs like space, convenience, and, of course, safety. Setting priorities ahead of time also helps buyers decide which Lexus is right for their family.
Safety
Vehicle safety is of utmost importance, for one's own family, and others on the road. The European New Car Assessment Program, or Euro NCAP, was established in 1997 to test how well vehicles protect occupants in the event of a collision. In 2009, the assessment was expanded to include more analysis about child passenger safety, pedestrian safety, and collision prevention. Since 2009, a car's Euro NCAP score has been expressed as a single rating from one to five stars; cars rated under the earlier system have individual ratings for adults, children, and pedestrians. Looking at the NCAP rating for a Lexus model is an important step in assessing its safety.
Consumers should also stay informed about vehicle recalls. While the onus is on the manufacturer to contact owners of affected vehicles, when considering a used car for purchase, it is vital that the buyer check whether there have been recalls pertaining to the model. They can look on the Lexus website for information, and also obtain a complete list of recalls through the Vehicle and Operator Services Agency. Repair costs are covered by the manufacturer in the case of a recall.
Fuel Economy and Running Costs
For environmental and economic reasons, it makes sense to have a car that does not guzzle fuel. Buyers can compare fuel consumption in different models by looking at the average miles-per-gallon specification, keeping in mind that stop-and-go city traffic tends to use more fuel than motorway driving. Hybrid models like the CT 200h and the RX 450h combine a fuel engine and electric motor for a particularly environmentally-friendly vehicle.
Other costs associated with car ownership should also be taken into consideration. There is a road tax that is determined by a car's level of carbon dioxide emissions, as well as insurance and repair costs. Newer Lexus hybrid models have very low emissions. Lexuses tend to be quite reliable and require little maintenance, although buying original manufacturer replacement parts can be costly.
Reliability
Having a dependable vehicle can make a big difference when it comes to family use. Unexpected maintenance complicates the daily necessities of shopping, commuting to work, and transporting children to and from school and activities. On longer weekend and holiday outings, it is important to feel confident that the vehicle is up to the journey.
Interior Layout
Buyers should think about who and what they need to fit in their car: passengers, pets, child seats, prams, pushchairs, sports equipment, and more. Hatchbacks like the Lexus CT200h make more sense for family use than saloons, since there tends to be more boot space. Rear seats that fold down completely give more flexibility for configuring the interior space. Isofix child seats make installing child seats faster, easier, and safer. Those who need to mount three child seats probably need a four-by-four like the Lexus RX..
Adequate storage space within the car also proves helpful when stowing toys, snacks, and more, and can help reduce clutter in a family vehicle.
Additional Family-Friendly Features to Look For
Depending on an individual family's needs, there may be other features that offer additional comfort and convenience, as the following chart outlines.
| Feature | Description |
| --- | --- |
| Roof Rails | For mounting sports equipment and larger items on roof of vehicle; helpful for families who like winter sports |
| Integrated Sunblinds or UV-Protective Tint on Rear Windows | Provide protection from the sun's harmful ultraviolet rays, which can penetrate glass |
| Dark Interior | Stains and dirt less obvious in darker upholstery; leather interiors, available in many Lexus models, make it easy to clean up spills |
| Stadium Seating | Rear seats placed slightly higher than front seats; makes it easier to fit children into car seats; also gives children a better view to the front, which is reported to reduce motion sickness |
| Sliding Rear Seats | Can slide forward for more boot space and to bring children in back closer to front seats; slide back for more legroom for adult passengers |
| Switch-Off Front Passenger Airbag | Although it is not recommended to put children in front passenger seat, if it is necessary to use a rear-facing child seat, this allows driver to switch off the airbag for that side themselves |
Some of these features, such as sliding rear seats, are included in certain Lexus models, while others may be optional. Buyers should verify what equipment comes with the model they are considering.
Family-Friendly Lexus Models
Families with small children are usually best suited by a hatchback or a four-by-four. Therefore, the CT hatchback or RX four-by-four are good options. All CTs are hybrid, so buyers can benefit from low emissions, high fuel economy, and lower taxes. The extensive range of standard equipment makes the entry-level model an attractive and comfortable choice. In addition, it gets outstanding reviews for reliability and quality, and very good safety ratings. Consumers interested in an RX can choose between hybrid and petrol engines. The RX has received excellent safety ratings, as well as kudos for its quality, practicality, comfort, and quality.
Considering a Used Lexus
Lexus quality and durability mean that consumers can find used models in excellent condition for a fraction of the original price. Buyers should carefully inspect the vehicle and obtain its vehicle history report for a full record of title transfers, any collisions. This is also a way to make sure that it has not been stolen or written off, and that there are no outstanding payments on the car. Experts recommend having a mechanical check performed on the car, as well. Buyers can look up the valuation for the exact model they are interested in through a pricing guide like Parkers, What Car, or Glass' Guide, and should beware of cars that are selling for far below the listed value.
Where to Buy a Lexus for Family Use
Those interested in buying a Lexus have a number of options. For a new car, they need to buy through an authorised Lexus dealer. Franchised dealers also offer used vehicles; while the cost may be higher, there tends to be a high level of customer support. Independent dealers can usually offer lower prices, but with less continuing customer care. Personalised car-finding services can save buyers some hassle and assist them in finding the car that they want. Private sellers generally sell "as-is", which can amount to significant savings, as long as the vehicle's record is clean and the buyer has it inspected prior to purchase. Online sites like eBay allow buyers to choose from listings by private sellers and dealerships.
How to Buy a Lexus on eBay
If you have decided to shop online for a Lexus, take advantage of eBay's user-friendly interface and broad selection of new and used cars. Begin on the eBay home page and type keywords into the search bar; for example, you can enter "used Lexus RX450h&" or "2012 Lexus CT&". Once you have your search results, you select refining factors, such as price range, fuel type, and transmission. You can also sort the listings by price, seller location, and more.
When you find a car you are interested in, be sure to read the listing carefully. Note the car's condition and specifications, and look closely at the photos. You can obtain and purchase a vehicle history report through eBay, and contact the seller if you have any questions. Make sure you understand the payment and pick-up requirements. Lastly, research the seller by looking at their feedback score and comments left by past buyers who purchased vehicles from them. This helps you assess how reliable they are. Avoid buying from a seller who does not answer your inquiries.
Conclusion
With their outstanding reputation for quality, reliability, and extensive set of standard equipment, Lexuses have been a popular choice among luxury vehicles. The emergence of hybrid models adds yet another incentive to buy a Lexus, promising lower running costs, lower taxes, and a more environmentally-friendly car. Families interested in buying a Lexus have a specific set of needs and priorities. Lexus vehicles consistently receive high safety ratings, although buyers should be aware of any recalls on the models they are considering. In terms of space, hatchbacks and four-by-fours are practical for families, particularly those with small children. Additional features like UV-tinted windows, sliding rear seats, and storage compartments are helpful to have in a family car.
The Lexus CT hatchback and RX four-by-four are excellent choices for family use, combining comfort, practicality, and reliability with Lexus quality. Buying a used Lexus can be a way to save money and still get a car that is in excellent condition. No matter where buyers decide to purchase their Lexus, being informed in advance helps make the selection process smooth and successful.