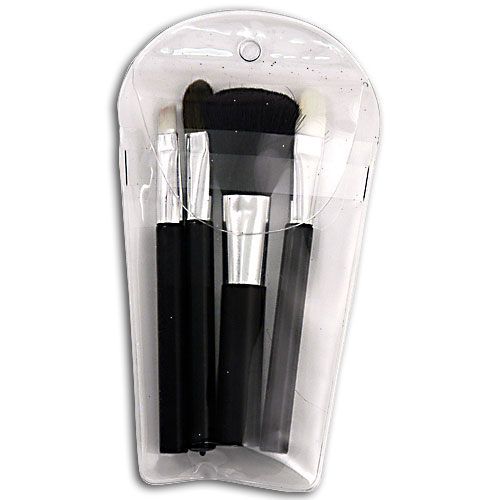 The cosmetics industry is a huge business and millions of people begin their day by using a wide range of different make-up products. The majority of these products will be applied with their own individual make-up brush, and everyone who regularly wears make-up needs more than one single make-up brush as different brushes are needed for different jobs.
Understanding which brushes are needed for which product and application can be complicated, but is discussed in depth below. Large brush kits can be bought for cost-effective prices on eBay for beginners, while individuals who want to build up a collection of specific brushes for certain tasks can also source what they're looking for in most instances.
The range of brushes on the market is vast and this gives buyers a huge amount of choice, which is best represented online. eBay offers thousands of potential make-up brush and applicator products, making it easy for customers to find exactly what they are looking for in one location, rather than scouring the high street.
Types of Make-Up Brush
There is a huge range of individually designed make-up brushes on the market. Some are designed for generic usage whilst others are specifically developed for use on a particular area of the face. Here are some of the most common types of brush users may come across on a regular basis:
Foundation Brush – created to achieve a smooth and flawless finish when applying foundation. The bristles should be packed tightly.
Concealer Brush – a small soft-bristled flat brush with a wide base and pointed tip. Used for the application of concealer under the eyes, on blemishes and to cover up problem areas.
Duo Fibre Brush – combining synthetic and natural fibres these brushes are designed for buffing and blending colour.
Powder Brush – used for the application of powders including bronzer. Thickly packed bristles allow for the right amount of colour to be applied.
Blusher Brush – made with fine and gentle fibres and a round head it is ideal for adding the splash of colour desired when applying blusher.
Eye Shadow Brush – with short, plentiful bristles these are designed for optimal coverage in as few strokes as possible.
Eye Liner Brush – extra fine tipped brushes for the application of liquid eye liner products.
Lip Brush – a narrow brush with a sculpted tip for the application of lipsticks and glosses. This type of brush is also ideal for lip-lining when a pencil isn't used.
This list is not exhaustive but covers many of the main types of make-up brush that buyers will need to choose from. It's not necessarily the case that all buyers will need all of the brushes listed, but the range allows for a degree of choice.
Buying the Right Make-Up Brush
Choosing a make-up brush is dependent upon the task in hand, but there are a few questions buyers can ask themselves before making a purchase and choosing the brush for their specific needs. Below is a closer look at some of these key questions and possible answers.
| Question | Answer |
| --- | --- |
| What brush material should be chosen? | The formula of the make-up will be relevant to answer this question. All brushes are made up of either synthetic or natural fibres. Natural brushes are ideal for dry or powder products. Synthetic brushes are ideal for cream or liquids including foundation and concealer. |
| What brush size and firmness is needed? | Size is relevant in the choice of a make-up brush. Buyers should test out how it feels to be held and how it fits the area in which it will be used. Quality brushes should provide some flexibility to manage the contours of the face. |
| Do brushes need to be branded? | This is a choice that the individual consumer can make. Some buyers prefer branded products whilst others are happy with budget-friendly alternatives. |
| Should make-up brush sets be bought? | This again is a personal decision. Some buyers prefer to get all their brushes in one set whilst others prefer to handpick individual products to make-up their complete set. |
| Do make-up brushes need cleaning? | Make-up brushes must be cleaned at least once a fortnight to keep them in the best condition and prevent damage, incorrect application and even health problems. |
These answers go a long way to ensuring buyers are aware of the integral elements involved in buying make-up brushes. Asking these questions before a purchase should ensure the right products are bought and products which meet all individual requirements are easily sourced on eBay.
Caring for Make-Up Brushes
It is essential that make-up brushes are regularly cleaned. Without proper care they can become a health hazard and have a negative effect on your make-up application process.
Make-up brushes can harbour bacteria and viruses when product mixes with oils from the skin and is then left in the brushes. These germs will then be reapplied to the skin the next time the brush is used and can cause break outs, skin infections and other health issues. Cleaning the brushes with a brush cleaner or simply water can make a huge difference.
Unclean make-up brushes are also less effective in applying the chosen product. For an even, smooth coverage brushes need to be in pristine condition and without cleaning they soon become clogged and splayed. Keeping make-up brushes clean means they last longer and can be used regularly without worrying about lack of effectiveness.
Budget-Friendly Make-Up Brush Choices
It is possible to see make-up brush kits as the only budget-friendly option and whilst they are a really good option there are other alternatives too which could be considered cost-effective.
The nature of eBay means that bidding on items often results in a cost-effective deal and many of the listings start with low prices to attract more buyers to the lot. Some of the most sought after items can be found at cost-effective prices and this is even the case for items which may have been discontinued by their manufacturer.
Make-up brush kits can be bought in a wide range of sizes, which means buyers who are interested in a full kit can choose between a variety of options. Some kits may only include four key brushes, whilst others may have up to 32 or more. The brushes that are required will depend highly on what types of make-up product are used and buyers may realise that a kit in fact is the best option for their needs.
Budget-friendly make-up brushes are readily available on eBay and there are products to suit every size of budget including those specialist items that may be required by professionals and salon trainees.
Conclusion
As the cosmetic industry continues to grow and develop so does the range of make-up producton the market. Whilst new products are developed so is the need for new brushes and applicators. Using the right applicator for the make-up product can make all the difference when it comes to the effectiveness and appearance of the product on the skin.
The sheer breadth of different types of make-up brush make deciding which ones are necessary and which are simply luxury difficult, but the information included in this guide is designed to ensure buyers can make informed choices about the types of brush they specifically need. In some scenarios it really is sensible to simply purchase a make-up brush set with all the different types of brush included.
Using eBay to search for and ultimately purchase make-up brushes is a sensible option as the range offered is unbeatable. Similarly products are always sold at competitive prices to suit the needs of a wide marketplace. Using eBay is a great choice for buyers who have a specific product in mind as well as those who are generally browsing and all types of buyer should have no problem locating the product they need.