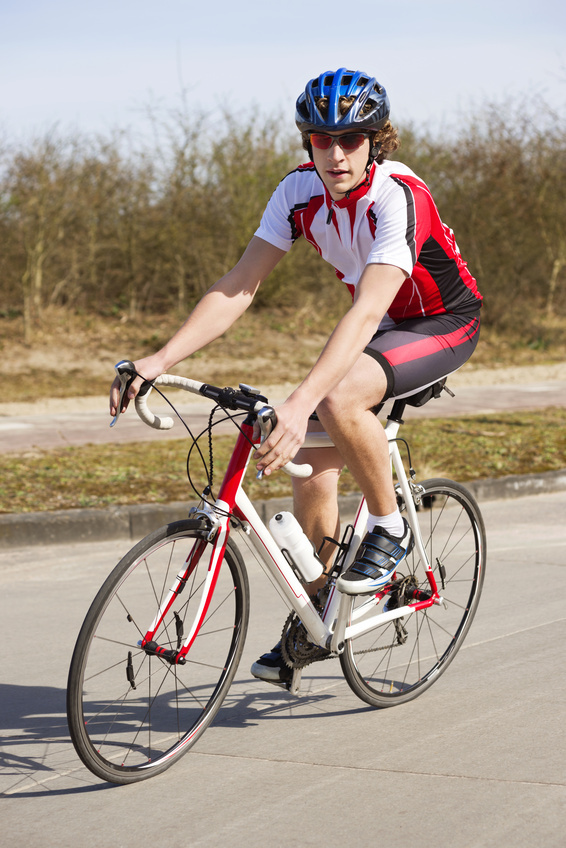 There are many advantages to wearing a cycling jersey and doing so can help improve performance and speed. Cycling jerseys can be made from a number of synthetic and natural materials, and it can be difficult to determine which material is most suitable. Most of the materials share the same characteristics, so choosing one over the other may be a result of price or comfort.
There are plenty of places online to buy cycling jerseys, and most cities have a number of bike shops that can be visited. However, it is advised that buyers search for cycling jerseys on eBay, as the site has a greater selection at much lower prices. The following guide shall examine some of the most popular materials used in cycling jersey manufacturing today.
Cycling Jersey Materials
Cycling jerseys are tight fitting garments that keep the cyclist's temperature regulated while providing protection from the elements. Jerseys are worn without other garments and can improve speed and increase stamina. Cycling jerseys are made from synthetic and natural materials, and both have their own advantages and disadvantages.
Synthetic Materials
Cycling jerseys made from synthetic materials are very common, as these materials are easy and inexpensive to work with. Synthetic jerseys can range in price depending on the brand, but it is possible to buy new and used jerseys at very reasonable prices. The following two are the most popular synthetic materials found in cycling jerseys.
Polyester

Polyester is made from polyester fibres, and these are created synthetically from a number of materials including petroleum. A lot of jerseys sold today are made out of polyester, and this material is a popular choice with cyclists for a number of reasons. Polyester is excellent at absorbing moisture and it quickly soaks up perspiration, keeping skin dry. This material is extremely durable and long lasting. Polyester is colourfast and maintains shape regardless of it being washed or dry-cleaned.

Mould and mildew cannot survive on it, which adds to its longevity. This is an ideal material to wear when cycling on sunny days as it is UV resistant and quite porous, and this helps to keep the rider cool. Some people avoid polyester, as they believe it to have a plastic, artificial feel against the skin. Washing the jersey with fabric softener can surmount this. Polyester is a recyclable material and because of this cycling jerseys manufactured from it can often be bought for quite low prices.

Nylon

Nylon is also a synthetic material that was originally invented after the Second World War as a substitute for silk. Nylon is one of the strongest man made fabrics used in clothing manufacturing today, and this material is used in the creation of ripstop fabrics. Nylon has high elongation and it requires a lot of stress to physically affect it. This material can be made to be lustrous, semi-lustrous or dull and this advantageous to jersey manufacturers, as it allows them to create unique looking clothing.

The material is also quite easy to dye, making it an attractive material to work with from a manufacturers point of view. As with polyester, nylon is resistant to mildew and rot, but if it's left in a damp environment mould can start to develop. Nylon is extremely lightweight, while remaining wind and waterproof. Nylon cycling jerseys are suitable to use in all weather conditions, and the material is excellent at retaining heat and keeping the cyclist warm. Nylon is another good material for absorbing moisture and keeping the cyclist free from perspiration.

A problem with using nylon, as a material for cycling jerseys, is that it will absorb odours and it can take multiple washes to remove these. Cyclist need to take care when washing this fabric as it is prone to shrinking. Nylon cycling jerseys can be bought for inexpensive prices, but this material has an environmental impact and is not biodegradable. Some people complain about the synthetic feel of nylon, but buying jerseys with a wool blend will help deal with this problem.
Natural Materials
Cycling jerseys were originally all made from wool, but this is not an ideal material to use, as it is heavy and not very good at absorbing moisture. The invention of the above synthetics saw a decrease in the interest of using naturally occurring fibres, but recent innovations have changed all that. Below are three natural materials that should be considered when searching for a cycling jersey.
Merino Wool

Cycling jerseys made from merino wool are very popular and some claim that this is the best material to use in manufacturing. Merino wool fibres are covered with overlapping scales, and this improves water resistance greatly. In fact, merino wool is the most water resistant material used in cycling jerseys, and can absorb and release ten times more moisture than synthetic materials, such as nylon and polyester.

This material succeeds at keeping cyclists warm, and uses millions of tiny air pockets to trap body heat. In a warm environment the merino wool keeps the cyclist cool through use of evaporation and heat absorption. This regulates the cyclist's temperature and will warm them up if the jersey is damp and cold. Merino wool is also UV resistant, making it very suitable for use on hot and sunny days. This type of wool does not absorb odours and is hard to stain, requiring it to be washed less often.

Merino wool is a lot softer than the synthetic materials used in cycling jersey manufacturing and is perfect for those with sensitive skin. Merino wool is used in a number of other outdoor pursuits, such as hiking and rock climbing, and many believe to be the best material that can be used in such activities. Buyers may find that merino wool jerseys are more expensive than those made from synthetic materials, but less costly used jerseys can be acquired.

Bamboo

More and more companies are using bamboo to make cycling jerseys, and this material is easily sourced and inexpensive to purchase. Bamboo is very soft and is easy to print on, giving jersey companies the opportunity to create unusual images and designs. Although not as strong as the above materials, bamboo can still be considered quite durable. This material is naturally anti-fungal and anti-bacterial, and because of this it is highly resistant to odours and staining.

As with merino wool, bamboo cycling jerseys are recommended for people that have highly sensitive skin. Bamboo cycling jerseys are a relatively new product, and as such buyers can expect them to be more expensive than the synthetic options.

Bio-ceramic

Bio-ceramic is easily the newest fabric used in making cycling jerseys, but it is already generating a lot of interest among professional and amateur cyclists. Bio-ceramics are composed of natural minerals and ceramic oxides, which are merged together at high temperatures.

This results in a material that can release far-infra-red light, which in turn penetrates deep into muscles and stimulates the blood flow to improve stamina and reduce aches. Bio-ceramic is extremely soft to touch, as well as being highly durable and moisture absorbent. Cycling jerseys made from this material will be far more expensive than the others mentioned on this list.
A large number of cycling jerseys on sale today are a combination of more than one material, e.g. 40% nylon and 60% polyester. These jerseys may be more expensive than those that use a single material, but cyclists will find them far more advantageous. For example, using a combination of nylon and merino wool will result in an extremely durable jersey that is also very soft on the skin.
How to Choose a Material
Buyers should consider the following factors when selecting a cycling jersey:
Price: How much money can be spent on the jersey? Polyester and nylon jerseys can be bought at relatively low prices, but merino wool and bio-ceramic jerseys will be more expensive. Also the buyer needs to decide how often the jersey will be worn, as there is not really any point in buying an expensive double material jersey if it will be used for half an hour every other week.
Cycling conditions: Although synthetic and natural materials have similar characteristics, some are better suited to particular weather conditions than others. Polyester is great in hot weather, whereas merino wool is more suited for cold and wet conditions. Think about what type of weather the jersey will be worn in.
Searching for Cycling Jerseys on eBay
eBay has a large number of new and used cycling jerseys made from a variety of materials. Buyers can find these jerseys by clicking on the Cycling link found under the Sporting Goods heading in the 'Shop By Category' tab on the left hand side of the home page. On the following page click on the Cycling Clothing link, which is halfway down the Categories table. Buyers should then click on the Jerseys link found halfway down the Categories table.
Type the material into the search bar and press enter, e.g. Polyester Jersey. Buyers can also choose to search for New and Used cycling jerseys by clicking on the appropriate filter, or to list jerseys from the UK, Europe or Worldwide.
Conclusion
There are a number of different materials that can be used in the manufacturing of cycling jerseys, each with their own advantages and disadvantages. Jerseys can be made from synthetic fibres such as polyester, or natural fibres such as merino wool. It's important for buyers to research into the various options and decide which material would suit their price range and cycling conditions best. There are also a number of jerseys that use two materials, allowing cyclists to combine the benefits of both synthetic and natural.
eBay is an excellent place to search for cycling jerseys, and buyers will find a great selection at reasonable prices. Have an idea of what material is wanted before beginning a search, and spend plenty of time browsing through the listings.