Socks are easy to ignore unless something goes wrong with them. Old or worn socks cause foot problems, and socks of the wrong style attract criticism from the fashion-forward. Men's socks are not complicated though. A man can simply buy a few each of the main types and be ready for almost any occasion.
Casual Socks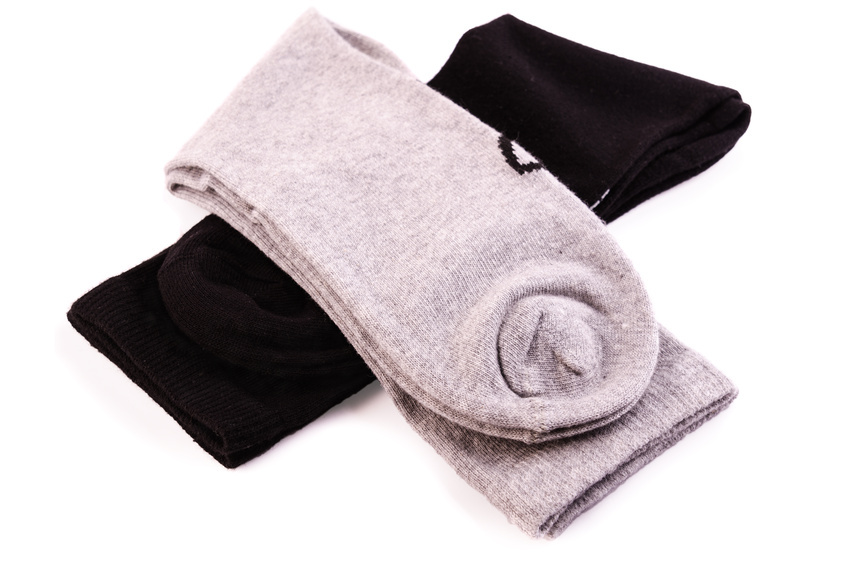 Casual socks are the default option—the socks a man wears if he has no particular reason to wear something else. They are comfortable and absorbent without being bulky and come in a variety of colours, from plain white to fun, novelty patterns. Wearing white socks to non-sporting occasions is considered a fashion no-no; however, being concerned about sock fashion is optional for casual wear. A man wearing casual shoes can usually get away with whatever socks he wants.
Dress Socks
Dress socks are what men should wear with formal shoes to occasions where clothing standards are more stringent. Besides never being white and often black, dress socks are much thinner than casual socks, so they fit in shoes very differently. Dress socks should match the colour of a man's suit and not that of his shoes.
Athletic Socks

Athletic socks come in many different styles because different sports require different socks. The basic version is thick cotton in order to absorb sweat and provide some cushioning, but cotton loses its insulative value when wet, so it can be dangerous for exploring the outdoors. For hiking, choose merino wool socks, which offer excellent insulation and does not itch, as well as a tight fit along the arch, plus plenty of cushioning at the toe and heel. For other activities, you can find other styles of cushioned socks as well. Since painful, injured feet can quickly put a man off his game, athletes should find out what socks are best for a new sport.
Specialised Socks
Besides the basic categories of casual, dress, and athletic, there are socks with individual toes, socks with non-slip strips soles for use without shoes, neoprene socks for use in water sports, and a range of other options. Some specialty socks meet practical needs, like compression socks used to support good circulation in the feet. Others are purely aesthetic. For example, a man wearing shorts looks pretty silly with his socks pulled all the way up his bare calves, but he looks equally silly with his socks rolled down and bunched around his ankles. Ankle socks provide a better-looking alternative for shorts with shoes.