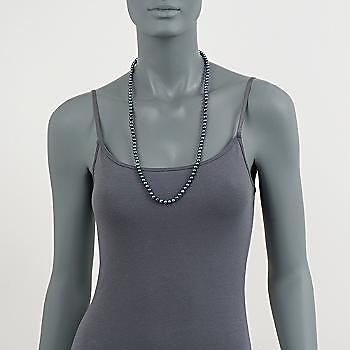 A single necklace can tie together an entire outfit, and a cluster of them can be the focal point of an ensemble. Lockets keep photos and other memorabilia close to the heart. A string of pearls looks divine with a cocktail dress. Necklaces can be inexpensive or run into the thousands. Higher quality necklaces made from gold, silver, and precious gemstones typically have the higher price tag.
Besides choosing the colour and style of necklace, they must also account for its length. Popular necklaces range from 12 to more than 45 inches in length. Shorter necklaces, often known as collar and chokers are best paired with a top that exposes a good deal of the neck. Longer necklaces, such as operas or lariats, are best loosely layered with winter clothes. In order to choose the right necklace length, buyers should familiarise themselves with the various types of necklaces as well as take into account the wearer's size, preferences, and style.
Necklace Lengths for Women
Choosing the right necklace length for women involves knowing the most popular styles. While some necklaces are sold by exact length, others are lumped into one of six categories. Collars are the shortest of all necklaces; chokers are the next shortest. These two styles sit close to or even right above the base of the neck. Princess length is also comparatively short, and wildly popular by women of all ages and sizes. Matinee necklaces are considered office appropriate. Opera and lariat necklaces are the longest options, looking best with winter clothes or when accentuating curves. The sections below expand upon the six most popular sizes of necklaces for women.
Collar
Collar necklaces sit high up on the neckline, sometimes slightly even above. These necklaces are typically 12 to 14 inches in length and should be paired with boat necks, V-necks, and off the shoulder style dresses and blouses. Collar necklaces are ideal for slender and petite women. The one downside to these is they can be bought too small, and therefore, be unwearable. Women who want a collar necklace are advised to measure the circumference of their neck before buying.
Choker
Chokers are the next size up from collars and are generally between 15 to 16 inches long. They can be a single strand and comprised of multiple ones. Chokers fit right at the neckline and are the best length for a short necklace. Many petite women prefer chokers because they frame their neck nicely. Additionally, they complement heart-shaped and rectangular faces by softening the angles. Chokers come in an array of styles and prices; they can be made of cord, ribbon, leather, silver, gold, or other alloy metals.
Princess
Princess length necklaces are the most common sized necklaces and can be worn with various neckline styles. They are between 17 and 19 inches long and the centre of the necklace hangs just below the collarbone. If buying a necklace with a charm or pendant, the princess length is the most common length. A string of pearls is often princess length, unless noted otherwise. The main trick with wearing a princess necklace is it should sit distinctly higher or lower than the neckline.
Matinee
Matinee length necklaces may sound like an afternoon at the theatre, but women are more likely to wear these at the workplace than any other place. Measuring between 20 to 24 inches in length, matinee necklaces look great at the office and out on the town. These necklaces can be worn in front of collared shirts and blouses since they are long enough to fit around clothing, but they are popular with V-neck shirts and women who want to show off some cleavage.
Opera
Opera necklaces are often 28 to 34 inches in length and can be worn as a single strand hanging below the bust line or doubled as a choker. The longer chain is often used to elongate a round face. Opera length necklaces look best with evening wear; they are worn over the top or dress. The trick with wearing an opera necklace is having a good bra on.
Lariat
Any necklace over 45 inches is called a lariat, or sometimes a rope necklace. These necklaces are designed to hang near the torso and accentuate a woman's curves. Women can wear a single rope necklace, or they also have the option of doubling it in half and wearing two princess or matinee strands. Many of these necklaces are beaded. A lariat, especially one made of pearls, can look diving with a cocktail dress. The chart below takes the guesswork out and is designed to help shoppers buy the right necklace length.
| Style | Length (cm) | Length (in) |
| --- | --- | --- |
| Collar | 30.5 to 35.5 | 12 to 14 |
| Choker | 38 to 40.5 | 15 to 16 |
| Princess | 43 to 48 | 17 to 19 |
| Matinee | 51 to 61 | 20 to 24 |
| Opera | 71 to 86 | 28 to 34 |
| Lariat | 114 plus | 45 plus |
Many times, finding the right necklace length revolves around the top or dress' neckline. Women should have several lengths of necklaces to accommodate an extensive wardrobe. Necklaces, including the length, should adapt to the changing of the seasons. While necklaces are most popular among women, there are other sets of rules when buying necklaces for men and children.
Choosing a Necklace
There is no best necklace length for the general population. There are many factors to take into consideration, including gender, style, and the matching wardrobe. Women have the most versatile necklace options. The right length depends on the neckline of the outfit and other factors. Most men's necklaces sit at the collar bone, although the wearer should factor in if the necklace is worn with or without a charm. Children need smaller necklaces than women, and like men, one deciding factor is whether or not it has other embellishments, like a charm. The subsections below can help buyers determine which necklace length best suits the wearer's needs.
For Women
Women have a wide variety of blouses, shirts, and dresses, all with differing necklines. Choosing the right necklace length involves being familiar with the wearer's wardrobe. Women with a lot of plunging necklines and scoop necks can wear nearly any type of necklace length. If wearing a choker or collar necklace, women should make sure the charms, beads, or other décor complements the rest of the outfit.
The necklace length should also frame the woman's body. For example, a tall statured woman with an itty bitty choker might look underwhelming, and a petite woman could look like she is swimming in an oversized lariat. The shorter the necklace, the closer one should pay attention to length and not one buy one too short.
For Men
Most men wear necklaces that fall at the collarbone, especially when they are wearing an open-collar shirt. If men wear a medallion or pendant on the necklace, then it should be a bit longer. The average length for a men's necklace is between 18 to 20 inches, or 51 to 56 cm. Men can wear several chains of various lengths to achieve a layered look.
For Children
Children's necklaces are naturally shorter than adult's necklaces, but buyers should make sure not to buy one too short. For most children's necklaces, 14 to 16 inches, or 35 to 40 centimetres, is the average length. Necklaces for small children are even smaller. Shoppers should purchase a necklace for children they can get several years wear from.
Buying Necklaces on eBay
Once you have found a necklace that suits your taste and budget on eBay, take a moment to get to know your seller before going any further. Check out his approval rating and feedback to see how past business has been conducted; sellers with a high approval rating and decent comments are typically a safe bet.
When getting to know the seller, it is important to learn which payment methods are acceptable for the seller. PayPal is preferred by many sellers and buyers alike. PayPal conveniently saves your bank account information, making payment just a few clicks away. The service is safe, reliable, and 100 per cent traceable. Another common method of payment is by credit or debit card. Like PayPal, using your credit and debit cards is convenient and secure. Buyers purchasing big ticket items may want to consider putting their funds in escrow. A few of eBay's sellers accept direct wire transfers, personal cheques, or postal orders, but they are far between.
Conclusion
Finding the right necklace length is just as important as choosing the style or material. Beautifully frame the neckline with an appropriately sized necklace. Collars and chokers are best paired with formal wear and a V-neck, off the shoulder, and scoop neck styled tops. Princess lengths are versatile and allow a charm or pendant to rest comfortable right below the collarbone. Women in professional settings should opt for the matinee length, although opera and lariat are also acceptable attire.
There are separate rules when finding the right chain for men and children, though their rules are far less complex. Most men wear just a single chain, and those only look good with an open-collared shirt. Men wearing a full button up should refrain from wearing a necklace as they are typically not long enough; this rule applies for anyone wearing a necklace. Customers should remember the right necklace length can make an outfit look alright, but wearing one too long or too short could make the entire effort look all wrong. Therefore, it is important to consider the outfit to determine the right necklace length and purchase a great necklace to complement the wearer.