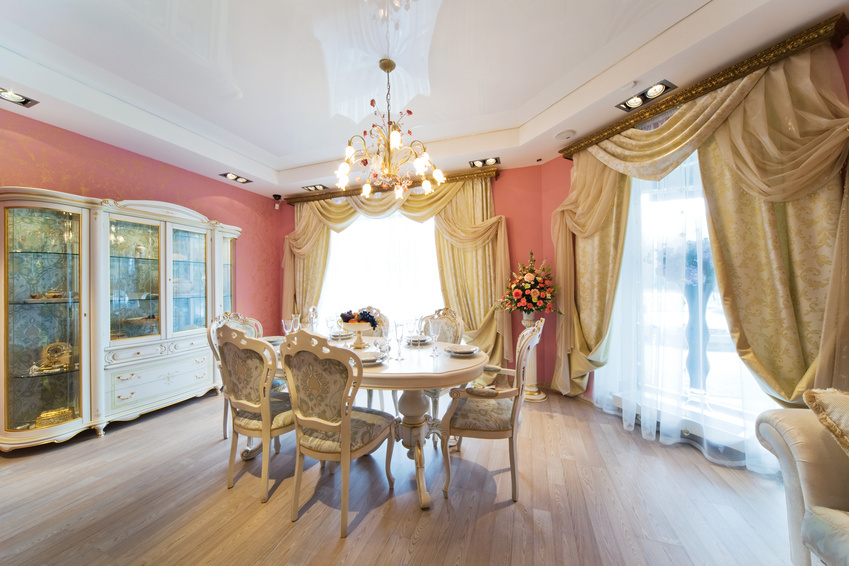 Window treatments turn a room from bland to fabulous if done correctly. When you begin your window treatment plans, choose curtain poles with finials that match your decor and place them at least 15 cm above the windows to add height to the room. Once you have your lovely long curtains hanging from your poles or tracks, add a crisp pelmet to the top of the window as the perfect finishing touch. If you are unfamiliar with pelmets, learn how to choose the right pelmet for any room.
Distinguish between a Pelmet and a Valance

A pelmet is not the same thing as a valance, which is made of fabric. A pelmet is typically make from plywood or from some other stiff, sturdy material. The pelmet tops the window, concealing the curtain rod or tracks. It typically extends out from the window by a dozen centimetres or more. A pelmet eliminates convection currents in the room and offers some extra insulation, slightly lowering heating and cooling costs. When people install a pelmet, however, it is usually for the stylistic element rather than the financial benefit. As you shop, keep in mind that manufacturers and decorators sometimes call pelmets 'cornice boards'.
Decide between Elaborate and Simple Pelmets
Pelmets can be plain and simple, or they can be works of art in their own right. If you have a bland room in need of a statement piece or a focal point, choose a visually striking pelmet, perhaps with a bold geometric design or an intricate floral pattern. For a room that is already full of interesting items to catch the eye, keep the pelmet simple, coordinating its hue with the room's colour scheme so that it draws the eye upwards without taking too much of the attention away from other finishings and furniture.
Select the Correct Pelmet Size and Shape
Whether you make the pelmet yourself or choose one from a seller or retailer, make sure that it properly fits the window you want to dress. With all other window treatments in place, such as sheers, shades, blinds or curtains, measure the space that you want the pelmet to cover. Also decide how deep you want it to be, from a shallow 75 mm to a deep 150 mm. If possible, make a cardboard model of the pelmet in a few different sizes and shapes to see how each one looks in the room. Remember that you can consult a friend or an interior design expert for a second opinion. Buy enough pelmets to top all the windows in the room, and make sure that the pelmets come with all the hardware necessary to mount them.