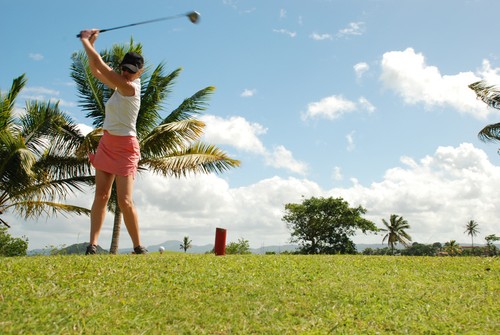 Introduction
Putting is a critical golf skill. It tests a golfer's ability to read the speed and contours of the green. A good golfer will convert this knowledge into a successful shot played with:
Unlike irons and woods, which are mainly chosen on distance criteria, putters are chosen for a different set of reasons.
Help take the pressure off your putting
It's vital that players give themselves the best chance to achieve optimum concentration and control at the moment that they are under so much pressure to perform. How many golf tournaments have been decided on the final putt? And how many golf partnerships are severely tested as a result of putting failure?
It's worth spending a bit of time to find the best putter for you. This will be a putter which
looks good
is comfortable to use
delivers the right degree of sensitivity
keeps you in touch with the progress of the ball across the green.
One factor in putter selection is the weight of the head. There is no standard weight specified for manufacturers of golf putters. Some are heavier than others; some are 'head heavy', others have the weight more evenly distributed throughout the length of the club. If you play on really fast greens you might be better off using a lighter putter. Alternatively, you may feel that a heavier putter gives you more confidence over longer putts.
Ultimately, the weight of the putter is very much an individual choice. The following section concentrates on the other important factor; how to select the right putter length.
Types of Putter
There are three basic types of putter:
| Type | Typical Length |
| --- | --- |
| Conventional putter | 32 to 36 inches |
| Belly putter | 41 to 44 inches |
| Long putters | 48 to 52 inches |
'Long putter' is a term that can be used to refer both to a specific type of putter and to the category of putters that is designed for longer shots on the green.
Conventional putters
The most important thing to keep in mind when you are trying out a new putter is to make sure that the sole of the club head rests flat on the ground.
If the putter is too long you will have to stand too far away from the golf ball and the toe of the club might lift off the ground.
If the putter is too short you will have to stand too close to the golf ball and the heel of the putter might lift off the ground.
You should not try to adjust your stance and posture to match the putter you are using. Find the putter that matches your stance and posture. Making even the slightest adjustment to your stance will put you off your stroke.
To achieve the ideal putting posture with a conventional putter, take your stance and lean forward so that your eyes are directly over the line of the putt. Let your arms hang loosely down, then bring your palms together.
Belly Putters
The belly putter provides a third point of contact - the abdomen - between the putter and the player. This has the effect of adding more stability and balance to the stroke. The main advantages of this type of putter are:
that the club is anchored against the body
wrist action is easier to control
the player remains in a posture that is close to the ideal.
The form and function of a belly putter is much closer to that of a conventional putter than a long putter. As with the conventional putter, a belly putter is used with a two-handed stroke and with a similar putting posture. With a belly putter, the connection to the body through anchoring helps stabilise the wrists through the stroke. The downside is that putting this way reduces 'feel' and may make it harder for some people to judge distances. Belly putters had been somewhat controversial when they first started showing up in professional tournaments because of that connection between the shaft and the stomach. Traditionally, the only part of the body touching the club had been the golfer's hands
Long Putters
As a category, long putters are significantly longer than the conventional version. They were originally designed so that the golfer could anchor the club against his or her body. Golfers that prefer long putters generally have difficulty keeping their wrists still. The long putter turns the putting stroke into a true pendulum swing, totally eliminating wrist hinge. Golfers using a long putter take an upright stance, so those who suffer from weak or aching backs get a bit of a break. A long putter's grip is typically split, with grip at the top end of the club, then bare shaft, then another grip lower down. The golfer grips with his top hand (right hand for a right-handed golfer) on the upper grip section, and bottom hand on the lower grip section.
In their original use, the golfer's upper hand and the top of the putter were anchored against the golfer's sternum, chest or even chin, and that served as the fulcrum point of the pendulum. The long putter is even longer than the belly putter and that means even less feel and feedback from the ball. With long putters generally, controlling distance can be a bit more problematic but they do have the advantage of taking wrist action out of the equation.
Selecting the Right Putter for You
You will find that physical proportions are no guide to establishing the right putter length for you. Everyone has a different posture which will help to determine the right club. Posture alone can make nearly a foot of difference to the length of the putter itself. Most teaching professionals agree that if you can use a conventional putter, then you should use a conventional putter. Without observing how you putt, there is no way anyone can diagnose the best club length for you - so much depends on how you address the ball. You could try sampling 33, 34, and 35 inch putters at your local club or borrow from friends. Some putters are made for custom fitting with adjustable lengths and lies.
How to Buy Golf Putters on eBay
Now that you've worked out which putter you want, find them quickly on eBay. While you shop, don't forget balls, tees, shoes, and appropriate clothing for the course. To start shopping, go to the Sports and Leisure category. Click theSporting Goods portal and click Golf .
Categories
The Categories list on the left side of each page will help you narrow down your listings by item type. You'll find links for Accessories , Apparel , Bags , Balls, Books , Videos , Golf Club Components, Footwear, Golf Carts, Cars, Schools, Lessons, Experiences, Tee Times, Green Fees,Training Aids, Vintage, and Other Items. As you refine your search you'll be able to narrow down your choice by subcategory.
Product Finder
Use the Golf Putter Finder to quickly narrow down item listings by type of club, brand, model, condition (new or used), and shaft material.
Keyword search
Search eBay listing titles for specific words. For example, if you want to find new right-handed golf clubs for men, type the keywords "rh men new" (without quotation marks) into the Search box. Click "Search title and description" to expand your results. Visit eBay's Search Tips page for more tips on searching with keywords.
If you can't find exactly what you want, try browsing eBay Stores or tell the eBay Community what you're looking for by creating a post on Want It Now, or save a search on My eBay and eBay will email you when a matching item becomes available.
Buy Golf Putters with Confidence
Make sure that you know exactly what you're buying and understand how eBay and PayPal protect you.
Know your item
Read the details in the item listing carefully.
Remember to add delivery costs to your final price. If you're buying a high value item, check that the seller will insure it until it is delivered to you.
If you want more information, click the "Ask seller a question" button on the seller's profile or the "Ask a question" link at the bottom of the item listing page.
Always complete your transaction on eBay (with a bid, Buy it Now or Best Offer) otherwise you will not be covered by eBay Buyer Protection.
Never pay for your eBay item using an instant cash wire transfer service like Western Union or MoneyGram. These are not safe ways of paying someone you do not know.
Know your seller
Research your seller so that you feel safe and positive about every transaction.
What is the seller's Feedback rating?
How many transactions have they completed?
How many positive responses do they have?
What do buyers say in their Feedback?
Are they positive about the seller?
Most top eBay sellers operate like retail shops and have a returns policy.
Do they offer a money-back guarantee?
What are their terms and conditions?
Buyer protection
In the very unlikely event that you do not receive your item or it is not as described, eBay Buyer Protection your purchase price plus original delivery cost.