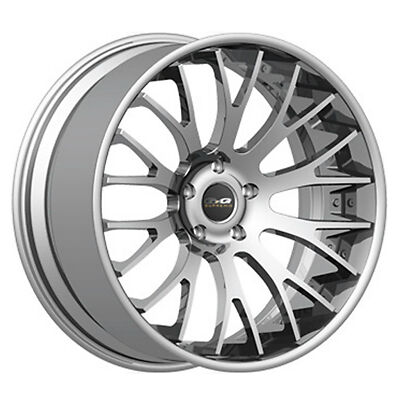 BMWs are one of the most recognisable and renowned vehicles on the road. Known for their performance and handling, they epitomise luxury vehicles with power and style. Over the course of ownership, a BMW owner may find themselves considering new rims, whether to replace damaged parts, or to change the car's look. Indeed, BMW wheels can do much to enhance the vehicle's image and performance.
While at first it may seem daunting to find wheels that are compatible with your BMW, there are many tools online to help. Wheel specialists often have systems that show wheels appropriate for specific models. There are also charts with the wheel fittings for BMWs, so consumers can shop independently and know what wheel specifications to look for. Beyond that, budget, style, and performance considerations come into play. Researching in advance can help you navigate the wide range of choices to find the perfect set of rims for your BMW.
Researching Rims for Your BMW
The first step in choosing rims for a BMW is to research different options. Looking at different styles available for a specific BMW model can spark an idea about what style is right for you. There are numerous options, with different sizes, designs, and finishes. For recommendations and inspiration, shoppers can browse magazines for auto enthusiasts, look online at different wheel specialist websites, and visit forums for BMW owners.
Setting a Budget
Buying new wheels for a BMW can be a costly affair, with high-end rims going for very high prices. However, there is a range of options, and finding a more affordable set of rims is certainly possible. Quality is not something that should be compromised, but expensive brands and style options are areas where there is room to economise. Consumers should set a realistic budget ahead of time, based on their available finances, and keep in mind that it is advisable to leave a little money aside in case of repairs or other unexpected expenses for their car.
BMW Wheel Fittings
Properly-fitting wheels are essential to the safe and smooth operation of a BMW. When purchasing a set of wheels for a BMW, consumers need to make sure that they meet their vehicle's wheel fitting specifications, which include size, bolt patterns, and offset. With dozens of bolt patterns across the BMW range, and even within a single series, it can be difficult to know what wheel fits with which model. To find out what rims work with your BMW, there are numerous online BMW fitting charts that can assist. These fitting charts outline indicate which wheel sizes, offsets, and bolt patterns are appropriate for a given model. Some wheel dealers have online systems which show the consumer only the models that are suitable to their vehicle.
Many vehicle owners opt to "plus-size" their wheels, by purchasing wheels of a larger diameter than the factory rims. It is possible to choose wheels that are larger, smaller, or of a different style than those which the vehicle originally came with, but these alterations need to be done within certain parameters.
Wheel Materials and Constructions
Wheels are constructed of either steel or aluminum. Steel wheels, which comprise the majority of original equipment wheels, are made of two pieces. The inner, centre piece bolts to the car, while the outer barrel receives the tyre. These two pieces are welded together. Steel is highly durable, and steel wheels are easy to repair. Aluminum, or alloy, wheels, are popular in the aftermarket for their lightweight material, excellent heat dissipation, and ability to be moulded into an extraordinary range of unique designs. Aluminum wheels are constructed in one of three ways, as outlined in the following chart.
| Alloy Wheel Construction | Description |
| --- | --- |
| One-Piece | Aluminum poured into a single mould; the three types of casting methods are low pressure/gravity, counter pressure, and high counter pressure molding (HCM) |
| Forged or Billet | Single piece of aluminum, called a billet, is pressed or rolled by a forge into its shape; creates exceptionally lightweight and strong wheels, often with unique designs |
| Multi-Piece | Can be a combination of different constructions and materials, such as cast aluminum centre welded to steel outer, or billet centre screwed or riveted to outer for custom specifications |
Several factors affect the cost of a wheel. In general, the lighter and stronger it is, the higher the price. The superior strength of lightweight billet wheels makes them costlier than cast one-piece wheels, and customised wheels are also likely to be more expensive.
Choosing a Wheel Finish
Wheels for BMWs come in a range of finishes, from a burnished chrome gleam, to an understated matt black. Machined finish maintains the look of the wheel after it has been constructed. Polished finish involves passing the wheel through machine and hand polishing. Chrome finish is available on alloy wheels, and involves three more metal treatments of copper, nickel, and chrome, which drives the price up. A chrome finish on steel wheels involves only one treatment, however, making it more affordable. Silver, titanium, and gold are also options, in varying levels of shine, from flat to glossy. Choosing a wheel finish within a certain price range is matter of personal style, and deciding what kind of look the owner wants their car to have.
Wheel Specifications
As mentioned above a wheel's specifications must comply with the BMW model's wheel fitting specifications. Noting size, offset, and bolt pattern is crucial when buyers are shopping for new wheels.
Size
While wheels are often categorised to according to their diameter, wheel size is expressed as two measurements: diameter and width. The diameter is measured from the points where the tyre sits, and the width is the measurement of the inside of the rim where the tyre fits. Traditionally wheel size is is expressed in inches.
Wheel Offset
Wheel offset refers to the distance between the wheel hub mounting surface and the centre of the rim. A wheel with positive offset has the mounting surface more towards the front, or street side, of the wheel. Most wheels have a positive offset. When the hub is directly aligned with the centre, it is said to have zero offset. Negative offset wheels have hubs located towards the brakes; with negative offsets, the wheel protrudes more. Offset is traditionally expressed in millimetres; negative offset is expressed with a negative sign, such as -12mm. It is vital to find a wheel with an appropriate offset for your BMW, so as not to put undue stress on the suspension and steering systems.
Bolt Patterns and PCD
As mentioned above, there are numerous bolt patterns across, and even within BMW series, so buyers should be sure they are getting a wheel that can fit to their vehicle. A wheel's bolt pattern is expressed as two numbers: the first is the number of bolts there are, and the second is the distance between them as measured across the centre of the wheel, known as the pitch circle diameter (PCD). Four-, five-, six-, and eight-bolt patterns are common. A bolt pattern that is 5-110mm means that there are five bolts, which are 110mm apart.
Dual-bolt patterns have two sets of bolts with different spacings, allowing them to fit to a greater range of wheel fitments. For example, a 4-110/114.3mm wheel has four lug holes that are 110mm apart, and four that are 114.3mm apart. The wheel could fit either a 4-110mm or a 4-114.3mm specification.
Centerbore
The centerbore, expressed in millimetres, is the diameter of the central hole, which is mounted onto the vehicle's hub. It must be equal to or larger than the hub. If it is larger, lug nuts must be properly torqued to assure the wheel is properly centred. Aftermarket wheels often feature hubcentric rings, which can adapt a wheel with a larger centrebore to the hub size.
Aftermarket Rims vs. OEM Rims
Buyers have a choice between purchasing the same factory rims that came with the vehicle, also knowns as OEM (original equipment manufacturer) rims, or opting for a more customised aftermarket wheel. Aftermarket quality can vary, with some very high-end manufacturers such as BBS, Lorenzo, and Beyern, which is designed exclusively for BMW, plus more affordable, quality options. Researching customer and expert reviews of manufacturers and wheels is a good way to get an idea of what kind of quality and value one can expect.
Where to Buy Rims for Your BMW
Buyers have several choices of where to purchase rims for their BMW. They can purchase BMW-manufactured wheels from authorised dealers. Wheel and tyre dealers have extensive aftermarket wheels and can offer guidance on which wheels are compatible with your BMW's fitting, whether shopping in person or online. Finally, websites like eBay feature a range of new and used wheels.
How to Buy Rims for Your BMW on eBay
Take advantage of eBay Motor's extensive selection of OEM and aftermarket wheels at competitive prices. Be sure you have your vehicle information on hand so that you can find rims that are right for your car. The simplest way to start shopping on eBay is from the home page: locate the search bar, where you can type in keywords for the wheels you are looking for. For example, you can enter "BMW Series 3 wheel". You can then refine your search results by selecting things like wheel diameter, rim width, brand, price range, and more.
Once you have found an item you are interested, read the full listing thoroughly. Carefully compare the specifications with the wheel fitting of your BMW, and note the quantity and condition (new or used) of the wheels. Since wheels can be expensive to send, verify what the postage fees are, or whether local pickup is an option. If you have questions for the seller, you can contact them through eBay.
Researching the seller is also important: look at their feedback score and comments left by past buyers, checking to see that they are reliable. You can leave your own constructive feedback for the seller once your transaction is complete.
Conclusion
Replacing or upgrading wheels is something many BMW drivers do over the course of ownership. Whether replacing damaged parts or changing the vehicle's look, it is important to find the right rims for a smooth and safe performance. The first step is to research different styles that are within one's budget and also compatible with the specific BMW in question. Wheel fittings can vary, so it is essential to understand and pay attention to the specifications for one's vehicle and wheels. Wheels come in a number of different styles and finishes. Buyers can choose between steel and alloy wheels, one-piece, billet, or multi-piece constructions, and a range of finishes, from matt black to polished chrome.
Wheel specifications to focus on are the size, offset, bore pattern, and centrebore diameter. This information allows consumers to determine whether a wheel is right for their vehicle. Finally, buyers can opt for OEM or aftermarket wheels; researching aftermarket brands is an important step to ensure quality and value. Informed consumers can easily find the right rims for their BMW.