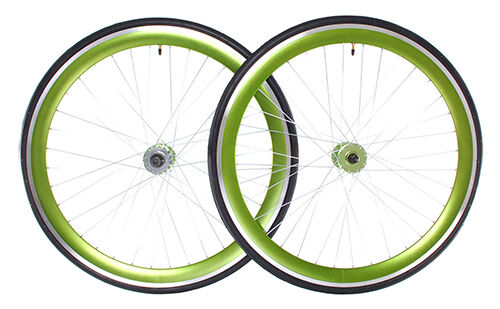 British writer, H. G. Wells' statement, "Cycle tracks will abound in Utopia," appears repeatedly in cycling ads. Wells' vision of Utopia could very well have been inspired by Sir Thomas Moore's classic. Or he could have just been thinking of individuals using their own energy to propel themselves to a desirable location. Whatever one's vision of Utopia might be, the right bike tyres will expedite his journey and make the road there a lot more navigable. A variety of bike tyres can be purchased from online marketplaces like eBay.
Getting Familiar with the Construction of the Bike Tyre
The proper tyres, like bikes, come in a dizzying variety of types and sizes. Though the primary part is rubber, most tyres are fortified with steel wire, glass, or other fibre. For example, the edge of the tyres is made up of rings of strong steel cable called beads. The beads form the heart of the tyres and are part of the components that prevent the tyres from expanding and coming loose from the wheel. Because the tyres do not stretch, a replacement has to match the rim; a near fit will not do. Therefore, it is important to make the right assessment before making the purchase.
Know Your eBay Bike Tyre Seller
An excellent way to find a good quality bike tyre is to shop eBay. Be sure to communicate with the eBay Community to exchange ideas and get excellent advice. Before you purchase a bike tyre, research the eBay seller to ensure that your transaction is secure and positive. Here are some important questions to consider before you purchase a tyre for your bike.
1. How many positive responses does the seller have?
2. What do eBay buyers say about their bike tyres in the feedback?
3. How many bike tyre sales has the eBay seller completed?
4. Is there a money-back guarantee provided by the seller for their bike tyre?
5. What are the seller's terms and conditions?
Getting Familiar with the Tyre Measuring System
The ISO 5775 or International Standards Organization is a measuring system used internationally for labelling the size of bicycles tyres. Since it was developed by the European Tyre and Rim Technical Organization, it is commonly referred to as the ETRTO system. The ISO system is a combination of a pair of numbers. The two numbers, separated by a dash, give first the width of the tyre, then the diameter of the rim. Therefore, a tyre with a width of 37 and a rim size of 622 would be expressed as 37-622 using the ETRTO labelling system. It replaced the old system of labelling tyres in 1964. The change was necessary because under the old system each country had its own labelling method. For instance, under the old system a 28" inch (the outer diameter of the wheel) in America was a 711.2 in England. Likely they were not interchangeable. In fact, the discrepancies in tyre sizing between competing manufacturers within a country often prevented the interchangeability of tyres with identical labels.
Getting a Replacement
Sheldon Brown, tyre expert, uses a simplified method of categorizing replacements. His theory is that if two equal tyres each have sizes expressed differently (perhaps one in fractions and the other in decimals) they are not interchangeable. To ensure that a buyer matches the replacement with the original wheel size, he needs to first check the size of his current tyre. Once he determines the size, which is located on the side of his old tyre, he can then match the correct ETRTO size for a suitable replacement. Some bikers opt for a wider tyre replacement (perhaps a 37 instead of a 32), hoping for better traction and comfort. While a wider tyre would in principle fit, most manufacturers tend to discourage straying too far from the originally recommended width. Among other concerns, a radical departure from the original width may not give the replacement tire enough clearance in the frame.
| | |
| --- | --- |
| Pointers | Description |
| | The current market offers a wide variety of tyre treads and styles. One term is used almost universally, however, to describe the most common type of tire-"clincher." Its basic structure is a nylon body with a rubber coating, and a so-called "backbone" consisting of steel wire around the edges. A number of bikers find that tyres with slender treads and even tyres with no treads are more useful on surfaces such as asphalt or concrete. |
| Tyres for Speed or Racing Bikes | For bikers who prefer speed, the most commonly used tyre ranges from 18 mm to 23 mm. Manufacturers and bikers alike have come to recognize TPI as an indicator of the tyre's performance. Thinner tyres have more threads per inch or TPI. Aerodynamically, the slicker the surface of the tyre, the less drag or rolling resistance there is. Higher TPI means a lighter and more flexible tire with lower rolling resistance. Since little grip is needed on the flatter surfaces, thinner tread translates into a smoother, less physically demanding ride. |
| Tyres for Trail or Mountain Bikes | On mountain trails, where the surface is less forgiving, the thicker treads are needed. A 26-inch diameter tyre, with a width from 1.8-inches to 2.4-inch is most commonly used by mountain bikers. The tread options are the semi-slick for gravel and smooth rock surfaces, and the extremely knobby treads for muddy and uneven surfaces. Some treads even have embedded metal studs so that the biker can navigate through patches of ice. |
| Tyres for Touring or Road Bikes | Sightseers who desire comfort and stability rather than speed, generally prefer road bike tyres size 700 or 700C. The width of these tires is generally 25 to 28 mm. Obviously, what is suitable for racing is not the most suitable for commuting or touring. Some of the better racing tyres are very light and thin. Used for touring, these will wear fast and puncture easily. |
Deciding to Use Radial or Conventional Tyres
Radial tyres, ones that have a main thread that runs from one bead to the other, find their most effective use on later model cars. Most riders avoid the use of radial constructed tyres because they create difficulty handling the bike. Some describe the handling as "a floppy feel" that makes the tyres seem "under-inflated." Instead of the actual radial construction, some manufacturers opt to provide just an extra belt under the tread region as a puncture proof measure. This provides an additional layer of protection while avoiding the aforementioned nuisances.
Tyres for Hybrid Bikes
Since comfort and traction are prime concerns for the hybrid biker, typically the tyres are wider than tyres on touring or road bikes. The question of whether the knobby or smooth tyre for the Hybrid bike invariably surfaces. Though there are no pat answers, some expert cyclists favour the semi- slicks, 28 mm to 32 mm, or 1.5 inches to 1.75 inch medium-width, with knobby sides. This choice will aid the rider navigate turns on the rougher terrain.
Matching the Proper Tyre Pressure with Tyre Type
Though often considered a side issue when one selects the tyre he needs, matching the correct air pressure with the tyre type warrants some discussion. The recommendation for narrow tyres, such as those used for racing or flat surfaces, is a psi of 85 to 145 or between 6 to 10 bars. Of course for mountain bike tyres, which are wider and have thicker treads, only 30 to 45 psi is needed or 2 to 3 bars. With the exception of a few brands, the narrow tire is susceptible to damage from air pressure that is too low. The fact that tires with higher TPI (thread per inch) have thinner fabric increases the susceptibility even more.
Buy the Right Size Bicycle Tyre on eBay
The cyclist will find on eBay a wide selection of in a variety of sizes for the kind of bike and riding he prefers. Finding the right tyres for the type and model of one's bike can be a challenge. Fortunately, eBay's easy-to-follow ETRTO designations take away all the guess work. For ease and selection eBay is the logical place to start. Find the Sporting Goods portal, and type the kind of bike tyre (mountain, road, or hybrid) into the search box to find the listings that match your tyre size.
Conclusion
Mark Twain's statement, "Get a bicycle. You will not regret it. If you live," would not fit a description of a ride on today's bike. Fortunately, bicycle wheels have made remarkable improvements since the wood and metal "Bone Shakers" of the 1800s. Comfort and handling are the end products of years of refining. Additionally, revisions in the sizing methods, such as those made by the European Tyre and Rim Technical Organization, have standardized and simplified purchasing the right tire for one's biking needs. You will need to consider a wide selection of tyres in order to find right one for your needs. A variety of tyres can be purchased from eBay.
Aluminium
Aluminium is one of the lightest metals and is also one of the more affordable options
Carbon fibre
Can vary according to the way in which the fibres are woven together but usually one of the lightest options
Titanium
Provides both solidity and lightness but less affordable than other options
Measuring up
How the bike fits is crucial to the level of comfort. The general recommendation is to find a bike that is 1.09 times the distance from saddle to pedal or from crotch to bare feet. While this may sound pedantic this can prove decisive in a time trial, reducing efficiency by 4 to 5 per cent or adding as much as a minute and a half to a final time.
Height can also prove crucial. The stem level is usually fixed so you need to check this carefully before making a purchase. While it is possible to remove a stem and buy a replacement this can result in additional expense. Alternatively some manufacturers do provide adjustable stems. This is something you ought to check with the seller on eBay before you buy from them.
The saddle position is also a vital consideration. Ideally it ought to be positioned further back to allow for the most aerodynamic riding style. Another thing to look for is the WSD logo as this stands for Women Specific Design so that you can be sure that the manufacturer has created an approved design that has been specifically made for women.
Practical considerations
There are also practical considerations to think about when purchasing a racing bike designed for a woman. For example the seller ought to indicate whether the tyres have been designed to be puncture resistant. In some cases puncture kits may be included as part of the overall package.
While racing hydration is important. Therefore you may wish for a model that has convenient storage for sports water bottles so that you can quickly access them. While some races may provide refreshment stops there is no guarantee of this and a backpack on your back means additional weight that may cost additional time.
Another issue is the warranty. The seller ought to say if the warranty is still available on the bicycle and if so ought to provide the details as part of the package. When discussing a possible purchase with a seller on eBay they also ought to provide details about any additional shipping costs and the return policy. If a seller does not have a return policy this ought to be clearly indicated and if they do have one it ought to clearly state in the product description the terms of that policy and the amount of days you have in order to return the bike.
Feedback
There will often be debate amongst cyclists about which manufacturers provide the most effective bikes for racing. Inevitably there will be a variety of opinions when it comes to the reviews on eBay about who offers the bike that is most suitable for racing conditions. In some cases there will be solid technical evidence to support the argument and in other cases it may well simply be that the reviewer has a personal preference that suits their own personal circumstances.
Looking at a wide range of views will make it easier to compare what is available and help you to research the ideal bike for your particular racing needs. When looking at a review try to consider if the reviewer is in a similar situation to you and if so whether their preferences are similar to your own.
This will then make it easier to narrow down the options available to you and allow you to decide what type of bike you want. eBay also provides feedback on the sellers themselves and this is an effective way of finding the trusted sellers that will provide quality items and deliver them promptly.
Conclusion
In short when considering how to buy a used women's racing bike on eBay it is worth remembering that there are vast array of options available to you. In this instance it is about how you race and how the bike is designed to work with your particular style. While it can seem very detailed and exhaustive when working out specific measurements and checking each component part these are the details that can make all the difference while you are racing and could save you those crucial seconds that could result in just winning or just missing out. Check eBay now to start comparing the various manufacturers, the sellers and the bikes to find the one that will give you an edge in the race.