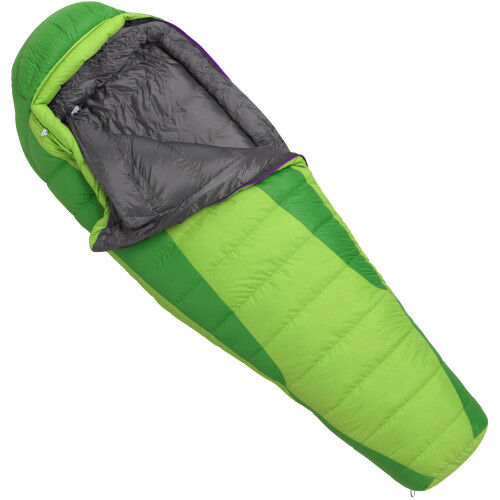 Camping is a brilliant hobby and pastime for adults and children alike and really helps people to get in touch with nature. Going on a camping trip can be very liberating, but there can also be a lot of equipment needed for basic survival and comfort.
One of the most important pieces of equipment for camping is the sleeping bag. Sleeping bags are essential for keeping warm and comfortable in the often unforgiving climate in this country.
This guide will outline all of the types of sleeping bags on offer in order to inform you of which one may be best for you on your camping trip in the wilderness. There is a range of different types of sleeping bag for all shapes and sizes, all of which are available to buy or bid on in the Camping category on eBay.
Which Type of Sleeping Bag is Best for You?
When it comes to choosing the right sleeping bag for your needs, the four main factors to consider are the weight, warmth, bulk and cost of the sleeping bag. It is imperative to get this balance right in order to sleep soundly at night whilst camping. Dependent on what type of activity is being done whilst camping; there are different types of bags that will suit:
Trail Sleeping Bags
Trail sleeping bags are great for a short camping trip. These sleeping bags are relatively light and are not that bulky. These are generally cheap and filled with synthetic filling.
Trekking Sleeping Bags
Trekking Sleeping Bags are made for longer trips and designed with space in mind so it can fit in a rucksack with relative ease. The sleeping bags will be filled with down or synthetic fillings for a good warmth to weight ratio.
Mountain Sleeping Bags
Mountain Sleeping Bags are specialist lightweight bags used for alpine conditions and the weight and bulk is at an absolute minimum. These bags are made to be extremely warm for very cold temperatures. This is a great option where space and warmth are the biggest issues.
The Different Types of Filling in Sleeping Bags
The main types of filling in sleeping bags are synthetic and down. Synthetics are the more affordable option and can generally lose their warmth when wet. The most common types of synthetic filling are:
Hollowfibre- Made of polyester fibres and are generally the most basic but are durable and easy to clean.
4 Hole Hollowfibre- Similar to the hollowfibre filling but with four holes in the centre of each piece of polyester instead of one to trap more warm air and insulate more efficiently.
Quallofil 7- A further development of Hollowfibre but with 7 holes to reduce weight and insulate more.
Micraloft- This material is made of siliconised polyester fibres which are finely layered to give great warmth to the user and keep the bulk of the bag to a minimum.
Down fillings are generally warmer and lighter than synthetic filled bags. These bags are considered best for cold conditions and situations where low weight and bulk are desired. Down bags can be quite hard to keep warm when wet so it is important to take care of them and prevent damage. They are generally more expensive but are more durable:
Duck Down- The least expensive down and works by feathers trapping layers of air from body heat.
Goose Down- Very fine goose feathers that provide more insulation than duck down.
Hi-Loft Down- This is very fine goose down and is usually used in situations where weight and bulk is not wanted.
Factors to Consider When Choosing a Sleeping Bag
When deciding which sleeping bag is best for you, it is important to consider a few factors before deciding which one to buy. It is important to consider the following:
Where will the bag be used? Consider the altitude, climate and environment.
Will the ground be wet and will a mat be needed?
Where is the bag going to be used? Will the bag be used in a tent or somewhere else?
What type of clothing will the person be wearing whilst sleeping in the sleeping bag?
Will the user need to use the bag often?
How old is the person using the bag? Older people tend to feel the cold more than younger adults and children find it harder to regulate temperature as well.
Males and females feel the cold differently so it is important to get one that is suitable.
What is the physical condition of the user? People who are used to camping and mountaineering can sleep at colder temperatures than those who do not camp often as they are more used to it.
What is the build of the user? Slimmer people will fit the sleeping bag differently to a bulkier man and can either be warmer or colder dependent on the type of sleeping bag.
How much exercise will be done before using the bag? Being tired can reduce the ability to maintain the temperature of your body.
What is the general health of the user? People will circulatory problems will feel the cold much more.
Hopefully, it is easier for you to now choose the right sleeping bag for your needs in terms of filling and warmth. Some of the smaller things to think about when choosing the right sleeping bag are:
Shape- most bags will come in the 'mummy shape' with a cowl hood and taper towards the foot of the bag. This allows for maximum warmth.
Shoulder Baffle- This is a warmth saving feature and allows the bag to be closed around the neck by cord and traps more warm air into the bag without restricting the head.
Zips- Zips allow for ventilation around the bag and make it easier to keep the bag warm.
How to Look After the Sleeping Bag
It is extremely important to look after the sleeping bag as they can cost a fair amount of money and can be damaged easily if not properly cared for. Some of the best tips to look after the sleeping bag are:
Be sure to use the best camping mat possible and most of the heat and comfort will depend heavily on what you sleep on.
Try and keep the sleeping bag as dry as possible especially if it has a down filling as this can prevent the bag from being warm.
If using the bag often, use a liner inside the bag. This will keep the bag clean and makes the bag easier to clean.
Always roll the sleeping bag up properly when carrying and storing. This allows the bag to keep its compact shape and is less likely to get wet or tear when travelling with the sleeping bag.
When finished using the bag, store in a cool dry place to allow the bag to dry out.
Conclusion
There are a large number of sleeping bags available for different sorts of camping activities such as mountaineering and general family camping. There are a number of different sleeping bags designed for people of different sizes, sensitivity to the cold and also how much bulk is required if carrying around.
It is important to remember that even when buying a sleeping bag make sure it will be warm enough, the right size and right bulk to ensure you can sleep comfortably when using the bag. It is also recommended that you take special care of sleeping bags when washing as they can lose their heating properties. eBay has a large variety of sleeping available and these can be found within the Camping section.