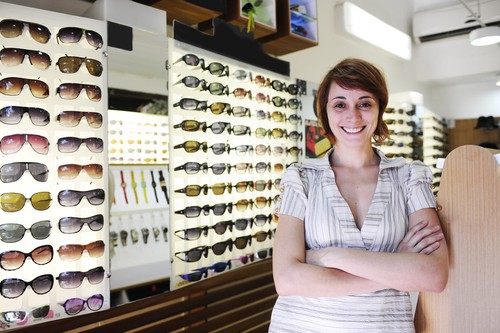 Sunglasses are as practical as they are fashionable, protecting the eyes from UV rays and making it easier to see, while also adding style to an outfit. There are a wide variety of sunglasses, from classic aviator shades to more modern rimless glasses, to complement a business suit, sportswear, and more casual clothing. When buying sunglasses, you should consider the shape of your face, as the various styles can highlight or hide certain features. For better or worse, a pair of sunglasses can elongate a face, widen it or define cheekbones.
Before shopping for sunglasses to suit a particular face shape, first determine which profile the facial features align with best. There are other factors to consider, including the degree of UV protection, how much light they filter out, and the colour of the lenses. Men's sunglasses are available at opticians and department stores, as well as online auction sites such as eBay, which have a great variety of products for every face shape.
Understanding Sizes for Men's Sunglasses
Measurements for men's sunglasses are typically indicated by three numbers: lens width, bridge width, and arm length. It is also important to note that men's spectacles are typically sized smaller than sunglasses. However, knowing the size of your spectacles can still be useful in deciding the size of sunglasses needed. The chart below contains greater detail about sizing.
| Measurement (mm) | Definition | Dimension Range |
| --- | --- | --- |
| Lens Width | Width of a single lens at its widest point, excluding the frames | Typically 42 mm to 60 mm, but can be wider |
| Bridge Width | Distance between the two lenses | Typically 14 mm to 24 mm, but can be wider or narrower |
| Arm Length | Total length of the arm, from the hinge to the tip | Typically 120 mm to 150 mm, but can be longer |
The height of the lens is sometimes used as a fourth measurement, though this is not common. In addition, sizes given in small (S), medium (M), and large (L) can indicate the lens width, though exact measurements may vary based on the designer. Small typically indicates that the lens width is smaller than 55 mm; medium covers the range of 56 mm to 64 mm; and large is anything over 64 mm.
Determining Your Face Shape
There are a number of ways to identify your face shape, but the easiest is simply to stand in front of a mirror, with the hair pulled away from the face, if necessary. On the mirror, trace the outline of your face with a bar of soap, a piece of chalk, or any other material that will wipe away afterwards. Then compare the outline to the established profiles given in the chart below.
Face Shape

Definition

Oval

Rounded shape

1.5 times as long as it is wide

Considered the ideal proportion

Rectangular

Longer than it is wide

Strong angles, especially around the chin

Square

Equal proportions

Angular features

Broad forehead and square chin

Round

Equal proportions

Smooth features

Triangle

Significantly wider at either the top or the bottom

Known as a heart-shaped if the wider part is the forehead

Diamond

Widest at the cheekbones

Narrow forehead and chin that are nearly equal in proportion
Also note that some faces may not fall into one category or another perfectly. If this is the case, choose the profile that your face most closely resembles, or the features that you believe to be more prominent or want to emphasise.
The Right Sunglasses for Your Face Shape
Once you know your face shape, it is easy to choose sunglasses that highlight the best features and create balance in the appearance. Sunglasses are available in such a wide variety of designs that a pair can be found to complement any style, from a professional business look to a casual or sporty.
Sunglasses for Oval Faces
Men with oval face shapes are lucky because a great number of styles complement their features, but a large frame at least as wide as the face works particularly well. Glasses with details on the arms can define the temples and add definition to the face, and rectangular, square, or other geometric shapes can add angles to balance the natural curves.
Sunglasses for Rectangular Faces
Long, narrow faces can benefit from a pair of wraparound shades with a top rim or detailed temples, or glasses that have tall frames. Both of these designs help to shorten the face. For a rectangular face with rounded features, a pair of rectangular or geometric glasses work well. For a rectangular face shape with sharp edges, look for soft, rounded lenses, such as a pair of bold horn-rimmed sunglasses. Aviator sunglasses can help to define the cheekbones.
Sunglasses for Round Faces
To balance out the perfectly even proportions of a round face, add shape and length to its appearance by choosing square or shallow rectangular glasses. A wide frame helps to slim down the face by making the cheekbones appear narrower. The angular lines combine with high temples in the glasses to lengthen the face. Most importantly, avoid round shapes that will draw attention to the roundness in the face.
Sunglasses for Square Faces
Contrast the sharp angles of a square face with rounded frames that add some softness. Also, look for arms that meet at the top of the frame or at the centre. Aviator sunglasses contribute to a strong, masculine appearance. Look for a larger frame if your features are already strong, but a medium-sized frame suits more delicate features. A rectangular frame can also work if the detail is kept to a minimum, because it keeps the features soft, and wayfarer shades with a straight top line and rounded bottoms can also add the needed curves.
Sunglasses for Diamond-Shaped Faces
A diamond-shaped face is widest at the cheekbones, so look for glasses that widen other parts of the face. A rimless style can achieve this effect easily, but oval or round glasses are also good options. A wraparound style creates a sporty, masculine appearance and balances the face.
Sunglasses for Triangle-Shaped Faces
Triangle-shaped faces are broad on either the top or bottom of the face, so a light frame or rimless sunglasses suit them best. Heart-shaped faces, with a narrow chin and wide forehead, can also benefit from a bottom-heavy pair of sunglasses such as Aviators. Frames that are both wide and short, and those with low-set temples draw the focus away from the upper part of the face. For faces with a strong jawline and chin together with a narrow forehead, a semi-rimless style can accentuate the top part of the face. Other options include a top heavy pair of sunglasses that balance out the prominent jawline and frames with lenses that angle inwards towards the nose.
Other Factors to Consider
When buying sunglasses, it is important to go beyond simply accentuating your facial features. Sunglasses also have an function: to protect the eyes and to enable a greater clarity of vision in light conditions.
UV Protection
A good quality pair of sunglasses will block out harmful UV light to protect the eyes. So, the sunglasses should have good UVA and UVB protection, at least 60 percent and 95 percent, respectively. However, many manufacturers go beyond these standards and offer lenses with 100 percent protection. For added protection, look for sunglasses that meet European safety standards for UV protection, break resistance, and optical quality.
Light Filtering
Sunglasses fit into five filter categories based on the amount of light that they filter out. Category 0 lenses filter out a maximum of 20 percent of light and are best suited to urban environments. Category 1 lenses have a faint tint that makes them appropriate even in low-light conditions, blocking out between 20 and 57 per cent of light. Ideal for general use, category 2 lenses have a medium tint that blocks between 57 and 82 percent of light. Category 3 lenses have a dark tint that is ideal for outdoor and water environments, filtering between 82 and 92 percent of all sunlight. Finally, category 4 lenses filter between 92 and 97 percent of all light, making them suitable for extreme environments, including snow. However, they should not be used for driving.
Tint and Polarisation
The tint of the lens affects how the wearer sees his surroundings, so consider a neutral tint colour. Grey and green are good for driving, while brown or amber block blue light, making them best suited for sport. A polarised lens also helps to reflect glare from bright spots, so this is a good option for buyers who expect to be near water or somewhere else with heavy glare, as well as drivers.
Buying Men's Sunglasses on eBay
When you are ready to buy a pair of men's sunglasses, visit the eBay site. You can enter your query, such as "men's aviator sunglasses" in the search box on the homepage, as well as on any other page on the site. You can filter your results by a number of fields, such as condition, if you know whether you are interested in a new or used pair of sunglasses. You can also use the Advanced search function, which lets you dictate parameters, such as the price range for listings. You can check for listings with a particular delivery option, for example, free postage and packaging, which may allow you to put a little bit more towards choosing a quality pair of sunglasses.
Using My eBay to Shop
Although it is not required, logging into your My eBay account while you browse is highly convenient. You can save searches easily to come back to later, monitor items that you are interested in, and keep track of your purchase history. You can also use My eBay to provide feedback to sellers that you have purchased from, and even add follow-up comments to your original feedback. Leaving feedback is an essential part of the eBay process, as it helps to build a seller's reputation, so always leave fair and honest comments.
Conclusion
Choosing sunglasses that complement your face shape can bring out your best features and make you appear more attractive. To identify a face shape, consider tracing an outline in a mirror and analysing it. An oval face is often considered the ideal shape, but facial structures vary widely, allowing for rectangular faces that are longer than they are wide, as well as square and round faces that are equally proportioned. Diamond-shaped faces are widest at the cheekbones with narrow foreheads and chins, while triangle-shaped faces may have a wide forehead and narrow chin or a narrow forehead and wide jawline.
Regardless of which face shape you have, a few key principles apply to choosing the right sunglasses. First, choose rounded glasses to balance angular features, and angular glasses for give the illusion of smooth, rounded features. Also, a wide pair of sunglasses can make a long face seem a bit shorter, while narrow glasses can make a short face seem longer. Choosing glasses with features that provide contrast to facial features helps to create balance and symmetry, bringing out the best in each man's face. Shopping on eBay is a great way to start the search for the perfect style of sunglasses for every shape of face.