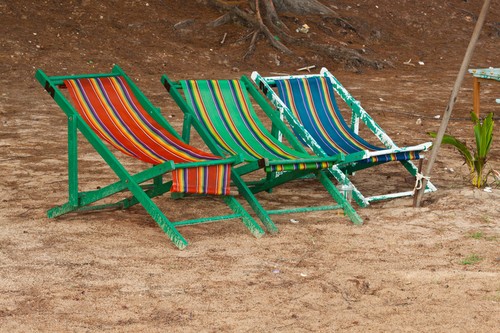 One of the most practical and popular pieces of garden furniture is surely the deck chair. The design of a classic deck chair is amazingly simple and has survived mostly intact for more than a century. Deck chairs were first used on the decks of cruise ships, but nowadays they appear in backyards, verandas, balconies and roof gardens, among other places.
There are many considerations one must make before choosing the ideal deck chair. One of those considerations is certainly maintenance. As deck chairs spend a lot of time outside, they tend to get affected by weather conditions such as sun, wind, rain, heat, and cold. Cleaning and caring for deck chairs is an art that anyone can learn. The method employed to clean a deck chair depends on what the deckchair is made of. One should look for a canvas seat that can be detached, as these canvas seats are usually machine washable. Iron and aluminium frame deck chairs require extra special care. One can restore most metal frame chairs to their former glory by using some elbow grease and little car polish.
What Is a Deck Chair?
The original design for the deck chair includes a heavy wooden frame with a canvas seat. The main common characteristic of all deck chairs is that they can easily be folded to be stored away. The original deck chairs used to unfold to a single, reclining position. Contemporary models have an adjustable frame that can be locked into several different sitting positions. Some deck chairs have armrests and maybe even an unfoldable or detachable footrest. Deck chairs were first used on cruise ships and liners where the first class passengers would sit on the deck in those chairs, hence the name 'deck chair'.
Features of a Deck Chair
Deck chairs have many advantages, which is probably why the main design has remained basically unchanged to this day. First of all deck chairs are very comfortable, as the seat is big and adjusts itself to support the body. Most people know that a deck chair is much more comfortable that any rigid plastic chair, if someone remains seated for anything more than half an hour. This comfort is combined with practicality and functionality. The simple folding design makes it easy to stack and store deck chairs in a small space. One can easily unfold and set up more chairs as needed, and all this is achieved through an essentially very simple design.
An additional advantage is that due to this simple design, deck chairs are very durable. If any part of a deck chair is damaged, the damaged section or component can easily be repaired. The fabric can be removed to be mended or replaced, while the wooden frame can also be easily repaired by anyone with moderate DIY experience.
Different Types of Deck Chairs
As mentioned before, a classic deck chair consists of a sturdy wooden frame and some fabric mounted on the frame. However, in the course of the years, many variations have been developed based on this basic design.
Fabric
The all-time classic fabric of a deck chair is heavy duty canvas, and to be more precise striped canvas. This material is able to withstand rain, sun, and salt water and still feel and look good. Canvas is made from a heavy cotton thread and consists of multiple layers, ensuring a long life and durability. The result is that it is long-lasting and keeps looking good even after years of use.
Vinyl and nylon are synthetic materials that have similar properties to canvas, and for this reason are also used as the fabric in deck chairs. Good quality nylon mesh can be as durable as, or even more durable than canvas. Another point is that in extreme heat, a synthetic lets some air through, and so is cooler than canvas. Both canvas and nylon can be found in a variety of possible colours. Some deck chairs offer extra comfort by incorporating cushions in their design.
Frame
The frame of traditional deck chairs was made of sturdy, heavy wood to be able to withstand the harsh weather conditions on a ship. The wood of choice was teak, because of its extreme durability and ability to withstand the corrosive effects of salt water. Deck chairs were heavy for one more reason: to be able to stay in place even in conditions when the deck of the ship was moving with the waves. Wood is still a very popular material today because it's strong and also because it gives a natural, classic look.
Today, many deck chairs have frames made of metals such as aluminium, iron and steel. Aluminium has the advantage of being both resistant to rust and lightweight, allowing for easy handling, folding, unfolding and storage. Iron is strong and heavy, but it will inevitably rust and needs regular maintenance. Other metals of higher or lower quality are also used. It is always advisable to choose a materials that can withstand the elements, as deck chairs sit outside most of the time.
Plastic deck chairs also exist in different qualities. Plastic resins are very durable in the sense that they do not break easily and are water resistant. The top layer however does get damaged and stained over time, which is why plastic deck chairs require maintenance, too.
Cleaning Deck Chairs
There are some obvious benefits that come with regularly cleaning deck chairs. First of all, the chairs look better and secondly, proper cleaning and maintenance can increase a deck chair's lifespan by many years.
Cleaning the Fabric
In many deck chairs, the fabric can be detached from the frame. If this is the case, the best solutions is to take off the fabric and wash it separately. Canvas, as well as most other materials are machine washable. After cleaning, the fabric can be put back on the frame. It is important to put canvas back on the frame while still damp. This is to maintain its shape.
If the fabric cannot be detached, it has to be washed by hand. The best cleaning agent for most cases is simply water with an all-purpose detergent such as dishwashing liquid. Borax can be added to the mixture for a better effect while laundry soap is another alternative. The detergent must be brushed onto the fabric using a hard brush. After brushing the detergent in, one should let it soak in for about 15 minutes. After that, the chair can be washed with a garden hose and left to dry.
Cushions can be washed in the same way and left to dry on their edge. Before washing the cushions, it is a good idea to vacuum them or shake them out to remove most of the dust. You can ensure it is done effectively by using popular brands such as Dyson or Miele.
Cleaning the Frame
Wooden frames can be washed in much the same way as canvas. You can use some water and mild detergent, wash them down with lots of water and leave them to dry. There are many protective oils, pastes, and coatings that can be used to help protect the wood against moisture and the sun. If the wood is painted, it is important not to use a high pressure hose as this can chip off flakes of paint.
Painted aluminium frames can be cleaned with a mild detergent and water. Untreated aluminium does not rust but it does oxidise, becoming dull and losing its shine. This can be restored using metal polishing paste. After cleaning the deck chair frame, a car paste wax can be used to create a protective coating. Iron is quite vulnerable. If rust appears on the frame it must be sanded clean down to the shiny metal. After that, some primer and paint can be applied to restore the frame to its former glory.
Plastic deck chairs can also be washed with a mild detergent and water. It is very important to rinse them off well, as soap residues can damage the plastic. In general, it is a very good idea to protect deck chairs as much as possible. When they are not used, and especially during the winter, they should be stored inside. The good thing is that they can be folded and so take up minimal storage space.
How to Find Deck Chairs on eBay
You can find a wide variety of deck chairs on eBay. Just go to the eBay homepage, type "deck chairs" in the search box and press 'Search'. You can then choose one of the categories like Garden and Patio Furniture. Inside those categories you can refine your search further using criteria like material, colour, price range, and more. Alternatively, if you are looking for something specific you can start off with a more detailed search like "wooden blue deck chair".
When you have found a deck chair you like, you should have a good look at all pictures of the product. Especially if the deck chair is used, it is good to know as much as possible about its condition before making a purchasing decision. It is always advisable to contact the seller with any questions so as to avoid unpleasant surprises. To send the seller an email, just go to their profile page and click on the contact link.
Conclusion
A deck chair is a classic piece of garden furniture. Deck chairs are comfortable, easy to store and stack thanks to their folding mechanism, simple and elegant. If properly taken care of, deck chairs can prove very durable. Next to the classic wooden and canvas deck chair, there are many variations on this theme. For the seat, nylon and vinyl can be used instead of canvas. All these materials come in a variety of colours and patterns. The chair frame can be made of aluminium or some other metal, or even plastic resin.
Properly cleaning and protecting a deck chair will ensure that it lasts much longer. In general, the best cleaning agent is a mild, all-purpose detergent such as dishwashing liquid, dissolved in warm water. This solution can be applied with a sponge, cloth, or brush. It is very important to rinse the detergent off with lots of water to avoid stains. Aluminium and wooden frames do require some special treatment. The golden rule though is to protect furniture as much as possible by using a cover or by storing them inside when not in use.