Stainless steel cutlery sets are resistant to stains, but susceptible to dulling, fingerprints, streaks, mineral composites, and smudges. Stainless steel features an oxide coat that makes it a durable material, but if not properly maintained, the coat corrodes and the material rusts like regular metal. Employ suitable stainless steel cleaning methods to keep your cutlery set looking like new.
Scrub in Hot Soapy Water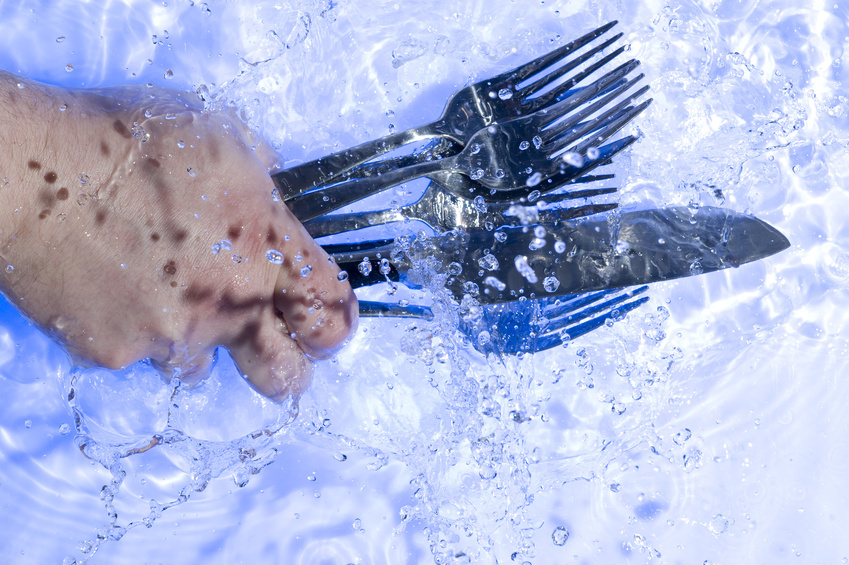 Wash by hand to effectively remove pesky spots from everyday use. Fill the sink with warm water and add a dash of dish soap. Wear rubber gloves and scrub the cutlery under the water for at least 20 seconds. This gives enough time for the marks to lift. Do not use a coarse or wiry sponge because it will leave scratches.
Run Through the Dishwasher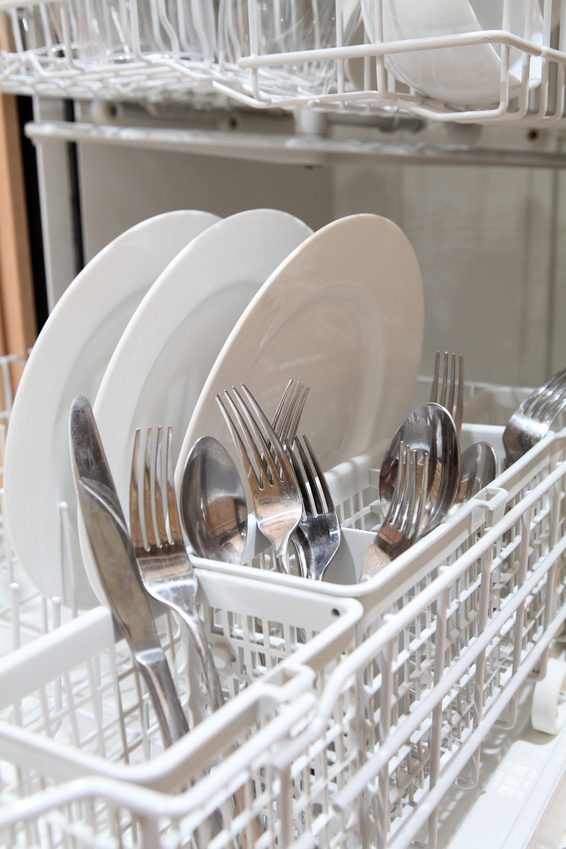 First, rinse off and remove any traces of food. Acidic and salty food pit or corrode stainless steel when left on too long. Avoid direct contact between dishwasher detergent and the cutlery, as this may cause dark spots to form. Since the dishwasher dry cycle often leaves water spots on stainless steel utensils, it may be best to skip it. Remove after the rinse cycle and dry by hand. Along with a fresh towel, use a small amount of hot water to remove tough spots. As stainless steel regularly run through the dishwasher may develop a bluish tint, rub silver polish on and thoroughly wash with soap and hot water to remove it.
Wipe with Olive Oil
Stainless steel cutlery develops black streaks from the accumulation of mineral composites from water. To remove, dip a towel in olive oil and rub the cutlery. Use a small amount of olive oil so it easily rinses off. Give the utensils a firm scrub, and move in the direction of the grain—if any is noticeable. Rinse off with hot water and dry each piece thoroughly.
Soak in Vinegar
Place a fresh piece of aluminium foil in a deep rectangular dish. Add undiluted vinegar to the dish, and soak the stainless steel cutlery for 10 minutes. Once complete, remove and wipe it down with a cotton tea towel. Rinse under hot water to remove excess vinegar and dry every piece completely to avoid water spots.
Sprinkle Baking Soda on Stainless Steel Cutlery
Baking soda preserves the oxide coat, yet it is strong enough to remove tough grime. Sprinkle on the area with grime, dip a tea towel in undiluted vinegar, and scrub the utensil. The non-toxic reaction between the vinegar and baking soda loosens the grime and makes it easy to remove. Wipe the area at various angles and in circular motions-making sure to apply moderate pressure. Rinse the solution with warm water and dry with a fresh towel.