A shiny copper kettle adds a warm feel to your kitchen. An antique copper kettle that once served tea, coffee, and hot chocolate can make a beautiful addition to any mantlepiece or side table. Unfortunately, keeping copper items shiny may seem like a never-ending task. Both commercial products and some age old methods can help you keep your copper kettle shiny.
Copper Cleaning Solutions

There are many types of commercial copper cleaner. Simply follow the instructionsto use these cleaners safely and effectively. Home cleaning solutions usually consist of mild acids and gentle abrasives. When cleaning antique kettles make sure you avoid harsh abrasive products.
Required Items

Copper Cleaning Approach

Notes

Half a lemon

Sea salt or other coarse salt

Combine the salt and lemon

Rub until tarnish is gone

Rinse with warm water

Dry with soft cloth

Mildly abrasive

Also cleans brass

Flour

Vinegar

Coarse salt

Mix ingredients into a paste

Rub tarnish with paste

Polish with a soft cloth

Mildly abrasive

Tomato ketchup

Spread ketchup thickly on tarnished item

Leave it on for several minutes

Rinse with water

Non-abrasive

Also cleans brass

Vinegar

Salt

Mix 1 cup vinegar and 3 tablespoons salt in a spray bottle

Spray tarnished item

Wait 30 minutes

Wipe with a clean cloth

Non-abrasive

Also cleans brass
Crumpled newspaper pages make good alternatives to polishing cloths. They are less likely to leave streaks or marks and they produce a good shine.
Lacquered Antique Copper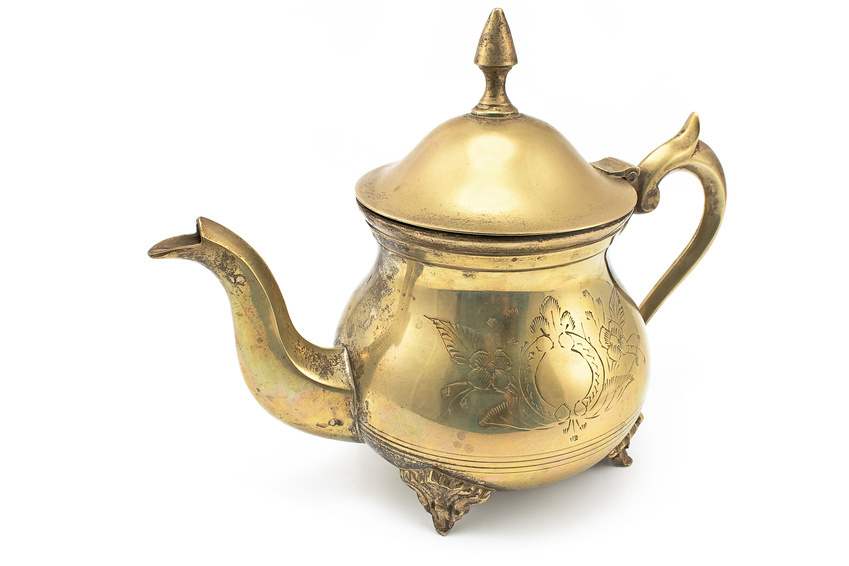 Sometimes antique copper kettles have a lacquer finish to prevent tarnishing. Once the copper tarnishes under the lacquer it is impossible to clean without removing the lacquer. To remove the lacquer, mix 2 gallons of water with 1 cup washing soda in a large pot. Bring the water to a boil and carefully place the lacquered old copper kettle in the boiling water. When the lacquer begins to peel and use a tongs to carefully lift the vintage copper kettle from the pot. Wipe it firmly with a clean cloth; the loose lacquer should peel off allowing you to remove the tarnish.
Materials Other Than Copper
Copper kettles often include other materials such as brass or stainless steel. Most copper cleaners are also suitable for these metals. Most kettles have knobs and handles made from heat-resistant materials such as wood, ceramic, or plastic. Do not use copper cleaners on these surfaces. Some modern copper kettles can be electric kettles. Electronic components should not come in contact with copper cleaners.
Maintaining a Copper Kettle
Clean copper begins to tarnish again the minute it is exposed to air. Owners can treat copper kettles no longer in use with Renaissance Wax, a microcrystalline protectant used by the British Museum. Kettles that are used frequently require frequent cleaning. A commercial polish is often the most convenient way to keep these centres of kitchen life shining on the hob.