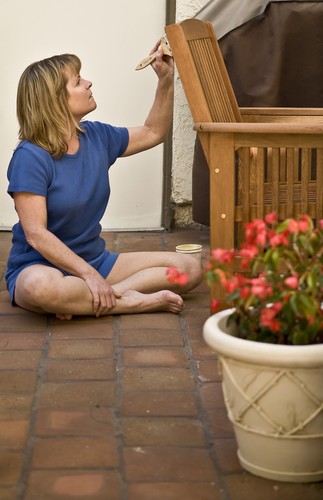 It is that time of year again, the sun is shining and everyone is taking the opportunity to refresh their home inside and out. With the prices of garden furniture so high, it makes sense to expend a little effort in looking after existing garden furniture. Proper care helps to preserve a garden armchair's original good looks. Alternatively, for those in the market for some additional garden furniture, it is possible to save a substantial amount of money by buying used garden armchairs. A used garden armchair may look a little battered, but it can easily be restored to its original glory. An occasional clean and quick maintenance session can prevent the ravages of time and weather, and ensure that garden armchairs go on to give years of pleasure.
The techniques and materials required for cleaning garden armchairs depend on whether the chair is made of wood, metal, or plastic. Learning a little about these techniques and the different cleaning agents is important, as using the wrong substance on the wrong material can damage the finish of the armchair.
Although new garden armchairs are widely available, they can often be very expensive. Used garden armchairs are difficult to find, although they can sometimes be rooted out by a trawl of second hand furniture outlets. In either case, the most convenient and hassle free way of finding a garden armchair is online, where marketplaces such as eBay have listings for garden armchairs available at keen prices. This makes eBay an excellent place to look for a new or used garden armchair.
The Basics of Cleaning a Garden Armchair
The essentials of garden armchair maintenance include firstly removing surface dirt and then taking action to remedy any remaining stains or discolouration. There is a fine line between simple cleaning and active restoration. Crossing that line is by no means an issue, and many people in the course of cleaning garden armchairs do stray into the realms of renovation. Whether simply cleaning or also restoring, the basics vary according to whether the chair in question is made of wood, metal, or plastic.
Cleaning a Wooden Garden Armchair
By far the most desirable and popular wood for manufacturing garden furniture is teak. The reason teak is considered sought-after is precisely because it needs relatively little maintenance. This is because of the natural oil content of this tropical hardwood. These naturally occurring oils helps ensure teak's resilience against moisture and the cold. However, no furniture is entirely maintenance free and even teak benefits from an occasional sprucing up. A word on prevention: Teak in particular is best protected by regular applications of teak sealant, not teak oil. Teak sealant will help to prevent stains.
Remove Rain and Airborne Contaminants
Furniture kept outdoors has a number of enemies. The two most damaging of which are rain and its associated contaminants, and airborne dirt and pollution. Obviously, the location of the armchair greatly affects the extent to which these elements damage the armchair's finish. Rain in industrial areas is likely to be more contaminated than rain in areas with clean air, but nowhere is exempt from contaminants entirely. The same applies to airborne dirt and pollution. Even in places with clean air, just common dust settle on furniture and eventually become worked into the grain.
Use Warm Soapy Water
The good news is that these contaminants are easily countered. Firstly, use a waterproof dust cover whenever possible, as this will reduce the amount of dirt that lands on the wood. Secondly, wash the furniture either weekly or at most one a month. It is not necessary or even advisable to use any special cleaning products for this. In fact, strong cleaners can damage the wood and strip the teak of its natural oils. Rather, simply apply warm soapy water with a soft sponge. This is sufficient to remove any dirt. Treated in this way, a teak garden armchair will look good and last for many years.
Remove Stains from Wood
A wooden garden armchair can become stained when red wine or brightly-coloured dishes such curries are spilled. In this case, the stain may quickly find its way into the grain, making the spill difficult to remove. When these incidents do occur, quick action is far better than trying to remedy the damage later. Remove the offending spill as soon as possible to limit the damage. If a stain does result, it is possible to try cleaning the area using a dedicated wood cleaning product. But these are often harsh, and can damage the wood.
Sand Down the Wood
If stains do take hold, the best option ultimately is to sand the wood down, removing a thin layer and hopefully exposing the unstained wood which lies beneath it. This will soon weather to match the rest of the chair.
Once sanding down begins, the line between cleaning and restoring becomes blurred. How far to sand down is a matter of personal judgement, and if the armchair is valuable, the task may best be left to a professional. That said, staining is rarely so serious that it is noticeable from a short distance, and over time wood naturally deals with these minor imperfections.
Cleaning an Iron Garden Armchair
Iron rusts, and left outside it can rust badly, so crossing that dividing line between cleaning and renovating is sometimes difficult to avoid. Although iron rusts, it only does so in the presence of moisture. Therefore keeping the paintwork or powder coating on a garden armchair intact preserve the metal underneath. As with wood, a warm soapy water wash down can remove surface contaminants, but once the chair is dry again it is important to remove flakes of rust or chipped paint and then re-seal the surface. This procedure is best done using a fine grade sandpaper, followed by touching up with a metal primer and then sealing with a metal paint.
To keep an iron garden armchair in pristine condition, consider using a good quality car polish. A polish can help in reducing moisture penetration. If the chair has those attractive swirling patterns in the metal, the polish may be difficult to apply, in which case use a spray-on polish and repeat regularly.
Cleaning an Aluminium Garden Armchair
Bare aluminium does not rust as such, but it can still oxidise. This causes pits to appear on surface. To remove this pitting, use a fine grade of metal paste. Like toothpaste, this contains gentle abrasives which remove dirt and signs of oxidation. Seal the aluminium with car polish, as with iron, to protect it.
Painted Aluminium
Aluminium which has been painted or otherwise protected can be treated like other painted metal. Wash regularly with just mild soapy water, dry it, and if there are chips or other imperfections, touch them up immediately.
Cleaning a Plastic Garden Armchair
This is by far the easiest of the the materials to look after. Resin plastic of the sort normally used for garden furniture is impervious to most weather conditions. A plastic garden armchair simply needs to be washed with soapy water to remove surface dirt. It should then be pristine.
Buying a Garden Armchair
If you are thinking of buying a garden armchair, first you need to consider what will happen to it in the winter. Is there space to store it under cover, or better still inside? If storage space is limited, a folding garden armchair is a good idea. If space is non-existent, a garden armchair which can fend for itself against the elements, such as a plastic garden armchair, is essential.
Garden armchairs are popular thanks to the British love of sitting outside and enjoying the summer sun. Perhaps because of this popularity, the prices garden centres charge for them are often high. Before making a purchase, consider how to make the most of your available funds. For many people these days, that means avoiding the garden centres and high street stores, where premium prices rule, and buying garden furniture online. Substantial savings can be had by buying a used garden armchair rather than a new one. You are likely to find a better selection and keener prices at an online market such as eBay.
How to Find a Garden Armchair on eBay
Searching for garden armchairs on eBay is simple. Just enter a phrase such as "garden armchair" into the search bar. You will find this search tool on the home page or any page on the eBay website. If you have a very specific type of garden armchair in mind, simply include the description of that chair in the search phrase. You are also able to sort the listings on the results page according to type of chair, colour, and material. You can also specify the condition of the chair.
Of course, if you choose to only shop for used garden armchairs, you should look at the photos in the item description very carefully. If the photos are stock photos, you should contact the seller and request close-up photos of the chair itself. You should look for signs of wear and tear and any rust. To contact the seller, simply go into their profile page and click on the contact link.
Conclusion
The popularity of garden armchairs can make them expensive items to buy, which means that looking after them properly is essential. Whether preserving existing furniture, or buying a used item and cleaning it up, knowing how to remove grime and surface contaminants from a garden armchair is a worthwhile skill. With proper care, a garden armchair can last for years without degrading.
The proper cleaning agents and processes for cleaning and preserving a garden armchair depend on what it is made of. Wood, various metals, and plastic each have their own requirements. What they have in common is that a little effort on a regular basis can prevent long term damage.
Although buying a garden armchair can be expensive, the cost can be reduced by shopping wisely. Avoiding garden centres and high street stores and instead shopping online, provides one route to lower prices and a wider range of choices. Online markets such as eBay can make finding a garden armchair, new or used, faster, simpler and cheaper.