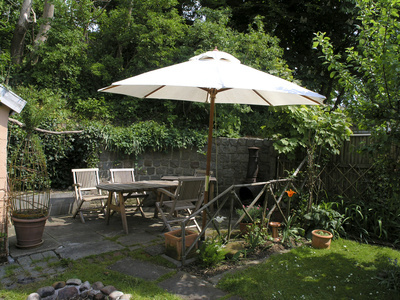 That time of year has come around again. The time where everyone takes the opportunity to refresh their homes inside and out ready for the warmer weather. But why should the garden furniture get neglected? Take this as an opportunity to look after those forgotten about piece in the garden, especially the garden parasol.

It is a good idea to clean a garden parasol at least once a year, after summer is over and a few days before putting it into storage. Yearly cleaning helps to maintain the condition and lifespan of the parasol by avoiding the likelihood of mould, mildew, algae build-up, and rot, which can be damaging. A parasol must have the opportunity to fully dry before being put into storage, so it should not be cleaned on the same day that it is packed away.
The choice of effective cleaning products and techniques depends on whether the parasol is vinyl or canvas. Some garden parasols need to be cleaned by hand, but others can be machine washed. It is also important to clean and dry all of the fixtures and fittings connected to the parasol. All of the cleaning supplies for garden parasols can be found at garden centres, DIY shops, and department stores, as well as online at eBay.
Types of Garden Parasols
The way that a garden parasol is cleaned depends on the materials that it is made from: different materials require different cleaning products. The two main types of garden parasol are vinyl and canvas.
Vinyl Garden Parasol
Vinyl is very strong and resilient. It is a synthetic material that has a number of uses. Vinyl is well suited for a garden parasol because some models are waterproof and it is easy to clean. Good quality vinyl garden parasols are resistant to fading and damage from exposure to ultraviolet light from the sun. This means that they can last for a long time if properly maintained. Lower quality vinyl tears easily, so care should be taken when moving or cleaning it. Vinyl parasols are available is a selection of colours and patterns to suit every outdoor garden theme.
Canvas Garden Parasol
Canvas is a tough, durable, woven fabric. It can be made from cotton, jute, linen, or polyester. Heavy canvas is a good choice for a garden parasol because it is strong and flexible. However, it can still be torn if caught on a sharp object. Expensive canvas garden parasols are treated to make them water, heat, and fade resistant. However, parasols that are not treated quickly fade in the sun. So, a colourful print will not last very long unless the parasol is chemically treated. Canvas garden parasols are notorious for mildew and mould growth. Therefore, it is important to clean, dry, and store them properly.
Cleaning a Garden Parasol
Care should be taken when purchasing products to clean a garden parasol as inappropriate chemicals may damage it. The cleaning method depends on the type of parasol.
Cleaning a Vinyl Garden Parasol
If the parasol is not particularly dirty, cleaning it is a simple affair. All of the loose debris, such as leaves and twigs, should be removed with a stiff brush or broom, taking care not to puncture or tear the vinyl. Cold water can then be used to wash the parasol and remove any loose dirt.
For lightly soiled vinyl parasols, a cleaning solution made from mild soap and warm water works wonders. Detergents such as washing up liquid and laundry powder can work well, creating a mild, fragrant cleaning solution that removes most dirt and grime. If, however, the soiling is too extensive, and mild soap and warm water is not getting the vinyl clean, it is possible to use a solution designed for cleaning the vinyl fabric of soft-top vehicles. Using a soft bristled brush, apply the cleaning solution in a circular motion to loosen any stubborn grime. Allow the mixture a few minutes to soak in so that the detergent can lift out any tough stains. Air dry the parasol: it is important not to use any artificial heat source, such as a hair dryer, as the heat can melt the vinyl.
Cleaning a Canvas Garden Parasol by Hand
Scrub the canvas with a soft or medium brush to remove any loose dirt and debris, such as bird droppings, leaves, and berries. It is not wise to use a very stiff brush on canvas because the bristles may may tear or scratch the fabric. Use a soft cloth to wipe over the parasol, removing any debris that was lifted by the brush. Use a hose or a large bucket to thoroughly soak the canvas with cold water.
Wearing protective rubber gloves, mix a solution of two litres of water with two litres of isopropyl rubbing alcohol. Use a soft white cotton cloth to prevent scratches and colour running from the cloth to the fabric. Soak the cloth in the solution and ring it out to remove the excess liquid. Proceed to scrub the canvas thoroughly, getting into every fold and hemline, both inside and out. This should remove any trace of mould or mildew from the fabric. Any mildew or mould spores left behind can quickly grow and multiply while the parasol is stored away, damaging it for the next season. Rinse the parasol with plenty of clean, cold water. The clean canvas parasol should be left open to dry naturally for at least one full day. This ensures that all moisture is gone, reducing the risk of mildew formation.
When the canvas garden parasol is thoroughly dry, it can then be closed and stored away until next summer. The stored parasol should have plenty of space left around it, with good airflow.
Cleaning a Canvas Garden Parasol by Machine Washing
Some garden parasols are available with removable fabric attached to the spokes that form and support the parasol. It is essential that buyers check and follow the washing instructions written on the label to avoid damaging the fabric. However, as a rule of thumb, canvas garden parasols can be washed at low temperatures on a delicate cycle without causing any damage to the fabric. Once dry, the garden parasol can be store away until the next warm season.
Cleaning Garden Parasol Fixtures
Cleaning garden parasol bases, shafts, and fixtures is a straightforward procedure, much simpler than cleaning the parasol fabric. Garden parasol fixtures and fittings are generally made from metal or plastic. They can both be cleaned with a solution of mild detergent, such as washing up liquid, and warm water. All the parts should be separated from the main unit and cleaned individually to remove all dirt and grime. It is particularly important that metal pieces are cleaned with a very soft cloth to avoid damaging the metal. All pieces, especially those made of metal, must be dried thoroughly to prevent rust.
Buying Cleaning Supplies for Garden Parasols on eBay
eBay has everything that a buyer needs to clean their garden parasol effectively. Cleaning supplies can be found by searching from the eBay homepage. Enter a phrase into the search box, such as "soft cleaning cloth", which produces a list of relevant products. Using the filters available helps to narrow down the number of items by setting clear parameters for the search function.
When you have found a product, read the item description carefully. Check that the product is safe to use on the garden parasol. Also, look at the seller's feedback. Feedback is an important part of the eBay process. It is information left by other buyers detailing their experience with the seller. This information includes whether the postage costs were reasonable, the item was dispatched in good time, the seller communicated well, and an overall view of the customer experience. This is a valuable tool, as the higher a seller's feedback, the more likely that you will have a good shopping experience. It is worth checking the seller's returns policy just in case the product is inappropriate.
Buyers can also use eBay stores to purchase their garden parasol cleaning supplies. eBay stores often specialise in one particular area, such as garden furniture or cleaning supplies, and the seller may be able to help you to find the right products.
Conclusion
Cleaning a garden parasol is an essential chore that frequently gets neglected. A garden parasol should be cleaned and dried thoroughly before being put away, otherwise mould and mildew form quickly, which leads to the parasol requiring replacement. Cleaning a garden parasol is a fairly simple task, but must be done with care, and may be quite time consuming. The proper cleaning methods and products depend on whether the parasol is vinyl or canvas and how heavy the dirt and grime is. Garden parasols tend to pick up a variety of debris and some may take considerable scrubbing to get clean. Once clean, they need to be left to air dry for at least a day before being stored. It is particularly important for canvas garden parasols to be stored in a dry place with plenty of air circulation to help to prevent rot and mildew.
All the garden parasol cleaning supplies a buyer may need are available on eBay, so there is no excuse for not having a clean and bright parasol for the next summer season.