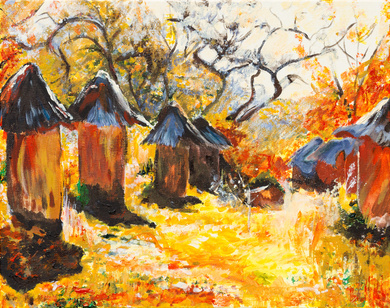 In the world of printmaking an open edition print is defined as a print that can or will be produced an unlimited number of times. Limited edition prints are produced in a set number at launch, which makes them different from its mass-produced counterpart.
The consumers feel the true benefits of open edition production run. It allows buyers to obtain copies of sought after pieces of art at affordable prices. This brings art that was once unobtainable within reach. Through the means of online auctions the popularity of contemporary open edition prints has risen and eBay is at the heart of this. They offer unique contemporary prints from the worlds up and coming artists at affordable prices.
Collecting Contemporary Art Prints
Debate will forever rage on with regards to what defines an art collector. For most, the term has elitist connotations. Thoughts of wealthy men and women buying art that costs more than most people's homes are not uncommon. However this image could not be further from reality; art collectors can be anyone as contemporary prints are accessible to all.
Not all art collecting is about investing in rare and expensive pieces. Even though there are some individuals who pursue the aforementioned, most art collectors are looking to appease their own tastes. An individual who is simply looking to make money from collecting artwork is not making the most of art's ability to provoke and intrigue.
Those who are new to print collecting have a wealth of options at their disposal. If you find yourself captivated by contemporary art there are several ways of fuelling such an interest. Admittedly, art can be both an expensive and affordable passion depending on perspective, but open edition prints will be more forgiving on a shopper's bank balance.
Artists and Subject Matter
Locating contemporary artists that suit the tastes of a buyer can be a tricky process. All artists (no matter of their popularity) have a digital presence and a large majority use eBay as a vehicle to both promote and sell their work. There are several ways to gain a base knowledge of contemporary art:
Visit a local gallery - See what regional artists are offering, garner some information on their work and see if it is of interest.
Talk to gallery owners and assistants - They will often be happy to discuss the world of contemporary art and the popular artists in the field.
Read art books – eBay has books available for purchase that detail the history of the art form.
The above will help buyers become knowledgeable of the field and prepare them for entering the competitive online auction environment. Contemporary art can be experimental so approaching it that same way you would others forms of media is recommended. Stepping out of a comfort zone can broaden a buyer's horizons and make the art buying process all the more satisfying.
Canvas Sizes
Prints come in a variety of sizes (usually on the same scale as paper), each of which suits a different environment. The following sizes are considered commonplace:
A0 – 1189 x 841 mm
A1 – 841 x 594 mm
A2 – 594 x 420 mm
A3 – 420 x 297 mm
A4 – 297 x 210 mm
A5 – 210 x 148 mm
Smaller and larger sizes will be available from most vendors upon special request. Size is relative to where you choose to hang the print. For example, a living room will require a larger size print than the kitchen. Using eBay's advanced search functions will allow buyers to locate the perfect size prints for their home. Whether they are starting small or big there are a variety of sizes that can help fledgling contemporary print collectors get started.
Using Contemporary Art Prints in the Home
Contemporary art prints are an inexpensive way to decorate the home. Hanging prints of images you love can add colour and sophistication to a room. Contemporary art works wonders in the home but placing them correctly is a skill in itself. Most will place prints in the hallway and living room areas but it is worth noting that they are not limited to such environments. Here are tips that will help art collectors select pieces that will add something to a home's decor.
Take note of the room's "look" before entering the market for a contemporary art print. See where a new print could potentially fit in terms of both space and style. For example, if you have wall space that needs brightening up consider purchasing a large vibrant print.
Be aware of the general tone of a room and the colours used.
Purchasing a contemporary art print that adds to the already established colour system would be a smart choice.
Do not overpower the room with a print that is too large. Doing this will detract from the rest of the room's décor.
Displaying a contemporary art print collection is something that every art collector looks forward to. Do not limit them to just the living room and hallway, try areas such as the kitchen and bedroom. Such rooms sometimes require that special touch and bringing in rich colours and vibrant designs will only be of benefit. Contemporary prints allow art enthusiasts to add to the design of a home in an affordable way.
Used or New Prints
Being an online auction environment eBay presents the opportunity to buy both used and new prints. New prints will come wrapped in plastic or brown paper. However when buying used there are certain things to watch out for:
Scratches – These can occur to prints when they have been mishandled. Scratches usually happen when the canvas comes in contact with a sharp surface.
Tears – Far more severe than scratches. Small tears can be repaired, however large tears mean that canvas is destined for the bin. They happen when a canvas has been poorly treated and inappropriately stored.
Stains – Marks on canvases are usually permanent. Art cleaning and restoration services are available but there are no guarantees that such service will save the print.
Quality is a key element to look out for when shopping for used contemporary open edition prints. Watch out for damage and ask sellers about how prints have been stored prior to purchase. If possible ask for close up pictures of the canvas surface in order to help spot any blemishes.
Signed Prints
When furthering your interest in contemporary art there are open edition prints available that differ from the norm. True collectors will seek out prints that are signed by the artist. These can be difficult to come by but will be the gem in an art collector's collection once acquired. Several ways of finding such rarities include:
eBay's Advanced Search
Talk to Dealers
Talk to eBay Sellers
Using these methods will help you source out signed open edition prints. Most open edition prints do not maintain value any higher than RRP, however signed prints have the potential to rise in value over time and can become sought after by those in the industry.
How to Buy Contemporary Open Edition Prints on eBay
Contemporary open edition prints may not be immediately associated with art collecting. However, with access to such being so simple, everyone has the ability to start his or her own contemporary art print collection. Art is subjective, but no matter a buyers taste, eBay has something to suit everyone.
To start exploring what the world's leading online auction site has to offer use the navigational tools found on the left of the page.
Locate the collectables and antiques category before clicking on the art sub-section.
Delivery
Artwork no matter if it is a print or an original piece will be delicate so expect to pay high delivery prices. In most instances eBay sellers will expect buyers to purchase an insured courier as a delivery option. Canvases at the larger end of the scale will only be available for pick up, if a seller indicates that this is the case they will list the item as "collection only".
Making a Purchase
When buying a contemporary open edition print from eBay a prospective buyer will need to do one of the following:
Bid
Make a Best Offer
Buy it Now
Once an auction has concluded the successful buyer will need to complete the checkout process. Making payment with PayPal will mean that the buyer protection program covers the transaction.
Conclusion
Contemporary open edition prints are common but their versatility is unrivalled in the art world. They offer prospective collectors the chance to revisit classic pieces of art and explore new artists. Those who are new to buying prints will be impressed by the sheer amount available for sale
Using this guide means that those new to buying canvas art will have all the information they need in order to start building a collection. eBay has become a prime spot for artists old and new to promote their work, it is this diversity that means even the most selective art lover will find something they enjoy.