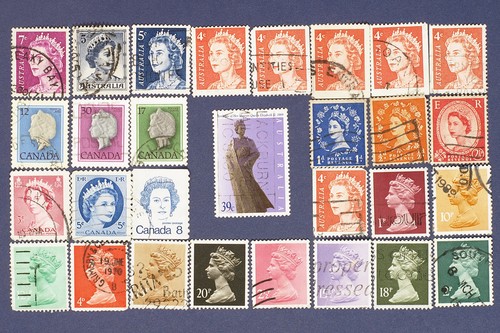 For any individual looking to start collecting Queen Elizabeth II stamps,, the first challenge that must be addressed is to weed through the sheer number of stamps that are available. Because Elizabeth II has been Queen since 1952, and because she was Head of the Commonwealth during that time, there is a truly enormous range of stamps for a collector to focus on. Knowing how this selection can be broken down into collectable groups can help any collector get a handle on the subject. Some simple research into the background of a particular group of stamps makes an informed decision about which type of stamps to collect much easier. The technological, social, and political issues all make it more interesting to collect stamps from a particular group. Both novice and experienced collectors can make best use of the collecting opportunities online if they a clear idea about what they want to collect.
British Definitive Stamps
Definitive British stamps have been issued since 1840, when Great Britain became the first country in the world to issue postage stamps. They are the everyday stamps issued by the Royal Mail to mark postage as having been paid. Since Queen Elizabeth II ascended the throne in 1952, there have been two distinct series of British definitive stamps, the Wildings and the Machin head. These are each discussed in the sections below.
The Wildings
The Wildings series was the first design of stamps issued after Elizabeth became Queen in 1952. The General Post Office commissioned society photographer Dorothy Wilding, after whom the stamps are named, to shoot a portrait photograph of the new Queen. Dorothy Wilding's photograph showed the Queen wearing a diamond diadem originally made for King George IV, in the 1820s. Designs for the new stamp series were commissioned, and five basic designs using the portrait were selected. The first stamps in the series were also the first to feature graphite lines and phosphor bands on the front and back, to aid with automation processes.
When originally issued, the stamps came in 18 values: in 0.5d increments up to 3d, and in 1d increments up to 1s. The Wildings were used as the face of British definitive stamps until 1971. Due to the vast number issued, collecting Wildings stamps can present a significant challenge to any collector.
Machin Head
With the advent of more richly designed commemorative stamps, many artists believed that the Wildings designs placed too many restrictions on the creative process. There was also a school of thought that felt that the old design needed updating, because it represented the monarch rather than the monarchy. As such, critics felt it was not appropriate for late 20th Century Britain.
Designer Arnold Machin had recently completed work on a new coinage design, and he created a sculpted profile of the Queen to replace the Wildings design. The sculpture was used as the basis of a stamp design that contained only the Queen's head and the value of the stamp. This simple design was made possible by the fact that British stamps are the only stamps in the world that are not required to have the name of the country on them.
The Machin head replaced The Wildings in 1971, and has remained in use ever since. Today, the Royal Mail issues a new set of definitive stamps (with new colours) once a year. As with the Wildings, collecting these stamps can be challenging, since there have been so many variations since their first introduction. For example, the Stanley Gibbons catalogue section of the Machin head stamps takes up over 770 pages.
Regional Variations
During the 1950s, there was a resurgence of interest in national identity, and it was agreed that there should be regional versions of the definitive stamps. Using the original Wildings design, symbols and heraldic emblems that related to each area were also added to the stamps. Stamps were created for Scotland, Northern Ireland, and Wales, as well as Guernsey, Jersey, and Isle of Man. The stamps were originally sold only in the areas they represented, but were nevertheless valid across the United Kingdom. New regional variations were introduced along with the Machin head design, and the Royal Mail still sells regional stamps today, although they tend to be more closely linked to commemorative stamps in their design.
British Commemorative Stamps
The Royal Mail issues commemorative stamps in the U.K. to mark significant national events. In the 1950s, the Wildings designs placed considerable restrictions on stamp designers, and eventually artists and stamp designers pressed for a change.
Off With Her Head
During the mid-1960s, a strong Labour Government were anxious to modernise British society. Then-Postmaster General Tony Benn lobbied for changes within the Post Office to reflect a new society. He wanted to have the monarch's head removed from British postage stamps, and worked with a like-minded designer named David Gentleman to create a series of new definitive stamp designs. However, any changes to the designs of a Royal Mail stamp must be approved personally by the Queen; unsurprisingly, she vetoed the changes. Nevertheless, they eventually reached a compromise, and Gentleman designed a cameo relief used on commemorative stamps between 1966 and 1968.
In 1966, the Royal Mail commissioned a series of stamps commemorating Burns Night, and encouraged Scottish designers to create "non-traditional" designs. In effect, this meant designs without the Queen's head. However, none were ever produced, once the Queen objected.
Current Trends in Commemorative Stamps
The Royal Mail issues stamps to commemorate a wide range of events, but one current trend is to issue stamps to mark significant Royal events. Before the accession of the Queen, royal events were rarely commemorated in this way. The notable exception was George IV's coronation in 1937, and an issue to celebrate the King's silver wedding anniversary in 1948.
Since the use of the Gentleman relief on stamps of this type, there has been a range of royal commemorations. These include the Queen Mother's 100th birthday, the Queen's silver, golden and diamond jubilees, and the wedding of the Duke and Duchess of Cambridge. Memorial stamps were also issued following the deaths of Princess Diana and the Queen Mother.
The Royal Mail is committed to its programme of commemorative stamps, and always marks the release of a new issue with First Day covers. These are hand franked from a named post office sorting office, and are marked "first day of issue." These offer an opportunity for collectors to add value to individual stamps.
Overseas Territories
Because she is head of the Commonwealth and Queen of a number of other countries (e.g. Canada and Australia) Queen Elizabeth II is featured on a lot of overseas stamps, as well. As such, Elizabeth II stamps from overseas make interesting collectibles. The range of stamps is varied, and designs are not always as rigidly controlled as those issued by the Royal Mail, so this often makes for a colourful, diverse collection.
Establishing the Value of a Stamp
Knowing the value of a specific stamp is the key to building a valuable collection. Stanley Gibbons stamp catalogues list all stamps, and provide a valuation for stamps in "fine" condition. The collector can then view a potential purchase, compare it to the benchmark, and offer and appropriate price.
Production techniques for modern stamps are tightly controlled, so stamps are rarely released with errors or defects. This makes catalogue valuations quite reliable. Occasionally, stamps with defects make it to the marketplace, and these often command premium values, since collectors are very interested in acquiring rarities.
How to Buy Queen Elizabeth II Stamps on eBay
Once you have decided which stamps to collect, you can start a search using eBay. Simply enter "Queen Elizabeth II stamps&" into to the search bar that appears on every page, and eBay will generate a list of all items that match that description. You can narrow your search down by entering more specific search terms (e.g. "Queen Elizabeth II Wildings&"), or you can weed out unwanted listings by using the filters eBay suggests. For example, you can narrow your search by filtering items by condition, seller location, or price range.
Once you find one or more stamps you like, read the description carefully and examine any included photos. A good seller should create a description that tells you everything you might want to know about a stamp. If you have questions left unanswered by the photo and description, you can message the buyer directly. You should also check out feedback left by other buyers, to get a good idea of what type of service you can expect from that seller. Seller profiles contain the feedback they have received over the last 12 months.
Conclusion
Buying any Queen Elizabeth II stamp is a first step to a rewarding hobby. It might even lead to a large, valuable collection that you can treasure as a keepsake or investment. A few carefully selected purchases can get a new collection of to a colourful start. In such a specialty market, online platforms such as eBay offer collectors several significant advantages. Conventional stamp shops are rare, which means buyers may have to travel a considerable distance in order to view or buy stamps. In contrast, eBay offers collectors the convenience of browsing through hundreds of listings from the comfort of their own armchair, at any time of day or night. Moreover, eBay sellers are creating new accounts and adding new listings all the time, so buyers should check back and search again if an item they want is not currently available. Using eBay, collectors can find a wide variety of Elizabeth II stamps for their collection.