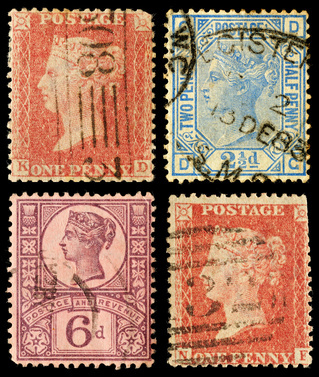 From almost as soon as the first stamp was issued, the famous Penny Black in Britain in 1840, collectors began to appear. From their humble beginnings, stamps very quickly became colourful, often beautiful, desirable objects which people could not resist buying, not to use, but to keep and treasure.
Occasionally, due to printing errors, or the fact that so few were printed, these stamps became very valuable, and were often seen as an investment. Today, however, most collectors pursue their hobby, not for the possibility of huge monetary gained from their stamps, but simply because they enjoy collecting and keeping these often beautiful objects.
While it is slightly less popular than it was at the middle of the 20th century, stamp collecting, or philately as it is more properly known, is still considered to be one of the most popular hobbies in the world. Queen Victoria stamps are some of the most collected, and the stamp collectors can learn about their history, their different types and styles, and how to buy them on eBay.
British Postal History
From as early as the 12th century, in Britain, private messengers were employed to carry letters and other important documents from one place to another. These first messengers differed from modern postmen in that while it was free to send letter or parcels, the recipients would have to pay the carriage charges. This led the unscrupulous to make hidden marks or codes on the front or rear of their envelopes to convey brief messages. The recipients would see and understand the marks or codes before handing over any money, then tell the couriers that they would not pay. This was not suitable, so in 1840, Rowland Hill persuaded the British Parliament to adopt a uniform, flat rate of 1d for prepaid letters.
Types of Queen Victoria Stamps to Collect
Because Queen Victoria was on the throne for so many years, there were many different stamps produced in that time; from the very first Penny Black, right through to the 'Jubilee Issue'. Collectors since then have often made these Victorian stamps the centrepiece of their collections, and quite justifiably so. From the early, almost crude, first stamps, right through to the gloriously coloured later issues, collectors have taken pride in these collections.
Penny Black
'1d' or 'one penny' refers to the British currency prior to decimalisation in the early 1970s. The first stamps were known as Penny Blacks, and as the name suggests, they were indeed black. They featured the head of the then queen, Victoria, in a profile facing toward the left, with the word 'POSTAGE' written above and 'ONE PENNY' written below. These first Penny Blacks also had the letter 'M' in the bottom left corner, with the letter 'H' in the bottom right corner.
Penny Red
Very quickly it became apparent that black was an unsuitable colour for a stamp, mainly because possible cancellation marks were very difficult to see. In 1841, their colour changed to be a brick red, and continued to be this way for many years. Consequently, while Penny Blacks are rare, Penny Reds, as they became known, are much more prevalent, even to this day.
Interestingly, these early stamps did not have perforations around their edges to help when removing them from a book of stamps. They had to be hand cut with scissors, and it was not until 1854 that perforated stamps, as are around today, became the norm.
Octagonal Green
It was in the reign of Queen Victoria that many experiments with stamps were tried. As well as the previously mentioned perforations, in 1847 the first octagonal stamps were produced. These were the 1 shilling, and were green in colour. Interestingly, these were also the first of only three stamps to be embossed, the other two being the 10d in brown (1848) and the 6d in mauve/purple (1854). These stamps were only produced between 1847 and 1854. Often, these embossed stamps were trimmed to shape, though this does reflect a lower value to collectors.
Because the printing process for producing these stamps was that much more complicated, the stamps could only be produced individually. This meant that there were often large errors in the printing, meaning the stamps would often run into each other on the sheets. Perfect stamps which have not been manually cut out, showing no overlaps command a much higher price than others.
Fourpenny Surface Printed Stamp
The year 1855 saw the introduction of the first surface-printed stamps in the shape of the 4d (fourpenny) stamp, and this soon became the standard size and shape of stamps to follow on. In 1870, the 1/2d (pronounced: 'ha'penny') and 1 1/2d (pronounced 'penny ha'penny' or 'three ha'pence') were introduced, and these were the last until 1913 to feature the engraved portrait of Queen Victoria.
In 1879, the last Penny Red was produced, after serving the nation for no fewer than 38 years. Because of its longevity, there are many fine examples still around today, and few collections are complete without a few examples of this mainstay of the Victorian British postage system.
In 1880, the relatively short-lived Penny Venetian Red was first produced. It was very similar in looks to the previous Penny Red, but was a Venetian red in colour, and it had a square patterned framing around the head of Queen Victoria. The Penny Venetian Red was only produced for a little over a year, but, nevertheless, some 1.5 million of them were printed.
Penny Lilac
July 1881 saw the introduction of the Penny Lilac. It was introduced due to a change in British law, namely the Customs and Inland Revenue Act 1881, which meant that stamps had to be printed with the words 'POSTAGE AND REVENUE' and 'ONE PENNY', rather than the older 'POSTAGE' and 'ONE PENNY'.
Lilac and Green Issue
Between 1883 and 1884, the Royal Mail introduced the Lilac and Green Issue. Here, the Royal Mail was experimenting with stamps that were difficult to remove from their envelopes once stuck on them, in an effort to combat the growing practise of reusing stamps which had missed being franked when first posted. When envelopes with used stamps were steamed or wetted to get the adhesives to melt, the ink in the stamps ran, making them unusable. These were not popular with the public or with collectors, and were soon withdrawn.
They were called the Lilac and Green Issue, because these were the only two colours available to the Royal Mail at the time. The green was on the low value stamps worth 1/2d, 2d, 2 1/2d, and 3d, while the lilac was on higher values worth 4d, 5d, 6d, 9d, and 1s. This is where 'd' stands for 'old penny' and 's' stands for 'shilling'. A shilling at decimalisation in 1970 was valued at five pence. There were 20 shillings to a pound.
Jubilee Issue
The last issue of the Queen Victoria stamps was in 1887. These stamps were called the 'Jubilee Issue', as they were issued in Queen Victoria's Golden Jubilee year, but, as they were not actually issued for that commemoration, they are not classed by collectors as commemoratives.
| Stamp Name | First Issued |
| --- | --- |
| Penny Black | 1840 |
| Penny Red | 1841 |
| 1 Shilling (octagonal) | 1847 |
| 10d | 1848 |
| 6d | 1854 |
| 4d | 1855 |
| 5/- or 5s | 1867 |
| 1/2d and 1 1/2d | 1870 |
| 10/- or 10s | 1878 |
| Penny Lilac | 1881 |
| Lilac and Green Issue | 1883 |
| 'Jubilee Issue' | 1887 |
In the 47 years and 12 issues since their invention, stamps changed and evolved very quickly. Starting with the first Penny Black which had only a single colour, and had to be cut out by hand as there were no stamp perforations, the world of stamps and philately in general, moved rapidly with the times.
How to Buy Queen Victoria Stamps on eBay
The best way to buy Queen Victoria stamps on eBay is to begin by looking at just what is available. Then, you can consult the authoritative Stanley Gibbons. From here, you can see how much is being asked for various stamps. Knowing this, you can head back to eBay and begin searching the hundreds, if not thousands of Queen Victoria stamps on offer. At this point, you would do well to take your time, mainly because there are so many to choose from. It might also be worth checking out the seller of a particular stamp to see if he or she is trade, or if it is a private sale.
If you are unsure about anything in the stamp or stamps for sale; maybe the photo does not show a particular feature you are interested in, then you can always ask the seller questions. A seller is usually more than happy to answer any queries you may have, and on request often publishes more pictures of stamps you are interested in.
Conclusion
Philately, or stamp collecting as it is properly known, is as old as the very first release of the first stamp. Generations of youngsters have used their pocket money to buy stamps and build impressive albums. These have inevitably been put away for storage until their youngsters are old enough to appreciate them. Old, long forgotten stamp albums have been brought down from the attic, and the next generation of stamp collectors has then begun. A few of these youngsters go on to build huge and valuable collections which they continue to work and collect for, while the rest, once again, get put into storage so that their children may one day open their dusty covers and marvel at the brilliantly coloured, artfully crafted little gems between their pages.
Stamp collecting was once seen as something to do on a rainy day when outdoor play was impossible. With the recent and continued rise in value of these highly collectable items, many are seeing them for their monetary value, as well as for their aesthetic merits.