Silver spoons were a staple of upper-class British life from at least the 13th to the 20th Centuries. These beautiful spoons make a potentially valuable and extremely interesting collection item today. Collecting them involves understanding the different factors, such as dating and design, that may affect both their price and your own decision about which ones to purchase.
Type of Souvenir Spoons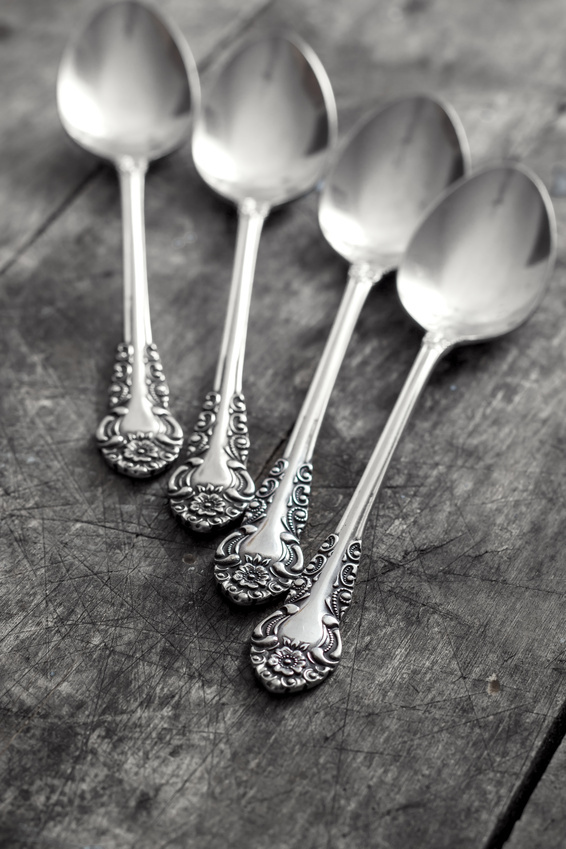 The amount of silver present in souvenir silver spoons varies according to the type of spoon. One of the most popular types of spoons is the sterling silver spoon, which consists of a mixture of 92.5 percent silver and 7.5 percent copper. They generally sell for less than solid silver spoons, due to having less silver in them. Silver plated spoons, which only have a coating of silver on top of a less valuable metal, sell for even less, while scrap silver spoons sell for the lowest amount. Most genuine sterling silver spoons will have a sterling mark, while silver plated spoons will carry no such mark.
Date of Souvenir Spoons

In addition to confirming the actual composition of the spoon or spoons you want to collect, it is important to check the date of the spoon. British spoons are particularly easy to date, because each spoon comes with its own symbol, or hallmark. As a result, it should be fairly easy to confirm the date of the spoon's creation and therefore assign an accurate monetary value to the piece you are thinking about purchasing. For instance, antique silver spoons will likely cost more than more modern souvenir silver spoons. Lists that allow you to match the hallmarks with the dates are available online.
Location of Souvenir Spoons
Another aspect to consider before purchasing a souvenir silver spoon is where it originated. While the location does not necessarily influence the spoon's value, it can provide an interesting theme around which to build a collection. The city of manufacture also tends to appear clearly on the spoon, and includes cities such as Birmingham, London, and tourist spots.
Designer of Souvenir Spoons
Also consider the spoon's designer when choosing which silver spoons to collect. This person is listed with the hallmarks on the spoon, and can help you determine its value. For instance, creations of famous designers, will carry more value. You may also wish to build a collection around a particular designer.
Souvenir Silver Spoons Designs
Finally, the designs on the souvenir silver spoons can tell you quite a bit about your potential purchase. The designs tended to evolve over the course of the centuries. For instance, the earliest spoons sported busts on the handles, called Apostle spoons, or antique Apostle spoons, while other spoons possess beautifully designed ends, pictures on the spoon itself, or other decorative marks.