Covering a Tattoo, Scar, Varicose Veins or Birthmark with Make-Up
You need a concealor that has a setting spray and finishing powder, otherwise your tattoo will show through as the day progresses. Stay clear of tattoo cover cream that is sold alone, it will rub off after a short time
There are many different brands on the market, prices range from £13.50 to £35.00, or you can even have your tattoo covered professionally at a beauty salon.
Unless your tattoo is in a difficult to reach area of the body, then I suggest you buy your own pack and apply yourself. You can get a friend to help if your tattoo (or birthmark, scar, etc) is for instance on your back.
Some cover make-up is creamy in consistency, just like normal foundation. Other brands are heavy and can be difficult to apply. To overcome this you need to apply with warm fingertips rather than a brush or sponge. Dab a couple of shades on the back of your hand and then apply to your skin. Use the lightest shade first, remember your skin is more than one shade.
The heavier the make-up the better the cover, this type of cover has more white pigment in it that acts to reflect light
Why the fixing spray and powder? Well fixing spray was first made for actors on stage, it stops make-up from running under hot lights on stage. It can also be used to set bridal make-up, professional make-up artists widely use it for photo shoots again where the set can get hot under lighting.
The finishing power is transluscent and takes away the unatural sheen from the fixing spray. Your normal make-up can be applied as normal over your tattoo cover makeup.
You will find after using your fixing spray that your tattoo camofauge make-up is waterproof.
Concealor sold as tattoo cover make-up is the same product that is used to cover scars, varicose veins, strawberry birthmarks, port wine stains, stretch marks and acne scars. Basically it is just a heavy based foundation with less oils and more light relective pigment than in regular foundation.
Your product will need to be removed with a good make-up remover or cold cream.
Be sure to practice first if using for a wedding, prom, or photoshoot to get it right!
Good Luck!
.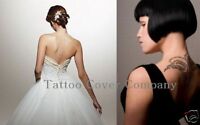 How to look demure and inocent for the big day, and still keep your wicked little tat a secret from granny.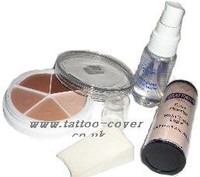 Lets start: with our guide...
I can recommend a product called Mehron Tattoo 5 Cover Wheel
It is the only product that I have used that actually stays on. It comes with a setting spray and dusting powder
The set actually comes with full instructions on how to apply, it does not take long but has a three step method used by actors on stage to combat make-up streaking, due to hot lights etc.
I can only say that I have tried and tested other products and they have not covered the tattoos or have simply rubbed off easily.
Good Luck!
www Tattoo - Cover .Co .UK