The supernatural embodiment of evil, the devil proves a popular and fun fancy dress for both children and adults alike. Though such costumes take many incarnations, they generally consist of a red outfit, horns, a pitchfork, and a tail. As long as you stick to the red motif and horns, your custom devil costume can look devilishly unique and can be great for Halloween.
Devil Outfit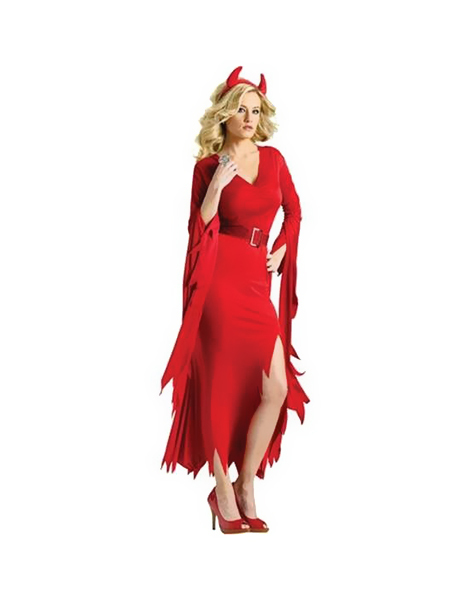 Consider the weather when creating a devil costume. For a casual night of trick-or-treating or wear during the cooler months, choose a red sweatshirt and matching jogging bottoms. Feel free to choose trendier options, such as a red jumper paired with black trousers or a nice red dress, for parties. Conversely, in warmer environments, a women's devil costume could make use of red tights or fishnet stockings and a red leotard. Alternatively, a slinky red dress does the job as well. Use a red sheet for a cape; cut it so that it falls just above your knee. For a men's devil costume, pair a red T-shirt or vest with red or black trousers or shorts. The great thing about devil costumes is it can be suitable for everyone; adults, kids, men and women.
Devil Horns
Take a strip of cardboard or poster board that measures from ear to ear across the top of your head, and paint it red. Next, cut two large triangles out of cardstock, and roll them into a cylindrical shape to make horns. Paint them red as well. For a finishing touch, add red glitter, then glue the devil horns onto the cardboard. After it fully dries, take two hairpins and fasten the makeshift headband to your hair.
Devil Tail
Make a devil's tail out of red rope and safety pin it to the backside of your trousers. Alternatively, to create one that can bend into different positions, wrap a piece of wire with foam, stuffing, or batting fabric, and then conceal it in a layer of red fabric. Next, cut out a triangular piece of thick cardboard and cover it with the same red fabric to create a pointy-ended tail. Avoid making it too long so that it does not become a tripping hazard.
Devil Pitchfork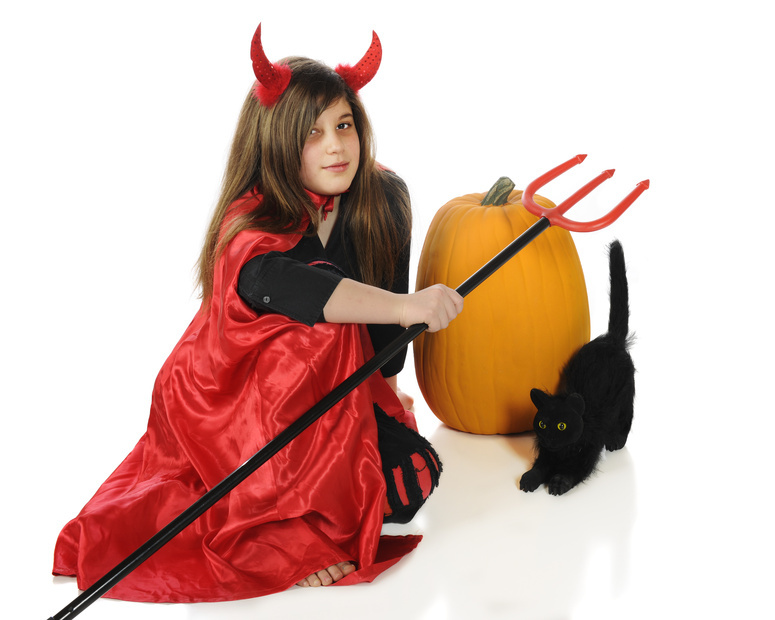 Freehand or trace pitchfork prongs onto red poster board. Cut it out, and attach it to a broom handle, plastic pipe, or walking stick with glue.
Devil Face
Using foam, papier mache, wire mesh, and other sculpting materials, create a face mask. Alternatively, forgo the mask, and apply white face powder to lend yourself a pale appearance. Women can complement the look with black eyeliner, mascara, and bright red lipstick. To look seductive, apply red glitter eye shadow and red feather eyelashes. Complete your ensemble by painting your nails red or black. Long fake nails can also help create a more devilish appearance.