Fancy dress parties are great fun for children, but also for adults, especially women, who love dressing up. A butterfly costume gives any woman a feminine and playful look and is actually quite easy to make yourself. Acquire the necessary items, like wings, and get creative with making your own butterfly costume for the next fancy dress party.
Make a Pair of Wings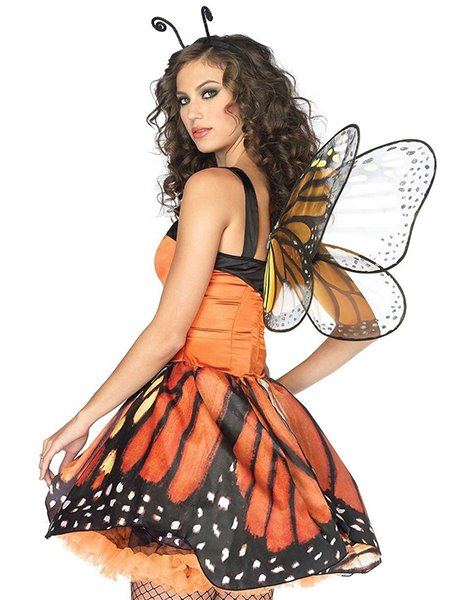 Once you have created a pair of wings, you can later attach them to a variety of clothes and thus generate many different butterfly costumes as long as you do not sew them onto one costume. Before starting to make wings, decide on the wing pattern and colours as this is probably the most important part of any butterfly. Get some wire and shape it like butterfly wings. It is best to use a stiff wire that stays in shape once you bend it the way you prefer. Cover the wires with fabric or paper. If you choose the latter, opt for a durable paper, maybe even some form of cardboard. You can paint the fabric yourself or choose one that already has beautiful colours and patterns. In case of paper, either draw the patterns onto it or print the wings out if you have a large enough printer. If making the wings yourself seems like a too difficult task, order a set of readymade wings and combine them with your clothes.
Make the Antennae
Use some wire to make the antennae for your butterfly costume. You can combine several strands of wire to create thicker antennae. Cover the wire with soft fabric by gluing it onto the wire. This way the antennae do not hurt other people, should you accidentally hit anyone. You can add pom-poms to the ends to give your antennae a playful look. You can attach them to a headband to ensure they stay in place throughout the fancy dress party.
Pick a Cute Dress
A lady's butterfly costume is very feminine and you always need a dress to complete the look. The dress could be any length, depending on the occasion. Therefore, you can create many different butterfly costumes with one set of wings and antennae. For a flirty look, you could even pick a mini corset dress and combine it with suspenders and stockings. The best colour option for the dress is probably black if you want to mimic the body of a butterfly, although the colour could also complement or contrast that of the wings. If you want to appear cute, make the wings from pastel tones and pair them with a dress with a similar colour scheme.