Many people prefer the simple and natural appeal of rustic interior designs over more complex, elaborate, and ornate styles. Rustic charm features warm, neutral colours; large, simple decorative and accent pieces; and a lot of natural materials like wood and stone. Because rustic style is all about subtle beauty, the result is usually relaxing and devoid of frills, elaborate decorations, and conversation pieces. It is easy to create a rustic look in a home by following a few basic rules for the style.
Decorate with Vintage Items
Part of the simple nature of a rustic interior is avoiding bright and shiny items that look brand new. Go with vintage furniture or at least pieces that have a vintage look. This does not mean use broken or unattractive pieces. It just means the look requires furniture and other items that appear to have stood the test of time while still looking good.
Stick with Natural Colours
Because the rustic style is all about nature, painted items are rare. Instead, go with exposed wooden beams, stone pillars, and tile that looks like natural stone. White walls do not generally go well with the natural look, so painted walls in neutral, earthy colours are actually very common.
Bring the Outside Inside

The fun thing about creating a rustic look at home is bringing the outside inside. Look for items made of natural resources like sticks or reeds. Antlers make great decorative pieces for walls, and interesting rocks look fantastic displayed in clear vases. Fire is another natural element that is popular in the rustic style. Draw attention to the fireplace by framing it with large wooden beams or surrounding it with stone. Candles placed strategically around the room also add a bit of old-world appeal to the space.
Fill the Home with Rustic Furniture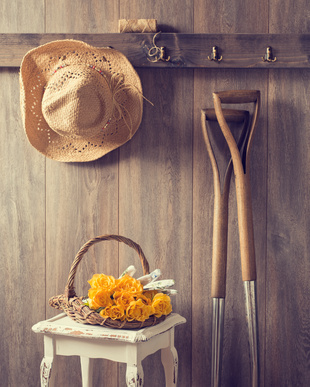 No rustic interior is complete without rustic furniture. Stained pine and other woods are key materials in rustic furniture, and durable woods like oak are popular choices. Knots and imperfections in the wood are particularly appropriate for this look. When shopping for sofas or lounging chairs, look for warm and inviting materials like leather and suede.