Colourful and versatile, mosaic tiles allow you to create a variety of looks for your bathroom. A wide selection of mosaic tiles is available on eBay. Before you shop, learn how you can use these tiles to liven up your bathroom. Use mosaic tiles to introduce colour and texture by creating accents, an imaginative backsplash, decorative borders, or a feature wall.
Decorating Your Bathroom with Mosaic Tile Accents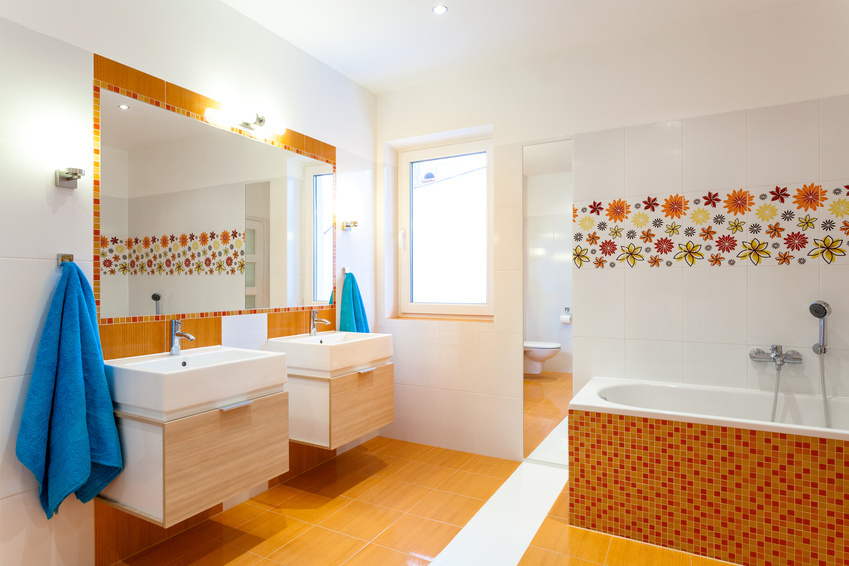 If you simply want to add colour or texture to your bathroom, use mosaic tiles to create accents. Choose colourful glass or ceramic mosaic tiles that suit the rest of the bathroom colour scheme. If your bathroom is white, you can add any colour. You can replace tiles on one wall of the room or on all the walls. Simply remove a few old tiles in a pattern that appeals to you. This is a cost-effective decorating technique because you do not have to re-tile the entire bathroom. Add sparkle with silver, glitter, or iridescent tiles, or opt for bright solid colours.
Creating a Mosaic Tile Bathroom Backsplash

Mosaic tiles are ideal for making a creative and colourful backsplash behind your bathroom basin. Use either regular or mini mosaic tiles to create a pattern. Although geometric patterns are eye-catching, using random colours creates an equally pleasing effect. Incorporate colours that match your decor theme. Remember that using more colours increases the versatility of the backsplash. You can match towels, bath mats, and shower curtains to specific colours in the backsplash to make them stand out.
Using Mosaic Tiles for Decorative Bathroom Borders
A decorative border adds visual interest to your bathroom. Choose a colour such as green or blue for a cooling effect; black, brown, or neutral colours for a traditional feel; or orange or red for warmth and cheer. Match the colour of the floor and add a border along a backsplash or around a mirror or item of furniture to tie different decorative elements together.
Adding a Mosaic Tile Feature Wall to Your Bathroom
A mosaic tile feature wall adds dramatic flair to a bathroom. Choose one wall and create your own design using different mosaic tile colours and sizes. You can opt for a wall featuring different shades of the same colour, a combination of textures, or a variety of tile finishes. Alternatively, look for a mosaic kit or a set of mosaic tiles that form a design you like. Sea creatures and ocean scenes are popular options for bathroom decorations, and you can turn your feature wall into a mosaic masterpiece with an aquatic theme.