A marriage that has lasted for 60 years is cause for celebration. The perfect way to honour a couple whose love has stood the test of time is by throwing a diamond wedding anniversary party and inviting family and friends to revel in this milestone with the lucky couple. Pick up the perfect party decorations and supplies on eBay and make your soiree stand out.
Sparkle and Shine

As 60 years means the diamond anniversary, it makes sense to use lots of sparkle in your decorations. Start out the festivities properly by sending rhinestone-embellished invitations. Use crystals and rhinestones in the decor, including large stones as confetti on the tables, and stones decorating party-favour bags. Self-adhesive crystals are easy to apply on just about any surface, and a hot glue gun or E-6000 glue and a pair of tweezers works to place crystals on fabric like table runners or along ribbons for tying around chairs. Make the party sparkle to fit the diamond anniversary theme of the occasion.
Party Decor
Incorporate pictures in the party decor. For each table, pick a different picture of the couple at various ages or at different locations. Party guests can guess the photo's year. Make prints of many photos of the couple, and adhere them to the wall in the shape of a giant '60'. Make sure all the photos look alike, such as making them all colour or all black and white. For table centrepieces, float tea lights in bowls of water with different-sized crystals so they sparkle when the candlelight hits them, or fill vases with white-flower arrangements. Another idea is to put an elegant silver tray on every table, and fill each with bud vases of different sizes holding flowers. Add silver or crystal-coloured beads to the trays for sparkle.
Food Table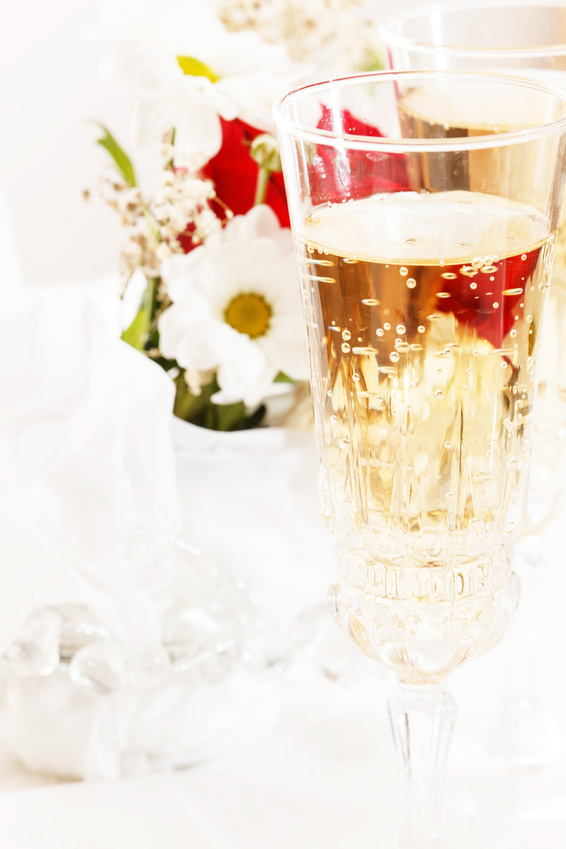 Candy buffets are a fun addition to any party. Make the snack table elegant by filling glass jars with different kinds of candy, and wrap the jars with lace. Use a hot-glue gun to keep the lace secure, and decorate the jars with crystals and ribbon. For the cake table, use a large lace doily as a table runner and place the cake in the middle. A giant '60' as cake topper is perfect, or blow up a wedding photo of the couple and decorate the cake with that memory. White and silver balloons look great surrounding the food table, and a crystal punch bowl adds shine to the drinks area. For a special touch, go all out and use crystal punch glasses or champagne flutes to serve drinks that are both alcoholic and non-alcoholic. Sprinkle shiny silver confetti all over the food and drinks tables, and decorate party-favour bags with a mini photo of the couple looped to the bag with ribbon.