As close friends get engaged, ladies get excited about shopping for dresses, buying flowers, and planning the 'big day', but another important party is just as much fun to prepare for as the wedding. Traditionally, the hen party takes place the night before the wedding, although some brides choose to have this party on a different night to make sure they look their best for the weddings. The bride goes out with her close friends and celebrates her last day (or days) as a single woman. The night should include a lot of fun activities and decorations appropriate for the momentous occasion.
Prepare in Advance
Hen parties, also known as bachelorette parties, are often a tad risque or downright raunchy, but it is a good idea to talk to the bride first because some women prefer classier parties filled with intimate gifts and sexy decorations. It is important to decide the theme of the party right away, and that includes choosing a colour scheme like hot pink and black or more subtle colours. Setting up for a party is all about following a specific theme that pulls everything together.
Buy Decorations in Bulk
In most cases, hen parties are all about cheap decorations. Streamers, plastic margarita cups, and bead necklaces are all common choices, and the key is to purchase them in bulk. A few streamers here and there do not create the dramatic look the party needs. Even for brides who want to keep the 'wildness' to a minimum, over-the-top decorations are usually acceptable.
Find Fun Party Favours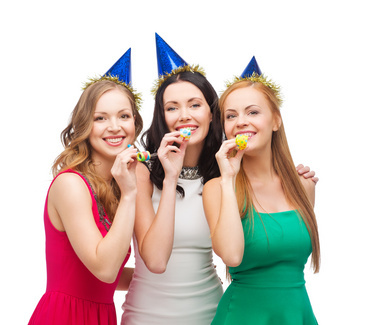 Party favours are an absolute 'must' at a memorable hen party, and many fun ideas exist. Photos of the bride and her guests throughout the night wearing fun masquerade masks are always a hit. Toy engagement rings for everyone are a great idea, and perhaps the bride deserves a flask in the shape of a diamond. Fluffy boas and hen party sashes are fun and outrageous. Smaller party favours placed around the room as accent pieces serve as great decorations and take-home gifts at the end of the night.
Prepare Some Games

Entertainment is mandatory at a party. Hang some games on the wall, such as the numerous adult versions of Pin the Tail on the Donkey. One nostalgic idea is to mail out cards to all the guests ahead of time and ask them to decorate one side with their favourite memories and photos of the bride. The cards can serve as part of the décor for the hen party and as sentimental keepsakes for the bride.