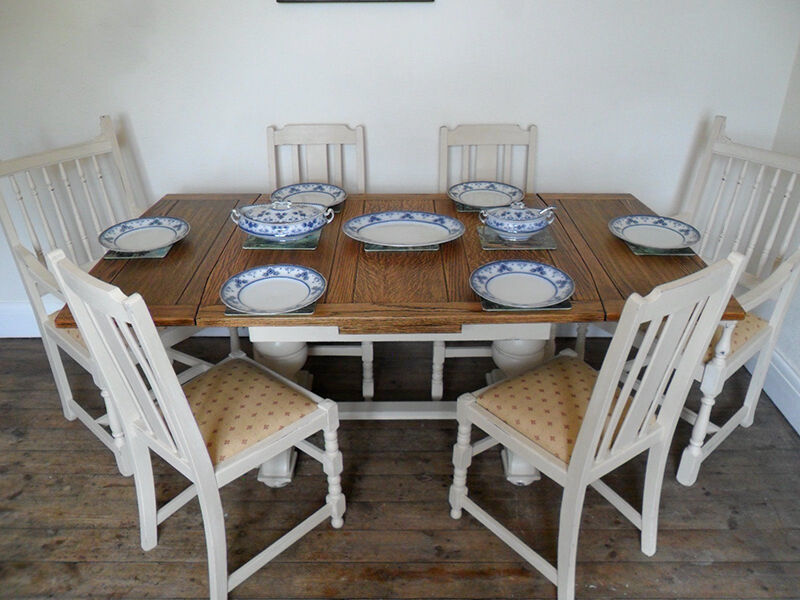 With rich tones and sturdy designs, antique oak tables serve as the perfect addition to any home. Antique table owners can prolong their furniture's longevity with careful placement while enhancing the beauty with simple decorations. Depending on the table's condition, it is even possible to redecorate it entirely to create a unique item capable of bringing any interior design scheme to life.
Use Antique Oak Tables in the Right Environment

An antique oak table is unlikely to stay beautiful in a harmful environment. Often originating from eras when central heating did not exist, these tables are sensitive to heat and humidity. That means placing an antique oak dining table next to a radiator is unwise, as it could morph. Humidity in the 50 to 55 per cent range offers optimal conditions for an antique table's longevity. In addition, it is necessary to avoid placing tables in direct sunlight.
Antique Side Tables for Decor with a Difference
In the right environment, an ornate antique oak side table has the potential to add charm to any room. Side tables became fashionable in homes to hold decanters of expensive brandy. When using them for similar purposes, modern owners need to use coasters or mats to prevent staining. Gothic revival designs are popular for antique oak sideboards and are as functional as they are decorative. Unlike side tables, many feature deep cupboards to allow for maximum storage space.
Rejuvenate the Wood for a Shabby Chic Table
Although many antique oak tables come in excellent condition, others may need a little love and attention. Owners seeking a shabby chic effect can rejuvenate the wood using simple techniques. Sanding the oak until it is rough before adding an undercoat, patches of wax, and a top coat accomplishes a distressed look with little effort. Those who are new to wood restoration should start with small items, such as antique oak coffee tables. Decoupage is an alternative to shabby chic. The process involves using mod podge glue and old magazine images to create a unique look with plenty of character. It is better to reserve redecorating an antique oak table for times when there is no chance of restoring the original beauty of the wood. Otherwise, it could ruin the worth of an original piece.
Match the Antique Table with Ornaments from the Same Era

When establishing a theme for any home, matching ornaments from the same era is an easy way to create synchronicity. Bronze ornaments work well with an antique oak refectory table from the Georgian era, while angels look enchanting on antique Victorian tables. Ornaments, however, should act as simple accompaniments to tables, with the furniture acting as the focal point. By finding ornaments that contrast sharply with tables in terms of colour, it is possible to strike the perfect decorative balance.