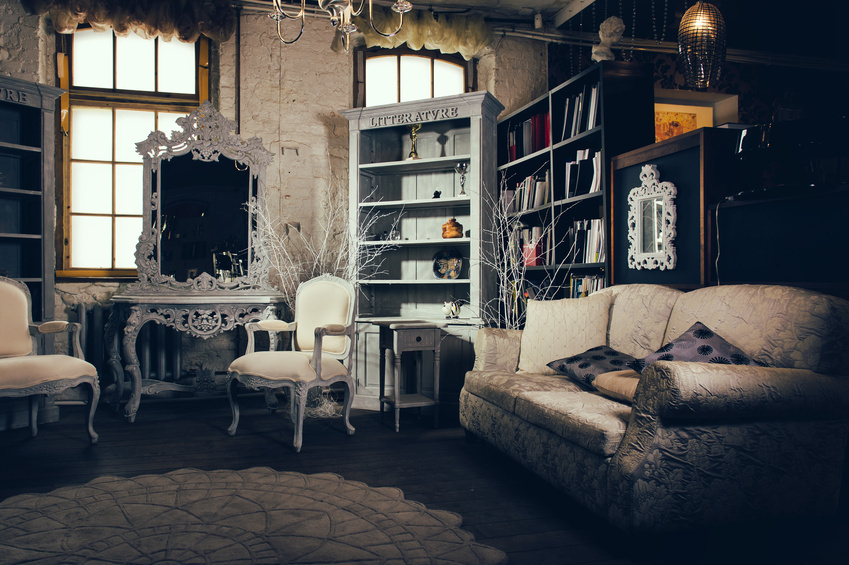 To decorate with an antique mirror, throw away traditional rules of decorating and do whatever you please. You can use the mirrors like vintage art, pair them with modern decor, or place candles in front of them to recapture an old tradition.
Rules for Decorating with an Antique Mirror

According to some design experts, the first rule for decorating with antique mirrors is there are no rules. Homeowners should place their mirrors wherever they like. The position of a mirror can be tweaked to maximise light reflection and emphasise certain views, but in general, there is no wrong way to decorate with a mirror. This is helpful to remember when trying to choose the best place for your newly purchased antique.
Use Antique Mirrors Like Art

Some people argue that antique mirrors are art and they could be right. If a homeowner is comfortable hanging a vintage art piece in his bedroom, a vintage mirror might also work in its place. Consider pairing distressed mirrors with upbeat, modern decor. You could also use a number of mismatched mirrors to hang around the same room, creating a shabby chic look. Keep in mind that shabby chic decor favours pastel colours like pale pink, baby blue, and antique white.
Place Antique Mirrors in the Entryway
Entryways are notorious for lacking light and generally looking a bit gloomy. An antique mirror paired with a diffused lamp can help brighten the area. In addition, it gives guests another area to check themselves over before leaving, so they don't have to run to the toilet to do so. Entryway mirrors can be any size, but interior designers often follow a guideline of using small mirrors for small walls and large mirrors for large walls.
Repaint an Antique Mirror
Consider repainting an antique mirror to better match your home's decor. A new look does not make the mirror any less antique, but it's possible to preserve the antique look by using a colour of paint generally associated with antiques. Antique white, turquoise, and antique gold are popular colours. Remember to paint outdoors for safety reasons and to prevent costly messes. You should also let the mirror dry outdoors, so start the project on a day without rain.
Place Candles in Front of the Antique Mirror
To recreate an old-fashioned look, interior designers recommend placing a candle or two in front of an antique mirror. Mirrors were originally used for illumination, so this practice recaptures an old but still functional habit. You don't have to light the candles if you prefer the aesthetic appearance over its function, of course.