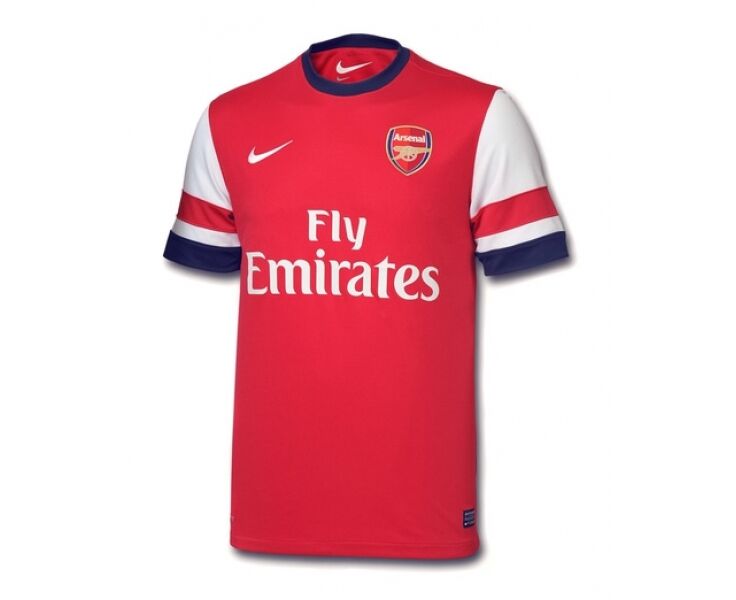 For true football fans, getting their hands on a shirt signed by one of their favourite players is one of life's great highlights. Better still is the certain knowledge that the shirt is authentic. Fakes are a very real part of the sports memorabilia industry, and those who want the real thing must make certain to learn how authentic an item is before making a purchase. This may be difficult if one is searching for a shirt in a street market, but it can be helpful when looking for a signed shirt on eBay.
There are several methods that can help you determine if your shirt is authentic. First, it is a good idea to evaluate the physical appearance of the shirt in order to see if it is authentic. Then, it is helpful to examine the signature itself in order to see how it compares to other signatures belonging to a specific football player. Keeping these facts in mind can make it much easier to navigate the waters of sports memorabilia purchasing and help you get something to cherish for years to come.
Examine the Physical Appearance of the Shirt
A football shirt is something that changes frequently in terms of design. In some cases, each season brings small changes to a team's shirts, which can make it harder to discover if a particular shirt is authentic or not. One of the first things to do before making a purchase is to learn about what features a shirt had for a given team within a given year. This includes information about colours, tags, tag placement, and sponsors. Knowing the exact details for a team's shirts for any year can make it much easier to root out fakes.
Colours
Colours are an easy way to dismiss poorly made fakes. Authentic shirts are generally made with very bright colours that tend to remain bright even after they are washed or played in. In many cases, teams may have a very specific shade that they are known by. Knowing what shade it is and how to verify it in a photo can make it possible to find authentic shirts more quickly.
Tags
Tags are an often overlooked part of a football shirt that may indicate whether or not a shirt is authentic. In some cases, fake football shirts may have tags, but these tags are generic and could appear on any shirt. In most cases, the tags in authentic football shirts contain both the logo of the manufacturer and the logo of the team as well. It is also helpful to examine the tags and determine whether or not the care instructions, fabric details, and place of origin are in accordance with known information from the manufacturer.
Tag Placement
Most shirts for both men and women have tags in the collar of the shirt. However, authentic football shirts frequently have another tag that is placed in the side seam and is usually invisible unless one is looking for it. Those who make unauthentic shirts usually do not bother with replicating this tag, so it being in place is a good sign that the shirt is authentic. However, the tag should still be examined to look for logos and fabric information.
Sponsor Information
Authentic football shirts nearly always contain the logos from companies who sponsor the team. In these shirts, the logos are usually embroidered. An unauthentic shirt may attempt to include sponsor logos, but they may not be embroidered. If they are, it may still be possible to determine the authenticity of the shirt by researching actual sponsors and when their logo appeared on a specific team's shirt. Those who make fake shirts are not likely to keep up with all sponsorship deals. Therefore, if a logo appears on a shirt from an era when that company was not a sponsor, it is most likely unauthentic.
Shirt Fabric
Authentic football shirts are made with high quality fabric that is designed to fit close to the body and to increase the rate of sweat evaporation. This material can be easily distinguished from other, lesser fabric simply by touch. This may be more difficult to determine when buying on eBay, but photos can help. Many authentic shirts also use multiple fabrics in their construction, like mesh ventilation at the armpits and softer materials at the cuffs. If the construction of the shirt can be established, it is much easier to determine if it is authentic or not.
Verifying a Signature
Along with examining the shirt itself to determine if it is a replica or an authentic shirt for a specific team, it is important to verify any signature in order to determine if it is real as well. This is different when the signature is on fabric as opposed to paper, where the signature can be examined very closely to find out if it is real. The folds and surface distortions in a shirt can make it difficult to compare with other signatures, but there are still several techniques that can be employed in order to establish authenticity.
Compare Signatures Upside-Down
A time-honoured technique for establishing the veracity of a signature is to compare it to a real one upside-down. This process can allow you to look at the way the letters are shaped without being distracted by the words or letters themselves.
Look for Signs of a Stamped Signature
Those who make fake shirts with fake signatures often use a stamp in order to create a large number of signatures in a short period of time. Stamped signatures tend to have more ink at the edges of the letters than signatures signed with a pen. In some cases, the ink may bleed through the fabric, which may distort the words.
Learn About When or How the Shirt Was Signed
Shirts are generally signed in one of two ways: by an individual approaching a player or team and asking for signatures, or by a memorabilia company or promotional organisation getting signatures through a contract or prior arrangement. When looking to buy a signed football shirt, it can be helpful to see if there are any details about where the signature came from. If this information is not easily available or sounds like the details are false or not easy to verify, this may be a red flag. It is also helpful to research shirt designs for specific seasons. If the signature story does not match the design era for the shirt, this is another red flag that the signature may not be authentic.
Buying an Authentic Signed Football Shirt on eBay
Many different signed football shirts are available on eBay. Shirts can be found for football clubs around the world, signed by some of the biggest names in the sport. Those looking for a specific shirt signed by a specific player or team may not find what they are looking for right away, but frequent visits to eBay can turn up new items all the time, meaning that patient collectors can often find exactly what they need.
The best way to look for a signed shirt is to simply enter the details into the search bar that is found on every eBay page. The search can be broad, like 'authentic football shirt' or narrow, consisting of a number of relevant keywords, such as those relating to particular teams or players. It is also helpful to read the product description thoroughly in order to determine what condition the shirt is in. While a signed shirt is not likely to be worn, it is still better to buy one that is in good condition rather than one with fraying or other damage.
Conclusion
A signed football shirt can be a fantastic way to remember a favourite player or to display one's devotion to a team. Sadly, there are a number of unauthentic shirts out there with unauthentic signatures. These are different from replica shirts that make no claims of being authentic and are a less expensive way for fans to celebrate their sport. There are several ways to distinguish between an authentic shirt and a fake one. Most of these involve looking at the physical appearance of the shirt itself. Parts of the shirt like the tags, logos, and colours can be important signs pointing to an authentic shirt. The fabric that a shirt is made from is also important as replica shirts and fakes are often made from less expensive, flimsier material that does not fit as well as authentic material and should not perform as well on the field.
Along with verifying the authenticity of the shirt itself, the signature can also come under scrutiny. There are several ways to determine if a signature is real, such as comparing it to a known signature upside-down or looking closely at the ink. Keeping all of these things in mind can make it easier to find an authentic shirt without fear that it is not a true piece of football history.