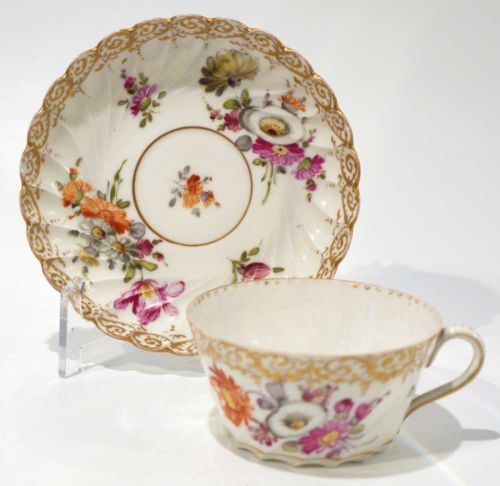 There are many different ways in which a person may acquire a tea set, including upon marriage or as a housewarming gift. A matching tea set can be a very elegant way to serve tea to guests and even for homeowners to enjoy tea themselves. But over the course of time, it is easy for teacups, saucers, and other elements of a tea set to break and require replacement. The end result can be a mismatched tea set. Rather than purchasing a new tea set and getting rid of the old one, more people are looking for creative ways to display these mismatched tea sets in their home. For either mismatched or matching tea sets, the best way to display them depends largely on the character of the tea set, as well as the decor of the home and the personal preferences of the homeowner. This guide provides a number of suggestions that could fit beautifully in many different environments. No matter which display option works best, keep in mind that tea sets are widely available at kitchenware retailers and online from eBay.
Parts of a Tea Set
Before deciding upon the best way to display a mismatched tea set, it is a good idea to consider the separate parts of a tea set. A mismatched set may contain all of the individual pieces, but with different patterns that do not match one another. On the other hand, one may have a mismatched and also incomplete tea set that only contains a few of the elements. Whichever it is, assessing which pieces are appropriate for display is a good first step towards an effective display choice.
Cups
As one may imagine, teacups are the most essential part of any tea set. After all, without a proper cup, it is virtually impossible to serve tea to anyone. Even if a tea set is mismatched, it is more than likely that it includes at least one teacup in need of display. Because a teacup can be quite attractive, and even useful, on its own, these are the most easily displayed items in a tea set, even if they are mismatched.
Saucers
Saucers, which are placed underneath the teacup, are another very basic part of any tea set. Matching tea sets have saucers with the same colours or patterns as the teacups that sit atop them, but this may not be the case in a mismatched set. When it comes to display, a saucer can be a bit tricky to display on its own. Rather, cups and saucers look best together, whether their patterns match or not.
Sugar Bowls
A complete tea set also includes at least one sugar bowl . Usually, these are fitted with lids and feature a small notch for the sugar spoon. When in use, sugar bowls may be used to hold either loose sugar or sugar cubes. Many people choose to keep a sugar bowl available on the table even when tea is not being served.
Cake Stands
A cake stand can be a focal point of any tea set. Designed to be placed in the centre of the table at tea time, these tiered stands easily hold pastries, biscuits, and other foods that are commonly served with tea. Like sugar bowls, a cake stand is sometimes left in plain sight for easy use whenever tea time does come around.
Mismatched Tea Set Display Ideas
For anyone who has acquired a mismatched tea set, it can be a challenge to decide how to store these items. A tea set that is used only for practical purposes can easily be stored in a kitchen cabinet between uses. However, tea sets with sentimental value or purely aesthetic charm can also be effectively displayed in many different ways.
Jewellery Storage
One interesting suggestion for the display of mismatched tea sets is to use the various pieces of the set for jewellery storage. Cups and saucers can easily be placed in a large drawer, or even on a countertop, and small pieces of jewellery nestled inside. This provides both a purpose for the tea set and makes it easy to see the jewellery being stored, since it is in an open cup or saucer. Dangling earrings can easily be hooked over the side of a teacup while necklaces and bracelets can be coiled up securely in a saucer.
Floral Arrangement
Mismatched tea sets can also be used to make a unique floral arrangement. A single teacup can hold water and freshly cut buds can be allowed to float on top. This is a good idea for teacups with simple patterns, but even a floral teacup with complementary flowers can be quite beautiful. In order to construct a larger arrangement or centrepiece, simply use more teacups. This technique is particularly well-suited to voluminous flowers, like chrysanthemums or peonies, that can fill up the cup with petals. Teacups can even be used as planters for very small flowers or even herbs.
Hanging Display
A more common way to display tea sets of any type, and particularly to display teacups, is by hanging them. Hanging teacups on the underside of a cabinet, or even on the wall, is a great way to free up space on shelves or countertops. These types of hooks also mean that the cups are on display rather than hidden away in a dark cabinet. Any type of hook that is large enough to fit the handle of a teacup is suitable for this suggestion. Simply screw in the hook, making sure it is firmly anchored, and hang away.
Candles
For those who are a bit craftier and open to a do-it-yourself project, there is a way to make mismatched teacups not only attractive, but also useful. Teacups can be used to hold hand-poured candles. Simply follow the instructions for making a candle, and instead of a typical candle holder, use a teacup. This candle can then be placed on a nightstand, in the bathroom, or even on a desk. When the candle has burned down, the teacup can be washed out and used for another candle, which also makes this a green option.
China Cabinet
Of course, there are also more traditional ways to display tea sets, whether or not they are mismatched. One of the most common ways to display tea sets is in a china cabinet that is specifically designed for holding beautiful dishes. One of the benefits of using a china cabinet to display a tea set is that the glass doors allow guests to see the items, but also protect the fragile teacups from being jostled and bumped, which the rest of the display options presented here do not. When displaying a mismatched tea set in a china cabinet, feel free to arrange the separate pieces however is most attractive. It may also be a good idea to reserve one shelf for a tea set while displaying the rest of the china, or other items for display, in the bulk of the cabinet.
How to Buy Tea Sets on eBay
Whether you have decided upon the perfect way to display a tea set or simply want to add some more style to your tea service, there are many types of tea sets and related items available for purchase on eBay. In order to find the most suitable tea set, it is best to start by entering some search terms into the search box, which can be found on every page of the site. The more specific your search terms, the fewer results returned with each search. Remember that you can also use the eBay filters to narrow down results until you find the best tea set for your own needs.
Due to their construction, tea sets can be quite fragile, and therefore, often become damaged. If you are purchasing a used tea set, be sure to examine all of the photos provided for potential damage. If you have any questions about the state of the tea set, either an individual piece or the set overall, you can always contact the seller directly using the eBay interface and ask about any chips, cracks, or other damage. Once he or she responds with a suitable answer, you can complete your transaction with confidence.
Conclusion
There was certainly a point in time when having a mismatched tea set was not an ideal to which to aspire, because so much emphasis was placed on decorum and appearances. While there are still plenty of people who prefer to use matching cups and saucers, there is also a much wider appreciation of the charm of a mismatched tea set. Rather than hiding a mismatched tea set in a cabinet, putting it on display in a creative and attractive way can certainly add a bit of colour and fun to any kitchen, dining room, or other living environment. Mismatched tea sets can easily be used for serving tea, of course, but they can also be displayed in a china cabinet, or even repurposed in a variety of ways. Whether you choose to display a mismatched tea set on its own, to use the cups for storage or candles, or simply to enjoy the tea set in the kitchen, a mismatched tea set can truly add warmth and cosiness to any home.