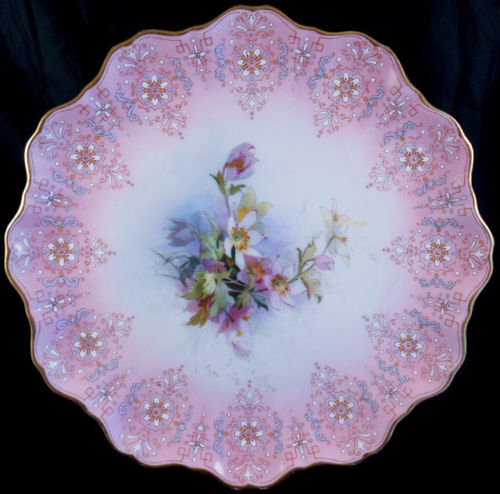 Royal Worcester is known throughout the United Kingdom and the world as a porcelain brand of high calibre. The company creates uniquely beautiful lines of tableware and gifts. Often, each of these pieces is hand painted by a talented artist.
Owners of Royal Worcester pieces usually want to display the luxurious items in the home so that guests and relatives can enjoy them during visits. Other individuals may have only one or two Royal Worcester plates, but they may be planning to accumulate larger collections. In either case, prospective buyers need to know how they can safely and attractively display their prized Royal Worcester decorative plates. Owners should investigate various methods of display and choose one that fits their pieces and the style of a home. If owners would like to add more pieces to a collection, they can find Royal Worcester decorative plates on eBay or in retail shops that specialise in high-end giftware.
About the Royal Worcester Brand
During the 17th century, Asian artists and potters were the only creators of fine porcelain. However, during the 1700's, British craftsmen began to work on their own formulas for this unique material. Two men in the medical profession, Dr. John Wall and William Davis, worked together on a recipe for high-quality porcelain. After much trial and error and many different experiments, Wall and Davis found the right combination of materials and developed a successful process.
Their next step was to fund their new venture. Local businesses supported the two innovators and gave them enough money to open their first factory in Worcester in 1751. Later, during the 1800's, the company secured Royal Warrants and changed its name from Worcester porcelain to Royal Worcester.
The superb quality of its porcelain gave Royal Worcester high status amongst porcelain manufacturers in England and around the world. Royal Worcester pieces are prized items, carefully looked after and often passed down as heirlooms to future generations. Modern pieces include hand-painted sets and items that include gold accents.
Collections of Royal Worcester Decorative Plates
One can find entire sets of Royal Worcester wares amongst upper class families. However, anyone can own a piece or two or Royal Worcester porcelain, such as a pitcher or a few plates. In some cases, a buyer may purchase a single plate from each of multiple Royal Worcester lines. This practice results in a unique collection that samples the styles and designs of Royal Worcester pieces from many decades.
The original Royal Worcester factory site is now home to the Worcester Porcelain Museum. The museum owns and displays an extensive collection of Royal Worcester porcelain. Some of the pieces are from as early as 1751. In addition, the museum features old records and archival documents related to early factory function. Those who wish to study the history of Worcester porcelain visit the museum to see the magnificent collections and view important documents.
Planning and Preparation for the Display of Royal Worcester Decorative Plates
As owners prepare to display their Royal Worcester decorative plates, they likely have two concerns. They may be nervous about the stability and security of their prized plates. They may also be anxious to put as few holes in the wall as possible.
Many of the popular display methods can ensure stability of the plates while keeping the wall free of blemishes. However, to successfully display the plates, owners must develop a detailed plan. They must decide on the location for each of the plates. In some cases, arranging the plates on the floor of a large carpeted room can help owners visualise the final display. Once the correct arrangement for the plates is determined, the owner should make a sketch or a map on paper, assigning each plate a name or code. This sketch serves as a guide while the display is being created.
Types of Displays for Royal Worcester Decorative Plates
Three primary display methods exist for plates. However, a creative owner may discover additional ways to showcase the beauty of Royal Worcester porcelain. For a simple, easy way to display a collection, one should invest in plate stands, wall hangers, or a plate rack.
Plate Stands
A plate stand is usually made of acrylic, wood, or metal. It consists of a supporting vertical piece at the back and a pair of arms that rest on a surface such as a table or shelf. The arms curve upward at the ends to hold the plate steady and keep it from slipping. The plate rests nearly vertically on these arms, usually at a slight angle.
If using plate stands to display Royal Worcester decorative plates, the owner must ensure that each stand is large enough to support the breadth and weight of the plate. Small plates should work well with small stands, while large plates require large stands. One must take care not to set the plate stands too close to the edge of a shelf, especially if there are small children in the home or if one lives in an area prone to earthquakes. Shaking, thudding, and vibrations can cause the plate stand to inch towards the edge of the shelf or the piece of furniture. Eventually, it may fall off and break.
If there are many plates to display, one can use wall-mounted shelves. Fireplace mantles are highly visible locations in the home and should be reserved for the more beautiful plates in the collection. Plates and plate stands can also grace the tops of dressers and wardrobes and the interiors of china cabinets.
Wall Hangers
Less expensive plates may be mounted using brackets or hooks attached to the back. However, Royal Worcester plates are too valuable for such treatment. Instead, owners can use specially designed wall hangers to showcase beautiful plates. Wall hangers for plates are usually made of wire or metal covered in another material such as vinyl to prevent damage to the plates. Wall hangers are slightly bendable, or they may incorporate springs. This flexible design allows owners to fit the plate into the hanger securely. Many plate hangers are beautiful and decorative in their own right. However, if owners want the attention to remain on the beauty of the Royal Worcester porcelain, they may want to select plain, streamlined wall hangers for their plates.
Plate Racks
A plate rack is usually made of wooden slats, with narrow rails across the front to keep plates from sliding out once they are inserted. Plates in a rack are usually angled sideways, so they may not be as visible as plates on stands. However, a rack allows owners to store and partially display a large number of plates in one location. It also simplifies the display process, since owners only have to hang a single unit instead of setting up multiple stands or mounting several wall hangers.
Plate racks may work for storing a large collection of Royal Worcester plates, but these units are usually intended to be functional rather than decorative. Owners may choose to store some of their plates in racks and display others using wall hangers or stands.
Buying Royal Worcester Decorative Plates on eBay
On eBay, you can buy Royal Worcester decorative plates and the materials and supplies that you need to display them. Begin on eBay's home page with a search query for "Royal Worcester plates", "plate racks," or a similar search term that reflects your needs. You can also conduct a search in the eBay Shops area of the website. eBay Shops allows sellers to set up an online space and display a variety of merchandise. If you search eBay Shops, your results appear as links to shops that sell Royal Worcester merchandise or display supplies for plates. When you search eBay's main website, the results display as links to individual listings or product pages.
Some eBay sellers offer appealing incentives to buyers, such as return policies, free shipping, extra bundled items, or package deals with multiple items. Other sellers proudly display Top-rated seller seals on all their listings, indicating that they are eBay's more reputable sellers. Top-rated sellers maintain excellent feedback from their customers, and they can be counted on to supply you with a good product.
Conclusion
Owners of Royal Worcester decorative plates typically do not want the plates to sit in a lined box for years. Instead, they want the classic quality and magnificent designs of these heirloom pieces to be on display so that friends, family members, and guests can admire them. Owners may choose the standard display options such as plate racks, plate stands, and wall hangers. However, there are individuals who work with skilled carpenters to create custom units to display the pieces. A narrow shelf with a low rim can hold plates securely while still allowing one to enjoy their beauty. Polished wooden shadow boxes with clear glass fronts allow display and protection at the same time.
Thanks to its wide network of sellers, eBay can help acquire both the decorative plates and the accessories one needs to display them. With the right supplies for display and with eBay as the source for more fine pieces, owners can delight in their Royal Worcester wares and build collections that are treasured for generations.