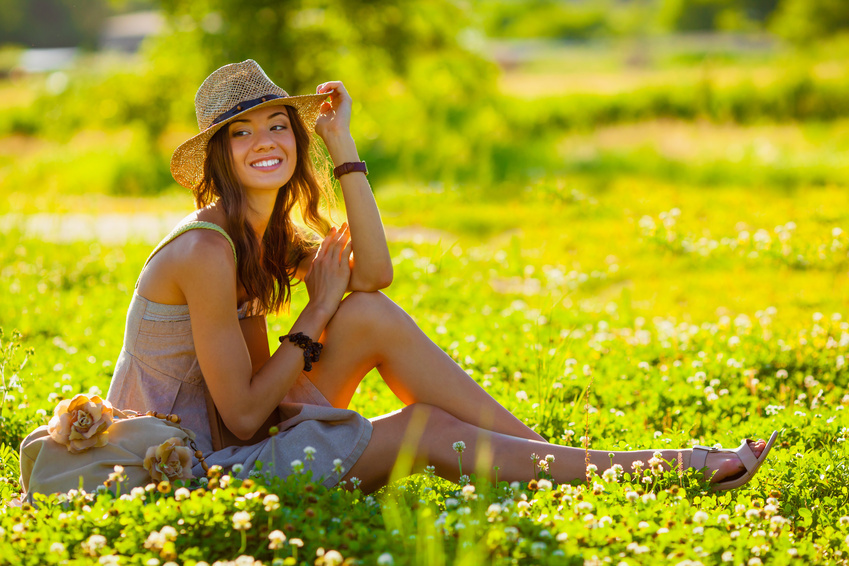 Most women think it is impractical to dress prettily for outdoor activities, but outdoor clothing can look attractive and still be functional at the same time. Whether it is camping, hiking, or just enjoying a picnic, there are small, simple steps you can take to look pretty while outdoors. Small amounts of make-up, carefully chosen outfits, and simple hairstyles are all you need to look your best.
Put on the Basic Skin Care Essentials
Small amounts of make up are appropriate to wear outdoors. Use a moisturiser to keep the skin hydrated. Some moisturisers even have a skin toner complex so they can replace foundation for the day. You can also wear waterproof mascara and a slightly coloured lip gloss to complete your outdoor make-up.
Choose a Simple and Functional Hairstyle

Your hair is usually the trickiest part; however, you can class up a simple ponytail by wearing a headband. Braids are lovely as well because they are easy to do and hold hair in place. Finish off the braid with several coloured hair ties at the end. Those with short hair can do small rows of braids across their head and then hold them in place with butterfly clips.
Layer up Attractive Clothing for the Outdoors

When it is cold outside or the weather is fluctuating, dressing pretty can be difficult because traditional outerwear is more functional than it is attractive. This is where layering comes into play. Put on a plain top, a long-sleeve shirt over it, and then an attractive fleece jumper. You can also choose a pretty waterproof jacket, such as a North Face jacket, in a bright colour and with a feminine design. Add a pair of comfortable walking shoes or boots and a pair of hiking trousers in a dark colour to complete your outfit. If you go walking on a rainy day, you can choose to wear a pair of wellington boots with a pretty design, such as flowers, polka dots, fun prints, or anything else that takes your fancy.
Get Pretty Accessories for the Outdoors
There are plenty of pretty accessories to wear outdoors that also serve a purpose. Fuzzy hats, wool scarves, and knee-high socks all dress up an outfit while also serving a purpose. They keep you warm and you can easily remove them if the weather warms up.