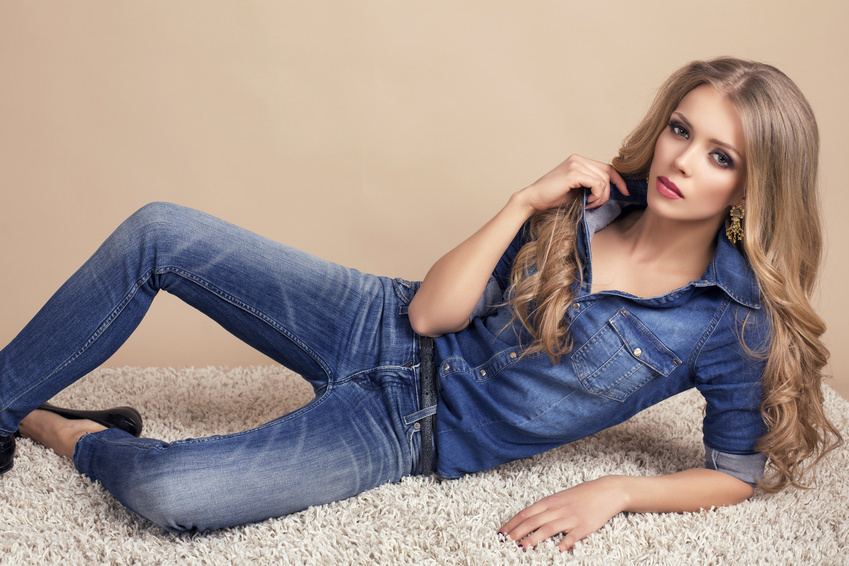 Flared jeans are some of the most flexible trousers around. Whether high-waisted, 70s style, or skinny, they provide almost any look the wearer desires, from retro to modern, from casual to elegant. The exact look depends upon the other elements of the outfit. As a result, creating a dressy look for a night out requires choosing the right types of clothing to go along with a perfectly-fitting pair of flared jeans.
Fitted Jeans
Wearing flared jeans that fit well creates an attractive base upon which to build a dressy outfit. The best flared jeans to wear for a night out are those that fit snugly and comfortably around the bottom. Jeans, such as skinny flared jeans, that fit closely throughout, except for the flare, can also create a stylish, upscale look. A pair of excellently-fitted jeans will make any additional element even more appealing.
Heels

One simple way to dress up flared jeans is to add a pair of heels. These heels can take the form of close-toed or peep-toed pumps, sandals, or any other high-heeled accessories. The most important aspect of the shoes should be a bold look that emphasizes the outfit's dressy aspect. For instance, sandals should be strappy; the shoes should boast bold colors or styles, and they should possess other attention-drawing details.
Sequined Tops

Another classy element to add to flared jeans is a sequinned top. The sequins make the flared jeans pop, because the boldness and elegance of the sequins offset the casual nature of the jeans. The exact form of the shirt can vary, from shiny camisoles to more formal tops. The most important characteristic of the top is that it be stylish and bold enough to help to offset the retro or vintage look that flared jeans can sometimes possess.
Form-Fitting Tops
You can also create a stunning around-town look with the use of fitted tops. These tops, regardless of exact style, add dressiness to the outfit by offsetting the more casual, flowing nature of the jeans. Good choices include upscale shirts that fit close to the torso. You can even choose a close-fitting sequined top to double the stylish impact.
Stylish Blazer
If you wish to wear a looser shirt, or desire an extra layer of style for your outfit, a fashionable blazer can add another layer of dressy to flared jeans, creating the perfect look for an evening out. These blazers should be cropped, ending around the waist, in order to counteract the flowing nature of the jeans. When wearing a blazer, a looser top may look appropriate, because the jacket provides the form-fitting look necessary for a night out. In addition to blazers, a variety of tailored jackets or even bolder sweaters, with defined shoulders and unique features, can dress up your jeans.