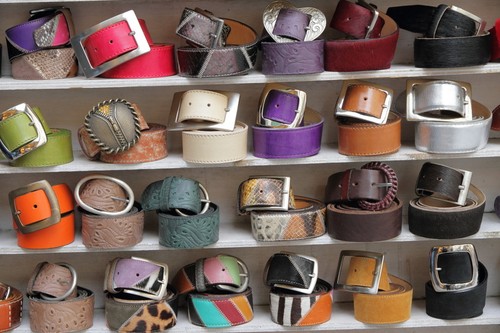 Jeans and the material from which they are made, called denim, date back to 17th century worker clothing. The durability of this cotton-based material has made it well-known, as it does not wear out easily and does not have to be replaced frequently. They became popular as everyday wear in the 20th century. Many vintage jean styles originated from the mid- to late-20th century.
Modern jeans are primarily casual wear, and are generally frowned upon for more dressy events. However, modern day jeans can be dressed up for many occasions where normally they would not be worn. Romantic dates and casual work days are examples of occasions that traditionally warrant at least a button-down and slacks. Dressing up ordinary jeans revitalises a wardrobe, and increases your chances of impressing people with your style. Jeans, and accessories for dressing up jeans, can be purchased from clothing retailers, department stores, and on the online auction website, eBay. There are a number of things to consider when dressing up jeans, such as the quality of the material, the fit of the jeans, and various other options available to the individual.
Importance of Denim Quality
As long as you choose the right material to begin with, it is possible to create virtually any look. Different kinds of jean material can affect different styles. Knowing how to differentiate denim quality allows you to match nearly any look with any accessory or design. Good jeans last for years and are better investments than inexpensive items that fall apart in a few months. Also, better quality jeans look dressier.
Look and Feel
The look and feel of the denim can help differentiate top-quality material from lower quality jeans. Good-quality cotton makes for jeans that are soft and possess a somewhat moist nature to the jean material, even when the denim is raw. So when looking for good quality, touch is an important factor.
Look at the denim and determine how the cotton has been woven. There are different processes that leave patterns on the weave. The more interesting and complicated, or unique, the weave, the better the quality of the fabric.
Pockets
Lower-quality jeans have pockets that are not exactly where they should be. They could be off a centimetre or two but the wearer still feels the difference. Jeans that fit well have back pockets that follow the contour of the bottom. It is a minor point, but precisely measured and positioned pockets look better and feel better, both of which are important in dressing up jeans.
Stitching
Stitching determines the durability of the seams on your jeans. Good stitching makes the jeans as a whole better able to weather use and time.
Stitching on the side-seam affects primarily how the jeans look and how they are priced. Side-seams are stitched in two different ways: open seams and overlock stitches. Open seams make for a more comfortable pair of jeans because the seams are pressed flat. Overlock stitching leaves a more discernible bump down the leg, but is a simpler and less expensive process.
Brands
Denim jean brands fall into four categories: designer, fashionable, mainstream, and mass market. With designer and fashionable jeans, you get a better fit and better material with mid-to-high prices. With mass market jeans, you compromise quality, though there are still options for dressing up these jeans. Good jeans of reasonable quality can retail at three-figure prices. Ultimately however, it is the fit of the jeans that matters most.
Fitting Jeans
A good fit is one of the first considerations when dressing up jeans. No matter what anyone says, ill-fitting jeans look sloppy and reflect badly on the wearer.
Tight jeans may be fashionable at the moment, but looking good is not about the snug fit of your jeans. There are body shapes and sizes, leg shapes, and bottom shapes that may not look as good in tight jeans as in jeans that have a little bit of give.
Skinny jeans follow the shape of the lower extremities closely. In some people, these jeans cause the legs to look like funnels. Some flare in the jeans or straighter cuts can minimise thighs and be more flattering to a woman's legs.
Jean Colour
Dark jeans are better choices when planning for more formal events. The darker colour mixes well with many types of formal style wear, and they look better than light jeans with these types of attire.
Feathering patterns, lighter marks that look like wrinkles, on jeans can also be a factor to take into account. They can add shape to a wearer's legs or emphasise things that should not be emphasised; for instance, fading marks under the back pockets can make it look like the person has sat on white paint, a definite demerit in any setting.
Ways to Dress Up Jeans
Aside from choosing fit and colour, there are more specific ways to make a pair of jeans look as dressy as possible. Making jeans look dressy can usually be achieved by carefully selecting the other elements of an outfit.
Jackets and Sweaters
Jacket styles with straight, crisp lines can dress up a pair of jeans like nothing else. Another example would be the blazer jacket. Nobody can go wrong with a blazer, it dresses up nearly every type of outfit, even jeans.
Jackets with strong, bold styles make a statement that is punctuated by a simple pair of jeans. Jackets of this type do not need additional detailing, so simple jeans and tops prevent the wearer from going overboard.
Sweaters are not as dressy as jackets, but going beyond the basic cardigan and choosing a sweater with more flair, with unique sleeve or collar styles, can add that extra something that a pair of jeans needs for a classy look. Most sweaters are not going to cut it if you are planning a formal dinner, however.
Vivid Accessories
Totes and handbags with bright colours or boldly designed belts do not dress up trousers so much as direct attention away from them. Still, distracting people with glamourous accessories keeps you from feeling a tad underdressed when an occasion comes up at the last minute. If you have forgotten that you are going out with friends, just grab a patterned scarf, stole, or other type of wrap.
Tops
There are many tops that go well with a pair of jeans. Blouses, shirts, short dresses, and more can be worn for a dressier look when wearing jeans.
Feminine tops help to dress up a pair of jeans for a casual dinner or a casual work day better than a shirt. Ruffles, pleats, layers, drapes, or lace help to spice up ordinary jeans, as do bright colours and different fabrics. Embroidery on a top can also be a good, eye-catching idea to making jeans more presentable for many occasions. Mix and match styles with different jeans to create eye-catching looks.
Layering knit tops with button-downs provides a popular preppy look. Spice it up a bit with a pair of strappy heels, and even casual Fridays at work are not a problem for you.
Button-downs are more no-nonsense than other types of tops, some go well when dressing up for more formalised events or when simply wanting to look dressier in any outfit.
Matching Colours
Match your jean colour to the colour of your jacket, blazer, or sweater. This strategy is good for black and white jeans, though nearly any colour works. The monochrome style looks crisp anywhere. A vividly different shirt in terms of colour or structure allows matching colours to look more distinctive. The addition of a well-chosen belt can bring the outfit together, although going beltless also works.
Heels
Heels are a quick way to make jeans look good. Especially with cropped jeans, footwear should be something that stands out. A nice belt with good heels frames the jeans nicely, though this strategy is more effective with top-quality jeans.
If you need to draw more attention away from the jeans, wear a jacket that either complements the heels or overwhelms the jeans completely. Heels always kick things to the next level when dressing fashionably.
Using eBay to Help Dress Up Your Jeans
Top-quality jeans and many accessories can be found on eBay, all of which can be used to help dress up your jeans to newer and trendier levels. Local boutiques, stores or fashion lines such as Yeezy, are more efficient when you want to see how you look when pairing jeans with some tops or footwear, but there are some advantages to performing your searching on eBay, including the wider selection and more varied array of options.
Knowing which jeans you want or the exact look you want to achieve is good preparation. When you know what you want, it is a simple thing to type what you are looking for into the eBay search box and peruse the array of results to look for the most appropriate item. You can narrow down your results by colour, style, pattern, or fabric either by adding a particular keyword to your search terms or using the eBay site tools.
When buying jeans and other clothes on eBay, do not forget that accurate measurements are a must. Also make note of shipping and return policies to ensure better chances of acquiring exactly the item you want.
Conclusion
There are a lot of different ways to dress up a simple pair of jeans. The first thing to consider is that they fit the individual as well as possible. This does not always mean a snug fit, but the fit that would most benefit the wearer in terms of comfort and appearance.
It is possible to dress up jeans by using different accessories, or articles of clothing, that are most appropriate to an occasion. Clean-cut jackets or coats that have a touch of the formal in them are options that look good with ordinary jeans. When dressing for more high-end events, good quality jeans are a better choice than mass market versions or ill-made knock-offs.
Whether looking for jeans, accessories, or clothing pieces that help to dress up jeans, eBay is a worthwhile source to consider. Aside from prices, eBay's wider variety is more conducive to acquiring the best look for an individual.