Berets look like simple French hats, but they are an opportunity to pull together your entire look for an evening out. Adding the right beret to your look depends on what type of style you are aiming for, and with a wide variety of berets available, changing your look is as easy as changing your hat. Get some stylish beret tips, and accessorise for your next night out with a chic beret.
Texture

Assess the outfit you are wearing out, and add visual interest by considering your beret's texture, which depends on its material. A crochet beret adds a bit of Bohemian flair, while a soft, velvet beret looks plush and sophisticated. For a classic look, buy a traditional wool beret or a felt beret. A faux fur beret adds elegance to a party dress, while a chunky knit beret keeps your head warm during cold weather, and goes well with jeans or trousers. Fluffy angora berets instantly add glamour to a look.
Colour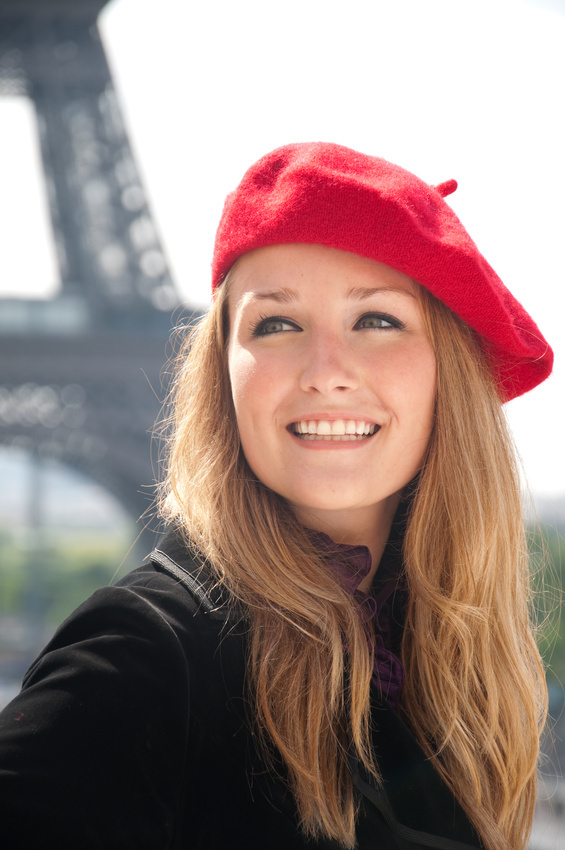 There are several options when you are wearing a beret out in the evening. You can make the beret the focus of your outfit, and use colour contrast to create flair, such as pairing a bold fuchsia beret with a solid black dress or a bright turquoise beret with a purple outfit. Striking colour combinations add pizzazz to your look. For an understated look, wear a beret the same colour as your hair, or choose a neutral cream coloured beret to put more focus on your outfit than your hat. A red beret with a light-coloured outfit is stylish.
Sparkle and Embellishments
Up the ante on your outfit with a bold beret, such as an animal print beret or a beret covered in sparkly sequins. A sparkly beret encrusted with rhinestones is perfect for an evening out and livens up your dress or blouse instantly. Other beret embellishments to consider include berets with added flower accents, bows, cat ears, or pom-poms. Add an edgy vibe to your look with a studded beret, or put a pretty brooch on a plain black beret for a night out.
Polish
To put together a more polished look, go for a more traditional style. Wear a beret the same colour as your shoes and belt for a classic, elegant look that is understated and minimal, but effective. This creates a pulled-together, classy look that works for any occasion.
Angle Your Beret
There are many ways to wear a beret. For evening, consider angling the beret toward the back of your head and letting your hair frame your face. Another way to wear a beret is to put your hair in a ponytail and angle the beret toward the front of your head, covering the majority of your forehead. You can also tilt your beret to one side or another for a fun look.