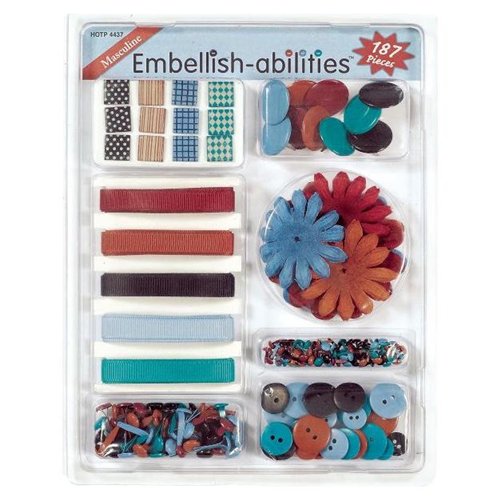 Embellishing jeans is an easy way to create a unique look or to revive tired old jeans. Jeans are often sold with embroidered or sewn in embellishments. However, you do not need to know how to sew to embellish your jeans. Decorative details can also be ironed, glued, or painted on. From sparkling sequins to ribbon or lace trim, embellishment ideas are endless. Design ideas are available online, as well as from magazines and sewing journals.
To embellish your jeans, learn how to prepare the jeans and embellishments before starting the process, how to choose the best design and transfer it to the jeans, and what type of embellishments to choose. Different types of decorative items are applied using different methods and require varying levels of care. Some are more durable than others and better suited for younger wearers. Jean embellishments are available from a range of suppliers, including sewing and craft shops and online sources, such as eBay.
Prepare the Jeans and Embellishments
Both old and new jeans can be embellished. If new jeans are chosen, practice more complex techniques on an old pair of jeans or a cheap new pair before attempting to alter an expensive new pair of jeans. New jeans should be washed at least once before embellishing them as shrinkage after embellishment could ruin the design. Similarly, ribbons, lace trim, or any other fabric embellishments should be washed prior to application to prevent shrinkage later on. Once jeans have been prepared, iron the jeans to create a flat working surface.
Choose the Right Embellishment Design
Choosing the embellishment to apply to jeans is often one of the most difficult steps in the process. With all the materials available you may be spoilt for choice. Before choosing a design, decide whether it should be subtle or bold. Check designs online and in magazines for inspiration or, if you know exactly what you want, plan your own. Place the embellishments on the jeans without attaching them or pin them to the fabric so that any changes can be made before taking the final steps.
Types of Jean Embellishments
Jean embellishments come in a variety of application types, colours, and materials. Choosing the right type of embellishment depends on your level of technical ability with regard to the application method, the look required, the care involved with each type, and the durability of the embellishments.
Sew-On Embellishments
Sew-on embellishments are the most secure and durable embellishment type. Other embellishment types may be easier to apply as sewing onto jeans does require a basic level of sewing skill. Some of the most popular sew-on embellishments include applique, embroidery, and pocket or seam trims. Sew-on embellishments can usually be machine washed safely.
Applique Jean Embellishments
Applique jean embellishments are decorative fabric patches that are sewn onto jeans. Plain patches are used to repair clothing, while applique patches are used for decoration. These are available in a wide range of colours, sizes, and designs. They are easy to sew on by hand. Choose matching or contrasting sewing thread, neatly stitch around the outer edge of the patch to apply it to the jeans.
Embroidered Jean Embellishments
Many jeans feature embroidery on the pockets. This type of embellishment can be applied by hand or machine, and pockets and bottom hems are popular areas for embroidery placements. Embroidery requires a fairly high level of sewing skill and may not be the right choice for everyone. However, it allows you to design your own embellishment and create something unique.
Jean Trim Embellishments
Ribbons, lace, or fabric can be sewn onto hems, seams, or pocket edges to add a colourful or unique trim to jeans. Trim can be added by machine or by hand, but does not necessarily require a high level of skill. Adding a line of trim down the leg of a pair of jeans is an excellent way of visually elongating your legs.
Iron-On Jean Embellishments
Those who do not have the skill, time, or inclination to sew should consider iron-on decorations. Some printers allow you to create your own iron on transfers by printing these on special transfer paper. Simply trim off excess paper and place the design on the jeans before pressing with a hot iron. Other embellishments, including beads and embroidered designs, come with a heat fused backing that attaches the item to the jeans when heat is applied with an iron. These transfers and embellishments may not be as durable as sew-on embellishments and benefit from more gentle laundry methods. Transfers should always be ironed on the reverse once they have been applied as direct heat tends to cause them to degrade.
Glue-On Jean Embellishments
Glue-on jean embellishments are attached to the denim using craft glue. Small items, such as crystals or beads, may require an applicator for accurate placement. Simply dot glue onto the fabric where needed and press the embellishments into place. Allow the glue to dry according to the instructions on the bottle before wearing or washing jeans. This method of applying embellishments is one of the least sturdy and care should be taken when washing the jeans. Heat often causes glue to lose its sticking power, so opt for a cool wash on a delicate setting and allow the jeans to air dry if possible. Keep a few of the embellishments to allow for replacements in case those on the fabric are lost.
Painted Jean Embellishments
Designs can be painted onto jeans with fabric paint. Fabric paint is relatively durable if it is allowed to dry properly before the item is worn or washed. However, paints that create a glitter finish or have acrylic bases do tend to peel off if wearers are not careful. Wash in a cool cycle and do not tumble dry. Transfer the desired design to the jeans or paint free hand to create personalised painted jeans. This is an excellent craft project for children.
Sequin and Stone Jean Embellishments
Sequin and stone embellishments are available in sew-on, iron-on, and glue-on varieties. It is best to buy extra and keep some handy in case some come off while wearing or washing jeans. Be careful when using them on jeans that belong to toddlers or small children as these embellishments pose a choking hazard.
How to Transfer a Decorative Design to Jeans
Those who opt for painted embellishments and are not comfortable with drawing free hand can trace the design onto tracing paper before copying it onto the jeans. Mark the placement of iron-on, glue-on, or sew-on embellishments with a pen or marker to keep the design looking as you intended.
Finding Jean Embellishments on eBay
Jean embellishments are readily available on eBay. To find the perfect embellishments for your jeans, type a keyword or phrase, such as "butterfly iron on applique", into the search bar that can be found on every page. Choose the most appropriate category to find the exact item that you need. Filters relating to the item's colour and size can be used to further narrow the results displayed. If you would like more control over the number and type of results shown, use the advanced search feature to refine your search.
Before You Buy on eBay
Before you buy on eBay learn all that you can about the seller and the item. The item listing page, accessed by clicking on the title of an individual listing, tells you all that you need to know about both. Here you can find information such as the item description, bidding and buying options, the seller's accepted payment methods, the cost of postage and packaging, and the seller's feedback information.
eBay's seller feedback feature allows you to see what others buyers think of a particular seller's products and customer service. Detailed seller ratings give additional information about aspects such as the reasonableness of postage and packaging costs, the seller's communication, how long it took for the item to be dispatched, and whether the item description was accurate. If you have any questions about a listing, contact the seller by clicking on the "Ask a question" link.
Conclusion
Adding embellishments to jeans allows you to create a personalised look or add sparkle to a pair of worn jeans. While jeans are available with ready-made decorative details, adding your own allows you greater control over the placement and type of embellishments featured. Ideas for jean embellishments can be found online and on clothing around you. It is important to prepare both the jeans and embellishments before starting the process, especially when using new jeans, as this reduces the chances of shrinkage when the jeans are washed for the first time.
Embellishments come in a range of application methods. Sew-on embellishments are generally the most durable, but require some skill in sewing. Iron-on and glue-on embellishments are easier to apply, but may show wear and tear faster. Fabric paint tends to wear well, but glitter or acrylic finishes may crack or degrade. Washing jeans in cool water and allowing them to air dry will extend the life of the embellishments. If you opt for stones or sequins, buy a few extra to replace any that fall off. A range of sewing and craft supplies that can be used for embellishing jeans is available from eBay sellers.