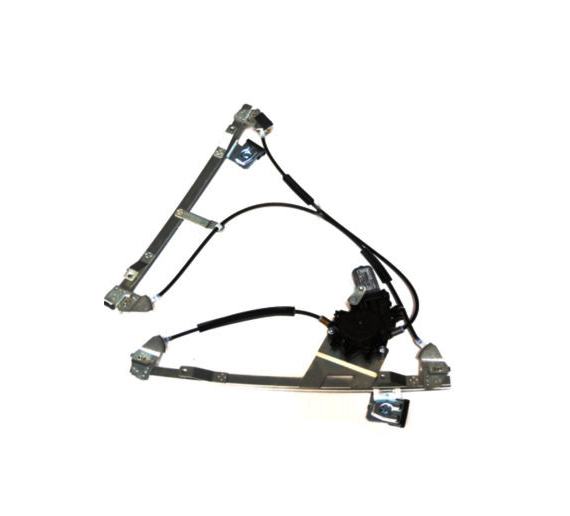 Many individuals like to take on a do-it-yourself attitude when it comes to car repairs, whether a job involves a contemporary car or the restoration and repair of an older model. While car repair typically falls under the category of engine repair, there are, of course, many other accessory items on a vehicle that sometimes must be replaced, including windows and the mechanisms that control them. Anyone undertaking a car window repair who needs to replace anything from a window regulator to a window motor may discover that there is a wide variety when it comes to the construction and parts that comprise a car window.
It can be challenging to ensure that you have found the right part for your particular car marque and model, but learning about the parts that comprise a car window and how to identify them does a lot to simplify the process. Consumers can also facilitate the process by working with retailers that help make finding the right part easy. For online searching, eBay offers a lot of helpful options for helping consumers find the right parts. Locally, automobile repair shops and automotive stores sell parts and are sometimes able to help consumers find the right products.
The Anatomy of a Car Window
There are two types of car window designs: power windows and manual windows. The majority of contemporary cars feature power windows. These electric windows raise and lower at the touch of a button using hydraulic pressure. A manual window leverages the crank of a handle to lower and raise a window.
Essential Car Window Parts
An array of parts is involved in the operation of both electric and manual car windows. When repairing a car window, it is important to have a clear understanding of each part and its place in the operation of either an electric or manual window.
Window Component

Description

Window Motor

Provides power to operate an electric window

Window Regulator or Window Winder

Mechanism for lowering and raising the window

Turning crank that initiates the lowering or raising of a manual window

Button for controlling the electrical lowering and raising of a window

Window Relay

Featured in some electric windows

Allows for limited operation when the car is turned off

Window Channel

Component that stabilises the window glass and holds it in place
Armed with an understanding of the anatomy of a car window and the parts involved, consumers can begin the process of identifying the correct parts for specific makes and models of cars.
Tips for Finding the Right Car Window Replacement Parts
Finding the right car window replacement part is an easy process when it is approached in the right way. By adhering to some simple protocols, consumers can quickly determine the right car part for their repair needs.
Determining Year, Make, and Model
The most important factor in finding the right replacement part for a vehicle is determining that vehicle's year, make, and model. Getting the year and model correct are particularly relevant, as design schemas can change dramatically from one year to the next or from model to model. Certain vehicles within a series or marque can appear similar, but still use different parts.
If a car is one particular style within a series of related models, it is important to get the exact model right. For example, a car might be a 560E within a 5 Series, and this sometimes causes consumers to think that all 5 Series parts are designed to work on the vehicle, but that is not the case. It is important for consumers to use exact model designations down to the last letter or number.
Alternative Methods for Determining Year, Make, and Model
With some older vehicles, consumers may be unsure of the exact year, make, and model of a car. There are a few methods they can leverage to determine this essential information. One is to use the VIN (Vehicle Identification Number) of a vehicle. The VIN of a vehicle not only tells a car owner its year, make, and model, but it also tells the location in the world where a car was made.
Manufacturers of older vehicles used chassis numbers instead of VINs. These numbers were imprinted on plates that were riveted to the chassis of a vehicle. They do not provide the detailed information that a VIN does, but consumers may find them to be a useful tool in narrowing down a search for a car's year, make, and model.
Leveraging Car Manuals and Parts Catalogues
The car manuals and parts catalogues that are associated with vehicles are another great resource for determining the parts needed for a repair. This literature gives consumers insight into their car's specifications and can provide detailed listings of the parts that are needed for a particular vehicle.
For those who own older vehicles or who have lost a car's literature, car repair manuals and parts catalogues are available for purchase in the marketplace. Consumers can find both new and used repair manuals for their specific vehicles and then use the literature to determine the correct window components they need for their repair jobs. These manuals can also be helpful in guiding the repair and replacement process, as well.
Understanding OEM and Aftermarket Car Window Parts
When car makers manufacture a vehicle, they often source internal component parts from another manufacturer. These parts that are made by a manufacturer other than the car manufacturer are called original equipment manufacturer (OEM) parts. Non-OEM parts are often referred to as aftermarket parts.
When shopping for the correct components for a car window repair job, consumers may first want to search out OEM parts. As a secondary course of action, consumers should look for parts that are referenced as 'meets OEM standards'. This indicates that a car part has been built to the original specifications required by the original manufacturer, but it was made by another manufacturer.
Communicating with Vendors
Another useful tool consumers can use during this process is effective and proactive communication with a vendor. Someone who sells automotive parts is usually well-versed in the various requirements of the industry and may be able to guide a consumer towards the right parts. Especially when older model vehicles are in play, the guidance of an informed vendor can greatly enhance the purchasing process.
Sourcing Car Window Parts for Vintage Vehicles
With older, vintage vehicles, determining the right part can be more difficult. The methods used to categorise vehicle parts has evolved over time. Today's vehicles are carefully logged, whereas an older vehicle may not have as careful a record. Generally speaking, a car's year, make, and model is the best method, but the resources for leveraging this information are far more limited than with newer vehicles.
Consumers should find retail options which aggregate vintage vendors. As a secondary step, looking for parts sellers who specialise in a particular marque or model is a useful approach. General knowledge is common and useful in the new and contemporary marketplace, but specificity can be an essential advantage in the world of classic cars.
Using the Right Retailers
One of the easiest ways to source the correct window replacement parts for a vehicle is to utilise an online vendor that facilitates searches for parts by make and model. The most effective vendors give consumers an entry point in their user interface that allows them to look for a part based on make and model criteria. One such retailer is the online aggregator eBay, which not only allows consumers to search for parts by make and model, but it also brings together a number of vendors to create a wide and diverse catalogue of options.
Buying the Correct Car Window Parts on eBay
eBay provides an easy way for consumers to source a correct replacement part for a car window. When you visit the site, you can begin the purchasing process in one of two ways, by using the search interface that is found on any page on the site or by browsing through the categories. In the section of eBay that is dedicated to cars, motorcycles, and other vehicles, you can search for parts based on specific makes, models, and keyword descriptors. To use the search bar, select your make and model and then enter any appropriate keywords, such as ' window channel', to begin looking through relevant listings.
Evaluating Sellers on eBay
When searching out the correct parts for your car window on eBay, make sure that you take the time to evaluate the sellers with whom you wish to do business. You can do this by visiting a seller's page and assessing that seller's customer feedback and past listings. This gives you some idea of a seller's range of experience and can help you determine whether that seller can provide you with the correct car window part.
Conclusion
A do-it-yourself car window repair project on a car does not need to be an overwhelming process. First and foremost, anyone undertaking a car window repair needs to begin with the right replacement parts, whether it is a window relay, window regulator, window motor, window winder, or something else entirely. All of these parts are more often than not car-specific, and they need to be correctly matched with a vehicle to ensure correct installation and functionality.
When shopping for car window replacement parts, there are several steps one can take to ensure a proper fit. Confirming parts via a car's handbook or using OEM parts are two of the ways in which consumers can find the correct window replacement parts. Leveraging diverse retailers like eBay that design their search process to facilitate make and model searches is another great tool for this process, although replacement parts can often be found locally, as well. By following these steps, any consumer can find the right part to complete a window repair project in no time.