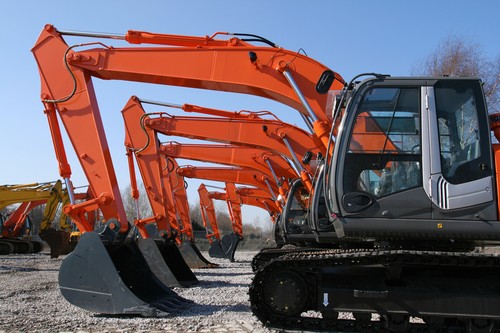 Excavation equipment is among the most important investments a construction or landscaping firm needs to make. Whether purchasing a crawler excavator, a mini digger, or a wheel digger, construction diggers are significant expenses. Looking for a quality used construction digger can make sense where one is available. The cost of a used digger varies mainly with the number of hours already logged. For a company that can trade the loss of use-hours in the future against cost-savings today, a used digger is an excellent choice.
The selection of used diggers in the market offers a range of options similar to those available in the new equipment market. Familiar brands are offered. Crawler, mini, and wheel models may be selected according to the work setting in which they are to be used. Various attachments are also available for the different brands as needed. A buyer who shops a large online market like eBay should find it easy to make a wise choice among used construction diggers and obtain the kind of digger that is required.
Types of Diggers
The buyer of a used construction digger may choose among several broad classes of excavator. The crawler excavator, mini digger, and wheel excavator all offer specific value to various construction situations.
Crawler Excavator
The crawler excavator uses tracks, or crawlers, to better distribute the digger's weight over soft terrain. The tracks make it easy for the vehicle to move in uneven terrain, such as land that has yet to be cleared. These diggers are highly manoeuvrable because when the tracks are turned in opposite directions, the excavator turns on a minimal radius. They are also extremely stable because of the large base provided by the tracks.
Crawler excavators are often sold with both mud and general purpose buckets, allowing the operator to switch out the buckets according to the density of the earth being excavated. Newer excavators include such features as load sensing technology, so the engine does not need to work harder than required; automatic power boost systems to provide up to 10 per cent additional excavation power when necessary; and traction systems that keep the crawler stable while excavating large loads on steep grades;
Mini Digger
Mini diggers are effective tools in areas where space is constrained. They are often used in urban home construction, landscaping, city roadworks, for digging the foundations of patios and driveways, and for trenching along walls and foundations. Most mini diggers have tracks, increasing their manoeuvrability. Unlike their larger cousin, the crawler excavator, mini diggers typically have an independent swinging boom. This allows the boom to be moved when space constraints do not allow the digger itself to be turned.
Mini diggers often include or offer a selection of attachments to meet a range of purposes. These may include a bucket, backhoe, a box rake, a bore drive, a fork rake, a stump grinder, a trencher, a trench filler, a tiller, and other items.
Wheel Excavator
A wheel excavator is, as the name suggests, a digger mounted on a wheel base instead of a track. These kinds of diggers are useful in urban areas where a track-based digger could damage already-constructed asphalt or other hard surfaces.
They also are easier to move from location to location since they go under their own power on roadways at speeds up to 24 km. Like crawler excavators, newer units offer system management technologies for maximum efficiency. The four settings that may be available are listed below.
| System Setting | Function |
| --- | --- |
| Precision | Assists in accurate grading |
| Auto | Automates switching between power levels to maximise fuel efficiency |
| Lifting | Manages hydraulic systems for smooth lifting |
| Economy | Reduces fuel usage during light tasks |
Some wheel excavators include a dozer blade as well as a bucket. These wheel excavators can push the material that has been excavated. They allow the owner to save money by purchasing only one construction vehicle instead of two.
Features to Consider in Purchasing a Digger
When selecting a used construction digger, a buyer needs to keep in mind many of the same considerations that go into the purchase of any construction digger. These include features related to the machine's size, its capacity, its speed, and available attachments, as summarised below.
| Feature | Options | Comments |
| --- | --- | --- |
| Track Width | 299-1,232 mm | Together with wheelbase, the main factors determining the tightest space the digger can enter |
| Wheelbase | 900-5,182 mm | Together with track width, the main factors determining the tightest space the digger can enter |
| Weight | 53-181,001 kg | Digger weight plays a role in setting where the digger may be used safely |
| Load Capacity | 759-35,731 kg | A working feature for which it is being selected |
| Maximum Digging Depth | 35-175 m | A working feature for which it is being selected |
| Maximum Speed | 4-24 km/h | Diggers with lower speeds must be carted on highways; highest speeds are wheel excavators |
| Attachment Selection | Mud, GP buckets; dozer blade; backhoe | Wide mud bucket for soft soil, debris clearance, levelling terrain; GP or general purpose bucket with teeth and cutters to break through rocky and hard soils; dozer blade for pushing, clearing, and smoothing; backhoe for digging and smoothing |
| Attachment Selection for Mini Diggers | Wide selection may be available | Offerings vary by brand and year; may include buckets, backhoe, box rake, bore drive, fork rake, stump grinder, trencher, trench filler, tiller |
The age of the digger and how heavily it has been used are also considerations. These influence how long it may last. A refurbished digger has a longer life ahead than one that has not been repaired to manufacturer's standards.
Factors Influencing the Prices of Used Diggers
The prices of used diggers vary according to the manufacturer and model, of course. A refurbished machine is also worth more than one which has simply been used to date. Beyond those considerations, the condition of a used digger is measured in part by age, in part by hours of use. So a five-year-old digger with 2,500 hours of use would be less expensive than a two-year-old digger used for the same number of hours. A 10-year-old machine with 10,000 hours of use could sell for 35 to 67 per cent less than the same machine used for only 4,000 hours.
Top Brands
Some of the top brands preferred for construction diggers are those listed below. Certain manufacturers specialise in crawler excavators or mini excavators, while a few produce a larger proportion of wheeled excavators.
Buying Used Construction Diggers on eBay
Used construction diggers from virtually every manufacturer are available across the U.K. from sellers in the eBay marketplace. Finding the desired digger begins with the search box. You may enter a term, such as "crawler excavator", "mini digger", or "wheel excavator" to obtain a broad list of diggers that meet your basic needs. Adding a brand name to the search narrows the selections, if you already have a preference for a specific manufacturer, "caterpillar digger" for example. This also helps find desired attachments for a digger already owned.
To identify used diggers, look for condition filter and tick all boxes that describe the used condition of interest to you. These may include such descriptions as "Used," "Seller Refurbished," and even "Parts Only" if your interest is to rebuild a machine you own that is in disrepair.
Arranging to Have a Digger Delivered
Some sellers ship diggers by courier while others offer for collection only. To find Collection Only diggers nearest your location, use the Sort By box to reorder selections by "Distance: Nearest First". Alternatively, you may compare the total prices, including shipping, of your selections, using Sort By: "Price Plus P+P: Lowest First".
Conclusion
Used construction diggers offer a cost-effective solution for landscaping and construction companies. The market offers a full range of used diggers, including crawler excavators, mini diggers, and wheel excavators. These allow the contractor to select what is needed for any work environment: soft, uneven soils; tight, urban settings; and pre-constructed areas where a track digger would damage asphalt or other hardscape.
The track length, wheelbase, and weight determine whether a given digger is able to enter a certain kind of construction area. A buyer also must be concerned with whether a specific digger offers the attachments required for the kinds of work to be done, whether digging in soft or compacted soils, smoothing, pushing, boring, or other tasks.
Available used diggers include machines from every manufacturer. Many use diggers in the market are relatively new, with 2,000 hours or so of use. The older the machine and the more hours use it has seen, the lower its price is likely to be compared to others of the same type. The cost of having a digger delivered can be substantial, especially when the larger diggers are being considered. Locating a digger close enough for a staff member to collect it can make a difference in the total cost. Given the wide assortment of used construction diggers on eBay, a buyer should easily obtain the kind of digger that is required.