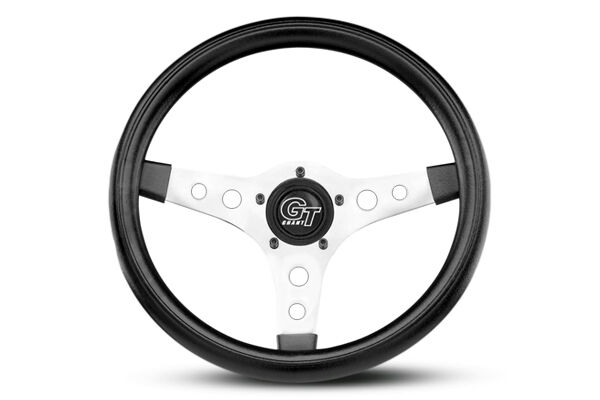 Often, changing just the steering wheel can dramatically improve the look of the interior of a car. Some people buy aftermarket steering wheels for the simple reason of making the inside of their car look cooler or more elegant. A well-chosen steering wheel can also make driving more comfortable. With a steering wheel having enough cushion and a good grip, the driver may not mind driving the car a little longer.
A steering wheel should also have the right distance to the driver, and if not, it only takes a boss kit hub to make a steering wheel protrude at a height that the car owner likes. Although in race cars a boss kit has an essential purpose, in regular cars the purpose of a boss kit can focus on raising the wheel car to a certain level. Steering wheels and boss kits are among the most in-demand aftermarket car parts, and knowing the different types out there on the market can help buyers find the one suited to their taste.
Overview of Steering Wheels
Even though all cars come with steering wheels, there is none stopping people from buying an aftermarket steering wheel that they fancy. Steering wheels come in a variety of designs, shapes, colours, and accessories.
Considerations When Buying Steering Wheels
The main consideration when buying a steering wheel is the mounting plate, which secures the steering wheel to the steering shaft in a vehicle. Another consideration is the bolt pattern. The bolt pattern of the car must match the hub for proper connection. When it comes to size and weight, a steering wheel should have a smaller diameter and lighter weight to make handling and turning not a painful process. The materials should be of superior quality. The design should be unique so the steering wheel can stand out or it should match the interior of the car.
Steering Wheel Buttons
Most steering wheels are circular and are connected by a hub to a steering column. Buttons on a steering wheel include the car's horn, cruise control, telephone and audio system control, and paddle shifter. The car horn button was the very first button that was added on the steering wheel. Traditionally, such a button was installed on the centre pad or the steering wheel hub. However, steering wheel designs with the horn button on the spokes also exist.
Speed controls on steering wheels were added in the 60s. In the 90s, there were a number of buttons that began popping up on the steering wheel. They are alternate audio system adjustment, phone and voice control button, and repeat button for the last navigation instruction. There are steering wheels that have buttons to scroll through menus. Also, on-board computer functions can be safely and comfortably operated from a steering wheel.
Materials
Steering wheels are made of various materials, including wood, leather, and polyurethane. Wood is classy and looks good in vintage or luxury car. Although very pleasing to the eye when new, its lustre can fade over time. Long-term use of wood steering wheel can also result to cracking, splintering, and scratching of the surface.
Another popular material is leather. It is sleek-looking, easy to grip, and feels comfortable to the hands. With proper maintenance, leather can last a long time. Eventually, leather can crack or peel due to daily wear and tear, especially when exposed to harmful elements. Lastly, polyurethane steering wheels are commonly seen in convertible cars. It is durable and easy to clean.
Steering Wheel Brands
Many brands of aftermarket steering wheels are available online. The following are some that buyers can find when shopping around.
Sparco
Sparco steering wheels are known for their innovative and sleek design. It is one of the popular brands of aftermarket steering wheels. What is great about these steering wheels is that buyers can find them in a variety of sizes to fit any type of car, whether it is a Civic or an SUV.
Momo
Momo is another popular brand. With its slim and simple design, it captures the attention of many car owners looking for a steering wheel to replace their original. One nice model is the Drifting 33, which has a smaller diameter for better response and handling. It is covered in genuine leather and available in a red or blue theme.
Shutt
Another steering wheel manufacturer is Shutt. One model from the manufacturer is the Shutt SR. It is made of quality materials that last long. It is easy to install but needs a specific hub that buyers can buy from the same manufacturer. The SR model is not a typical round steering wheel. The steering wheel has curves on some parts, as opposed to the conventional wheels that are round; the curved surface provides a driver a better grip.
Special Steering Wheels
Certain steering wheels are made for a specific purpose or with an extra function. There is a specialised steering wheel for those who cannot hear instructions from the navigation system. The two caps, equipped with ThinkPad Trackpoint buttons, are placed on the parts of the wheels where a driver places the hands. The buttons guide the drivers by moving a millimetre to the right or left, depending on the direction that the driver should take. It does not turn the wheel itself but only guides the hands of the driver by giving a slight nudge.
Furthermore, certain special steering wheels can guide the drivers in case the driver's eyesight is temporarily blinded by the sun or other visual impediments. To prevent accidents caused by a temporary loss of vision due to the glare of the sun or dazzle from low sun and reflections from ice and snow, a car sensor that can detect any drifting out of a lane activates the vibrating system of the steering wheel. If the driver drifts to the right, the right side of the steering wheel vibrates, and if the driver drifts to the left, the left side vibrates.
A Guide to Boss Kits
There are boss kits for both steering wheels with and without airbags. In race cars, a boss kit is installed below the steering wheel for a quick release function. It can also be the case with regular cars, but some car owners buy a boss kit specifically to raise the wheel to a certain height, making handling and turning the steering wheel more comfortable.
When buying a boss kit, the rule of thumb is no boss kit can fit all types of cars. Some boss kits are specifically designed for certain cars. There are boss kits, however, that are suitable for several steering wheels brands and complete with horn and full-fitting attachments. Other boss kits brands may specifically name the kit with a particular steering wheel it is intended to fit, just like JJC's Momo Boss Kit, but such a kit can be used in other steering wheels, including Sparco,, Issota, and Richbrook. Other part manufacturers that produce boss kits are:
Buying the Best Steering Wheels and Boss Kits on eBay
Because of the popularity of online buying and selling, a lot of brick-and-mortar shops have set up online counterparts of their shops, including car parts manufacturers. There are several websites that you can check when buying steering wheels and boss kits,, but if you want a one-stop shop for all your steering wheels and boss kits needs, you can just go to eBay..
eBay lists a wide variety of steering wheels, and wood, leather, or polyurethane ones can all be found on eBay. Similarly, you can also buy steering wheels of different brands from individual sellers and online shop owners on eBay. When it comes to buying boss kits, you can find such items on eBay, whether for airbag or non-airbag steering wheels. The brands for boss kits also vary greatly on eBay, and you can find a specific brand that fits on one or more steering wheels. eBay lists both new and used steering wheels and boss kit, so if budget is tight you can always rely on eBay to provide products within your budget range.
Conclusion
Steering wheels and boss kits are very important parts of the car. People buy aftermarket steering wheels not only for their function but also for the look they add in the interior of the car. Steering wheels can be made of leather, wood, or polyurethane. And there are also steering wheels that are specially designed to fit a specific purpose, such as for hearing impaired drivers and for temporary blindness caused by the glare of the sun or from ice and snow reflecting sunlight. When buying a steering wheel, remember that the smaller and lighter the wheel, the better is its response and handling ability.
Moreover, boss kits are an essential part of a race cars and regular cars. A boss kit not only provides a quick release function but also gives a steering wheel more height so the driver can comfortably manoeuvre it. A boss kit can be made for either airbag or non-airbag steering wheel, and although there is no boss kit that fits all types of steering wheels, there are varieties that can fit a certain number of models. Both steering wheels and boss kits are popular items among car owners who want to improve or redesign their cars, so knowledge about the parts and their functions and types allow buyers to buy the best from the many options available online.