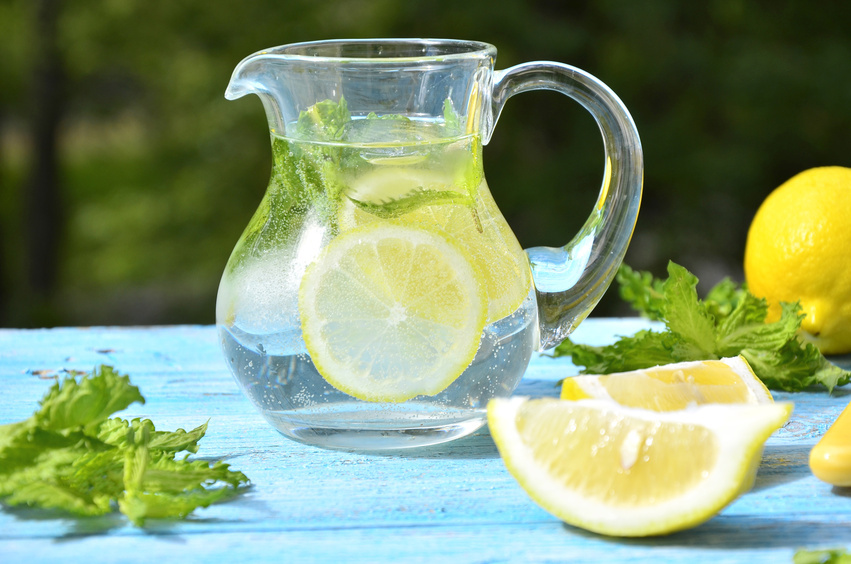 Pitchers and jugs are available in several different sizes, materials, and shapes suited to different uses. Whether it is round, bowl shaped, or even vintage, the proper size and shaped pitcher is important when serving different beverages. Purchasing the perfect pitcher for outdoor dining can help you avoid leaks, drips, spills, and stains while providing an easy to use and clean container for summer drinks.
Water Pitchers

When selecting a water jug for outdoor dining, the first order of business is deciding the material you feel is best for your family. If there are young children who may be serving themselves, plastic or metal may be the right choice to prevent breakage. A great shape to consider is bowl shaped on the bottom with a narrow flute at the top with a pouring spout and sturdy handle. The bowl shape holds the ice away from the sprout to prevent spillage, and a strong, well-seated handle is easier to hold and pour. Metal or glass jugs keep the water cooler, while plastic is lighter weight.
Milk Jugs
Traditionally, milk jugs are metal, of a slender shape, and equipped with a handle and pouring spout. Crafted from enamel, or metal covered in enamel today, enamel jugs have stood the test of time, holding milk for generations of families. The cylindrical shape is pleasing to the eye and easier for children to use and hold. The enamel holds a lower temperature a bit longer, which is good for milk, although plastic jugs are also popular. A good tip with enamel milk jugs is to place them in the refrigerator before decanting the milk into the jug.
Wine Carafes
Wine carafes are available in plastic or glass and are generally a cylindrical shape at the bottom and narrowing at the neck, where they blend to a flute like shape at the top. They occasionally have a pour spout. According to connoisseurs, people should never serve or store wine in metal containers. Glass carafes are more elegant, but for outdoor use, it may be a good idea to find a well-made and attractive plastic carafe. Summer wine coolers with fruit and ice can benefit from a bowl shaped pitcher with a spout that stops the fruit from falling into glasses when served.
Juice Pitchers

Juices can stain, especially the red ones. For juice, choose either glass or plastic works, but plastic pitchers must be stain resistant. Shaped much like water pitchers, juice pitchers are sometimes equipped with strainers at the spout to prevent the pulp from leaving the container. Because juice pitchers tend to be large, look for sturdy handles, and if possible, a lid is a great idea to prevent overflow. Plastic juice jugs that have an ice container built in are great for keeping ice from melting in the juice and watering it down.