Whether for displaying or storing, shelves help to keep items neatly organised. For use in the home, office, or garage, shelves store virtually any items off the ground. A shelf is usable for any room in the house. Different types of shelves are available, including wall-mounted, free-standing, and bookshelves. Before buying, consider what type of shelf one requires, your preferred shelving material, and what items you wish to store on the shelf.
Types of Shelves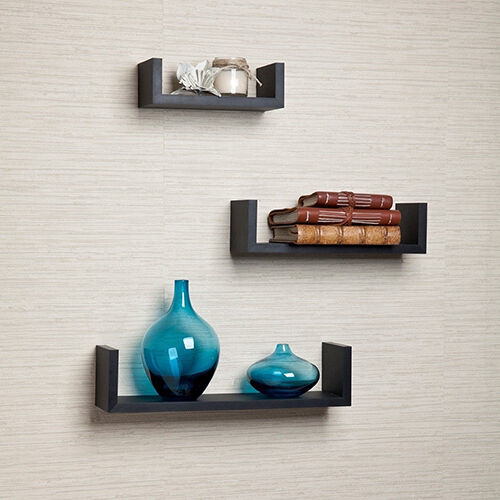 Shelving may be categorised into three basic groups. Wall-mounted shelves are fixed to the wall with sturdy brackets. Ideal for use in living rooms, bedrooms, and studies, these types of shelves are not designed to store heavy weight, but for holding ornaments and small, lightweight items. One popular type of wall-mounted shelf is the floating shelf. With a floating shelf, there are no visible brackets or fixtures. The shelf looks as if it is floating in place. The second type of shelf is a free-standing shelf unit, such as a cabinet, sideboard, or entertainment centre. This type of shelving is ideal for holding a wide range of items, even heavy weight items. Book shelving is the third category type. Bookshelves usually stand against a wall, often being anchoring to the wall for added safety. A strong, sturdy shelf, as their name suggests, book shelves store books by can also be used to store CDs, DVD, or even display ornaments.
Shelving Material

Shelving material needs to be strong and safe, and able to stand up under a considerable amount of weight. The type of material a shelf is made from helps to determine how strong it is. Wood is the most common type of shelf material. Wooden shelves are sturdy, attractive, and ideal for use in the home or office. Wooden shelving comes in many natural colours and can also be painted to match any room's decor. Metal shelving is suitable for storage. Heavy duty and solid construction make this material ideal for garage shelving. Metal shelving is often available as an adjustable shelving system. Glass shelves tend to be quite expensive, and look great as display shelving. Plastic shelving is relatively inexpensive and suitable for either garage shelving or for use in children's bedrooms.
The Purpose of Shelves
Some shelving units have a specific purpose in mind. CD and DVD shelving often features small storage spaces, for discs to sit snugly in. These units hold anywhere from 50 to 100 discs, through to several hundred discs. Display shelving may be for display purposes, such as showing off collectible ornaments. Shop shelving is used for displaying large amounts of merchandise.