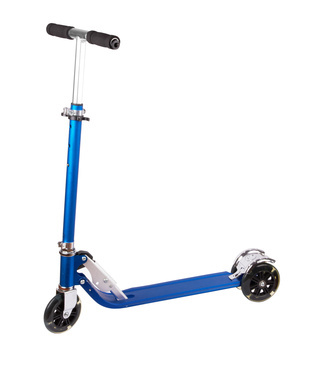 Although, home videos may show animals who have, with or without trickery, mastered the ability to ride such scooters, a Push or Kick scooter can best be described as a human powered vehicle. Push scooters have a handle bar or steering device that is attached to the front wheel or wheels. The rider stands with one foot situated on the deck, while the other leg 'kick propels' the scooter. Both feet ride on the deck after a certain momentum has been attained. A variety of scooters can be purchased on eBay.
The History of the Push Scooter
A popular tale is that the first push/kick scooter was created by a brother for his sister whose one leg was shorter than the other in 1990. However, the timeline given unfortunately negates the claim that it could have been the First push/kick scooter. Photos exist of children enjoying such toys more than a century ago, and there was even a penny-farthing model of the push scooter. The modern derivative, often used as a form transport and not for play or sport, by adults, is almost always manufactured from aluminium with more often only two wheels, alternatively four, and it folds neatly to different sizes for storage, even into a brief case.
Plastic, recyclable models exist for especially younger children. The available models become more expensive and ornate, even extravagant, normally in relation to the age of the intended user, or the intended use. Various forms of mechanical and or electrical propulsion have been added to the push scooter, which immediately creates a paradox, yet makes that form of transport a serious contender for daily conveyance.
The Push or Kick scooter is no longer just a child's toy or an adult convenience vehicle, it has sprouted a legion of professional scooters, mostly for free style 'scooting' and speed scooters. The simplicity of the earlier plank and wheels models may have been easier to break, but also easier to repair. The modern versions have high tensile aluminium and alloys with finely engineered bearing assisted wheels for easier and smoother propulsion. The incorporation of fancy grips, bells, lights, gears, stands, brakes, sprung forks, grind pegs, spindle latches and 'coffin clamps', make for custom rides and smoother glides. However, these modern additions to the original invention are all susceptible to breakage which will often require repairs.
Repairs to the Push Scooter
Since there are a large number of scooter models available, there are also many replacement parts on the market too. A wide selection of scooter replacement parts can be purchased on eBay.
Prevention
Abide by the following and save yourself the time it takes to make repairs.
* Store the scooter in a dry sheltered area whenever it is not in use.
* Regularly check all parts for wear.
* Tighten all bolts and any other adjustable parts.
* Regularly insure that all parts requiring lubrication are correctly and sufficiently greased.
* As in any vehicle the brake(s) are most important and should be checked regularly in relation to usage and kept in good working order, with pads or other regulating parts replaced whenever worn.
In Prevention, the actual maintenance of the scooter remains secondary to the safety and well-being of the user. In addition to maintaining regular safety checks on the vehicle, there are numerous helmets and body pads freely available. These items are aimed at keeping the rider intact and avoiding 'repairs'.
When damages do occur to one's push scooter, whether due to wear or possibly an accident, the first and easiest remedy would be to take the scooter to the supplier. In most instances suppliers employ staff members who can assess the extent of the damage, supply the replacement parts, and even perform the necessary repair(s).
Basic Repairs Are Possible
Do not think that due to the precision, albeit mostly mass produced contemporary kick scooters, you will not find a level of success in repairing your push scooter. More advanced models may now require high levels of expertise as well as quality equipment and appliances to perform make push scooter repairs. However, the average user can still perform basic repairs and continue to enjoy their push scooter.
Some like to repair push scooters as a hobby. If this is your goal, then consider all the equipment required and your level of mechanical skill. A simple workshop venue or at least a substantial amount of space may also be necessary.
Push Scooter Repair Tips
Of utmost importance is the correct identification of the defective part. Once this has been identified, it is also important to determine the correct replacement part. A speedy way to find the proper replacement part for your push scooter is shop at online marketplaces like eBay.
* After you identify the tools required, assure that not only the correct tools are available, but make sure the correct model, make, and sizes are in stock. If you do not do this, then you may cause damage to a brand new spare part to the extent that it may have to be replaced before ever being in use.
* As you replace each specific part of the push scooter, make sure that a sufficient amount of grease is applied to the item that requires lubrication.
The repair and maintenance of a modern push scooter is made so much easier by simply becoming familiar with the model's instruction manual. Oftentimes these manuals also come with instructions on how to fix broken parts. eBay remains one of the most resourceful, indirect suppliers available to any consumer. When you visit eBay's online marketplace you will find a wide selection of brands, sizes, and styles.
Because of the high demand for a personalised item which has become commonplace in our society, business opportunities have been identified and actual Manufacturing plants have been created to specifically supply scooters that are not common off the shelve items. These Providers use a great variety of parts from various Brand manufacturers. They mix and match to deliver a very different item for your individual choice. Push scooter manufacturers employ highly skilled professionals who are able to custom build scooters 100% by using those different suppliers' parts, to your prescriptions, with a short order to delivery waiting period, or as ready-custom models on the shelf. The scooter may be further transformed with a full spectrum of colours in anything from day- glow orange, mid-night purple to matt black.
Caring for Your Scooter's Metal Parts
Metal parts like frames and kickstands can develop unsightly and damaging rust before it is re-painted. To keep your scooter in good condition, always apply metal primer to metal pieces before applying the desired coat of paint. Let the first paint of dry before applying a second coat of paint. However, if the rust has eaten into the frame to the point that its ability to support a load is compromised, it is better to disassemble the scooter and replace the metal part that has begun to rust. A bike shop technician or a friend can help you take the scooter apart. A variety of push scooter parts can be found on eBay. If a single bar in a metal frame has broken, it may be temporarily fixed by aligning it before sliding a metal or fibreglass tube around it. Depending on the metal frame, a cracked or broken metal frame tube could be welded back together. Good bike mechanics can remove and replace metal frame tubes in push scooters.
Conclusion
The choice of which push scooter brand, size, or colour is for each individual owner to decide. While the suppliers are also varied, this diversity of part choices, together with the colourful selection of tapes and decals available to further adorn and personalize the Scooter, enhances the push scooter's individuality. This ensures that any given scooter may become one of a kind. You will need to consider a wide selection of push scooters in order to find the one that you need and that you can fix in case it breaks. Any of the parts on a push scooter can be purchased by the individual, in an assortment of brands from so many suppliers, from eBay.