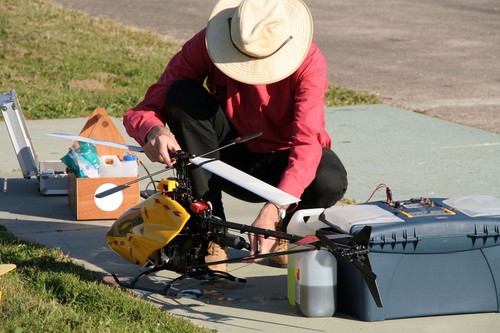 Depending on the problem with the radio control helicopter, fixing the aircraft will be done best if the damage prognosis is correct and the remedy appropriate. The most important bit of all, however, is having the correct parts and the best tools to work with. Checking with one of the many sellers on eBay can help.
Getting the Right Parts/Accessories
Buying the right replacement parts/accessories for a radio control helicopter is really best done by carefully taking note of the part number, maker's name and model of the helicopter. This is usually displayed on most of the fundamental parts of the kit and if the model has been assembled at home then there is a very good chance that they are all recorded in the assembly instructions. These are always worth carefully filing away for future reference.
When fixing a radio control helicopter be careful to establish exactly what the helicopter make and model is before buying a new part. The range of parts and types of radio control helicopter is very broad from little electric indoor models to the big scale turbine machines, which are nearly the real thing. All need different parts and often, different levels of expertise to fix and adjust.
Buy Good Quality Parts for Your RC Helicopter
Buy parts of the best possible quality that can be afforded. Fixing an aircraft on a shoestring will invariably cost more in the long run. Cheap components seem like a great deal until the model crashes after a short run and its time to go home. Buy well known and reliable marques. This applies to the helicopter itself as much as the parts and accessories. Generally these brands will have well established models with a broad range of parts and accessories that are easy to obtain and can be trusted to fit the model in question.
Invest in research as there are many different suppliers and distributors and some may have good offers on. The information that can be gleaned from sellers on eBay that are concerned with radio control helicopters is very useful. There is always an experienced enthusiast who is willing to impart some good advice and this can come from anywhere in the world.
When fixing a specific part of the engine or the fuselage then it is important to identify the right replacement part required. It is an enormous waste of money to just guess at the part size or type to find that it is the wrong size and doesn't remedy the issue. What is more this means more time waiting for the right part which is less time flying and that is what everyone wants to be doing.
The make, model and even part number are generally displayed on the machine somewhere particularly if the part is specific to that machine. Take a note of these and then getting the right part is guaranteed and is also much easier and quicker to find. Look out for established brands like Buzz Fly, Honey Bee, King, Dauphin, Lama, Micron, Blade, Cinestar, Walkera and Hubson.
RC Helicopter Components
The radio control helicopter is made up of a few basic components. All are interlinked and the machine will only work effectively if all of these components are working well, individually and together. A slight bend in a balance bar or a twisted rotor blade can easily damage other components so look to solve the fundamental issues that are affecting performance versus the apparent damage.
Components that are particularly important include the engine itself which has multiple important sub components:
blades
tail
balance bars
connect buckle
inner shaft, battery
remote transmitter
aerials
Fixing Different Engine Types
Electric
Electric engines are simple and are powered by lithium batteries they are so clean and simple really that battery power and replacement batteries are really the only concern. Much of the damage done to electric helicopters is in storage or in transit. It is as well to:
· keep them in a safe dry place where nothing will be piled on top of them
· take care when carrying them
Batteries are very expensive and do not last long in flight. Keep two or three batteries so that when one runs out the flying can continue while the first is recharging.
Nitro
Nitro engines are an altogether different game. As they run at high revs they do suffer from vibrations putting components out of line or simply wearing them out. The experienced and mechanically minded enthusiast will enjoy the complications of the nitro engine, the smell and the very invasive noise it makes. Parts are easily obtainable and are relatively cheap.
Petrol
The same approach really applies to petrol engines, which again are more complicated and fickle than the electric engines. Although they are cleaner than nitros and are much less noisy they are very heavy. Quite often the need to fix a petrol engine radio controlled helicopter is as a result of a crash. They require a lot of fine tuning and working on the power to weight ratio; if this is wrong the effects can be harsh. Fuel efficiency and flying time are the greatest benefits of this type of machine as they run on relatively low revs and so the fuel consumption is better than nitro.
Turbine
The most intricate, expensive and challenging of all the engine types is the turbine. There are very few companies that specialise in this type of engine but in a way that is an advantage as the experts are widely known and the issues with these models regularly identified and discussed. The replacement parts are expensive but providing the part number and model type are clearly identified then little time will be wasted in taking delivery of the required component.
Other RC Helicopter Parts
General replacement parts include blades and rotors, which do vary substantially between makes and models. Be sure to get the right part numbers. These are often the first thing to be damaged as they are made of materials like fibreglass, which is delicate and they are at the extremities of the machine and the first thing to hit the ground in a crash.
Quality Counts
Investing in top quality parts is particularly important when buying replacement:
starter shafts
undercarriages
starter adapters
Buy the best possible rotor heads, blade holders, swash plates, main and rotor shafts, main frames and bearings where possible as these too are vital to the performance of the helicopter.
Conclusion
When fixing a radio control helicopter, make sure that the part being replaced is the real issue. It may be that the part that appears to be damaged is only damaged because a different element in the machine has gone wrong. Follow the trail and be rigorous in the inspection and tuning of the model. Most importantly, however, look after each component, keep it all clean and fly carefully.
Buying Parts and Accessories to Fix Your Radio Control Helicopter on eBay
Now that you've worked out which Accessories or Parts for your Radio Control Helicopter you need, find them quickly on eBay. To start shopping, go to the Toys & Games category, Radio-Controlled and click the Helicopters portal then Parts & Accessories.
Categories
The Categories list on the left side of each page will help narrow down the listings by item type. There are links for brands such as: Align, Syma, Raptor, Kyosho, Walkera and CNC
Product Finder
Use the Radio Controlled Helicopter Accessories Finder to quickly narrow down item listings by brand, model and condition (new or used).
Keyword search
Search eBay listing titles for specific words. For example, to find new Radio Controlled Helicopter Accessories, type the keywords "Radio Controlled Helicopter Accessories new" (without quotation marks) into the Search box. Click, "Search title and description" to expand the results. Visit eBay's Search Tips page for more tips on searching with keywords.
If you can't find exactly what you want, try browsing eBay Stores or tell the eBay Community what you're looking for by creating a post on Want It Now, or save a search on My eBay and eBay will email you when a matching item becomes available.
Buy Accessories for Your Radio Controlled Helicopter with Confidence
Make sure that you know exactly what you're buying and understand how eBay and PayPal protect you.
Know the Item
Read the details in the item listing carefully.
Remember to add delivery costs to the final price. If buying a high value item, check that the seller will insure it until it is delivered.
For more information, click the "Ask seller a question" button on the seller's profile or the "Ask a question" link at the bottom of the item listing page.
Always complete a transaction on eBay (with a bid, Buy it Now or Best Offer) otherwise you will not be covered by eBay Buyer Protection.
Never pay for an eBay item using an instant cash wire transfer service like Western Union or MoneyGram. These are not safe ways of paying someone you do not know.

Know the Seller

Research the seller to feel safe and positive about every transaction.

What is the seller's Feedback rating?
How many transactions have they completed?
How many positive responses do they have?
What do buyers say in their Feedback?
Are they positive about the seller?

Most top eBay sellers operate like retail shops and have a returns policy.

Do they offer a money-back guarantee?
What are their terms and conditions?

Buyer Protection

In the very unlikely event that you do not receive your item or it is not as described, eBay Buyer Protection covers your purchase price plus original delivery cost.