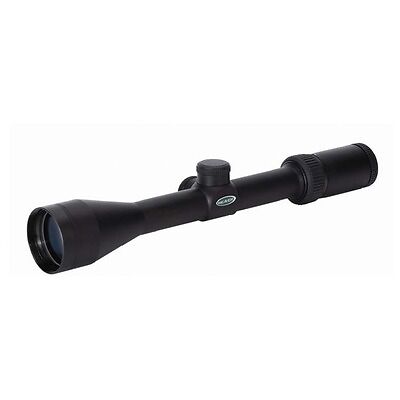 When people step away from work in order to commit to a hobby, they don't need to be hampered by faulty equipment. So in the world of shooting, most hunters agree that a functional riflescope is one of the most required actions for any hunting experience.
There are two options that help keep a gun riflescope up and running: fix one that is faulty, or buy new. There are several different ways to repair a riflescope depending on its actual fault. However if the scope is cracked it may not be able to be fixed, and will need to be replaced.
If a new scope is deemed necessary there is a variety to choose from on the world's leading online auction site. eBay tends to every shoppers needs and they will be sure to find their scope of choice at a great price. This guide aims to provide the reader with a number of options to fix or replace your hunting sights and scopes.
When a scope is damaged it can become a hazardous entity while out on a hunt. Many hunters get into bad habits and start believing that a riflescope is maintenance free; this is not and never has been the case. All it takes is one misaligned lens to turn a steady rifle in to an unpredictable weapon. Common faults in riflescopes and sights include:
Damaged lenses
Misaligned lenses
Misaligned sights
Cracked casing
Any and all of the above spell the downfall and in some cases the end of a riflescope. If people notice that their gun is suffering from one of the aforementioned problems they should address it immediately.
Maintaining and Cleaning a Hunting Scope
Scope cleaning is not done enough by shooters. In order to clean a scope properly, users should take the following steps to ensure their equipment is in peak condition:
Clean the lens with specialised lens cleaner; this is the same cleaner that is used on camera lenses.
Do not use multi-surface window cleaners or even regular tap water to clean a lens. Such substances attack the lens coating and can inflict scratches to the glass.
Use natural polish to clean the plastic casing.
Cleaning a riflescope correctly will save shooters a few headaches. All it takes is a little attention for a user can turn a stack of old lenses into versatile rifle accessories.
Buying a New Hunting Scope
In some instances, no matter how hard you try you simply won't be able to save your trusted lens. Shoppers need to remove the damaged unit and replace it with a new one. To ensure hunters get the most accurate shot on the field and that a new scope is set up correctly take the following steps:
Mounting a Rifle Scope
When you've selected a replacement scope it will require mounting to the weapon. Shooters should do so with mounts that is purposely designed to absorb the recoil that the gun in question can produce.
Using a scope that can't absorb the correct amount of recoil is very dangerous. Not only will the shot be lost but also the scope will dismount itself putting the user and those around it at risk.
Always make sure that a scope is secured in position and use Loctite on screws where possible.
Recoil always takes its toll on a scope, no matter what happens it will loosen it over time.
Nobody knows exactly how much recoil it takes to dislodge a scope. Gun users should pay careful attention to the screw's condition and position in order to avoid it from happening.
Bore-sighting a Rifle Scope
Once the scope is attached shooters will need to bore its sight. You can do this at home, but its best to do it at a range to ensure maximum safety.
Set two targets at 25 yards away and 100 yards away.
Secure the rifle in a turret or tripod; this will help keep the rifle steady during the bore phase. Just make sure that no part of the rifle is left resting on a hard or independent surface.
Bolt-action rifle users should make sure that the bolt is removed prior to focusing on the targets.
Single-shot rifle users will need to open the action prior to bore-sighting the weapon.
Adjust the turret so that the 25 yard or 100 yard target is in center view when looking through the breech end of the rifle.
Now begin to adjust the scope so that the cross hairs are aligned onto the target.
Completing the above steps will mean that a rifle is bore-sighted to both 25 yards and 100 yards. It is worth noting that auto-loader rifles and pump-action guns, like shotguns, cannot be bore-sighted in this way.
Brands
When entering the market for a new riflescope there is no shortage of brands to choose from. Each brand has a different target audience in mind, along with different company mission statements. The following brands sell riflescopes and are commonly associated with hunting:
Aimpoint
Burris
Carson
Elotech
Hawke
Konus
Leupold
Millett
Nikon
Russion
Simmons
Trijicon
Vortex
Yukon
Zeiss
As you can see the field of hunting scopes is extremely competitive and brands are more than willing to fight for a customer's business. Each brand has ranges that offer something different. However, some scopes may be a perfect fit for some while detrimental to others.
Head down to a gun range and try out a few scopes to see what suits your shooting style. Once you've found a unit of interest, head to eBay to get exactly what's needed at the most affordable price.
Buying Used Sights and Scopes
Used riflescopes serve the same purpose as new riflescopes, but do so at a fraction of the cost. While buying a used riflescope shoppers need to accept that they are reduced in price for a reason. Be cautious and get as much information on an item as possible before committing to a purchase. Asking the seller questions is a great way to gain more information about an auction listing. Try asking the following to a seller:
How often has the scope been used?
Has it been previously repaired? If so, what repairs have been carried out?
What rifle has it been attached to?
Has it been customised or modified?
Is it still under manufacturer warranty?
How to Purchase a Hunting Scope on eBay
Purchasing gun accessories is no longer limited to high street stores and local gun clubs. The hunting community has embraced the World Wide Web, so expect to find special offers and unique deals online. Even though real stores have their uses (their 'try before you buy' services are invaluable) shoppers will no longer get the best deal there.
eBay has emerged as not only the world's leading auction site but a go-to shopping destination for gun enthusiasts. Shooters will find all the accessories they need and more on eBay at the best possible prices.
To start browsing the riflescopes that are available go to eBay's homepage and select the sporting goods option.
From there, click on hunting then sights and scopes. This will display all live riflescope auctions and allow shoppers to browse freely.
If shoppers have a specific brand or variation in mind, they can use the keyword search tool that is found at the top of the page.
eBay Shops
Shooting has become a popular hobby with gun club and rifle range memberships on the rise. This means that there is plenty of stock available from perspective buyers. Gun stores have taken to the eBay shops format to sell their goods. To see what eBay shops are open select the eBay shops link at the bottom of the homepage.
Delivery
Riflescopes can be fragile so they require extra special care during transit. Discuss delivery options with sellers and opt for an insured courier if given the choice. Such services may cost more money, but are priceless should the scope be damaged in transit.
Completing a Transaction
When a shopper has found a riflescope of interest they will need to do one of the following:
Place a Bid
Make a Best Offer
Buy it Now
Once an auction has concluded, the winning bidder will need to complete the checkout process.
Doing this via PayPal will mean that the buyer protection program covers the transaction.
Conclusion
When it comes to hunting accessories, nothing is more pivotal than the correct riflescope. They can aid shooters accuracy and be the difference between hitting a target and missing wildly. However, they are a far from indestructible pieces of equipment and once damaged they can be difficult to repair. If repairing fails then shooters will have no choice but to acquire a new scope.
Variety is the upside to the riflescope market, users will be sure to find something the similar to, if not better than, what they used previously. No matter whether you are fixing or replacing, eBay is the place to go for all your riflescope requirements.