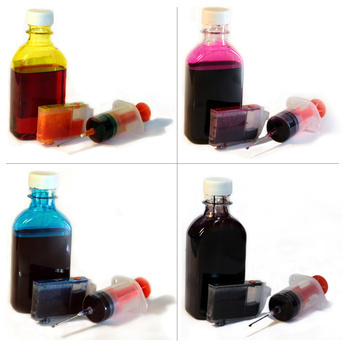 Owning a laser printer, laser fax machine, or photocopier can become increasingly expensive with the recurring cost of having to replace toner cartridges. Rather than disposing of them, buyers can refill their cartridges online. Doing this is not only economically viable, but it is an environmentally friendly alternative.
Toner is a dry powder that consists of two parts: pigment and plastic. The pigment is responsible for giving colour to the text and images. It is then blended with the plastic so that the toner melts when it is placed through the printer's heat fuser. As it melts, it binds to the sheet of paper, clearly reproducing text and images, free of blemishes and bleeding. Ink takes longer to dry and is not of same quality as toner, so toner is best suited to settings where high volumes of text are being printed and fine detail is required.
When considering getting toner cartridges refilled online, buyers should consider the various types of cartridge, familiarise themselves with the factors to consider when refilling, understand the advantages and disadvantages of the products, and learn how to remove and reinstall the cartridge. Toner cartridges and refills can be bought at retailers such as eBay.
Types of Toner Cartridge
There are various types of toner cartridge. When searching for these supplies, buyers should consider their budget as well as the various manufacturers that offer these products. The table below can help buyers to familiarise themselves with the characteristics of each type.
Type of Toner Cartridge

Description

Also called genuine or original toner

Manufactured by the company or by a factory authorised by the company who produced the device

Produces consistent, high quality prints

Third-party

Made by non-OEM manufacturers

Brand new, never used, and not refilled or remanufactured

Both standard yield and high yield toner cartridge versions

Costs considerably less than OEM products

Generic, refurbished, or remanufactured cartridges

Made by non-OEM manufacturers

Built of new or a combination of new and recycled parts

Quality can vary between different manufacturers

Can be magnetised by a reader machine and then read by the machine with complete accuracy

Used in specialised printing applications only, such as cheque and automatic draft printing
OEM toner cartridges are thought to be of the highest quality. However, to get the greatest use for a reasonable price, buyers should consider getting toner cartridges that have already been refilled. These come under the category of compatible toner cartridges as they are manufactured from recycled parts. The manufacturer takes used cartridges then cleans, repairs, and refills them before offering them for resale.
Factors to Consider when Getting Toner Cartridges Refilled Online
There are several factors that buyers should consider before getting toner cartridges refilled online. These help buyers to have the best cartridge for their printing needs.
Model of Toner Cartridge
If the buyer purchases or is given an empty cartridge, they should first ensure that it is compatible with the device it is to be used with. Many toner cartridges are made specifically for a certain model of device. So, buyers should check the details of the printer, fax machine, or photocopier in order to acquire the manufacturer's part number. This number can be found in the device's user manual.
Quality of Toner
When getting toner cartridges refilled online, buyers should consider the quality of the toner. Toner sold by the device's manufacturer is said to be of high quality. On the other hand, buyers may choose to buy toner through a third-party company. This tends to be less costly. However, the quality of toner can vary significantly. Buyers can also purchase remanufactured toner cartridges. These have been refilled, often by the original manufacturer.
Colour of Toner
Some manufacturers offer refill kits that allow users to refill their own cartridges. Although this entails more work on the part of the user, it is often the most feasible option when replacing the toner. Whether getting the toner refilled online or doing it at home, buyers should consider the colour of toner.
Printers and copiers may be monochrome or colour. Colour printing uses a total of four colours. When blended, these four colours are able to produce a wide array of other colours. In general, each colour toner requires a separate cartridge. In addition to black (K), there is cyan (C), magenta (M), and yellow (Y). Black toner is the most common. When the magenta cartridge needs to be refilled, the printed text tends to have a green tint. When the yellow cartridge needs to be refilled, it has a purple tint, and when the cyan cartridge needs to be refilled, the image appears orange.
Maximum Page Yield
Many manufacturers provide a yield value for their toner cartridges. This value indicates the number of pages of text that can be printed before the toner runs out. Buyers should note that printing graphics and photos are likely to decrease the yield value and lead to more frequent replacement of the toner cartridge. To maximise the lifespan of the toner, buyers should search for cartridges that are labelled high yield.
Buying Toner Cartridges in Bulk
In order to cut costs and ensure the printer never runs out of toner, many people choose to buy toner cartridge refills in bulk. When taking this option, buyers should familiarise themselves with the proper method to store toner cartridges. In general, sealed toner cartridges last anywhere from one to two years. Whereas, opened packages typically last three to six months. If printing is an important part of a business, buyers should ensure that they have spare toner cartridges they can use while others are being refilled.
Toner Safety
Buyers should avoid using their printer with no toner as this can lead to serious damage. It can cause the printer heads to overheat and become destroyed or it can cause the nozzles to dry out, which can compromise the entire device.
Advantages of Refilling Toner Cartridges Online
When compared to ink, toner presents many advantages. In addition to printing higher quality images, toner offers higher levels of output because it prints text and images at a faster rate. Toner cartridges also last much longer. Refilling toner cartridges is a less costly alternative to purchasing new items. Doing it online means that you have a range of options of where to send the empty cartridge, which means that you can find the best price, wherever it is in the country. In addition, buyers are saving the earth's resources through refilling rather than disposing of the empty cartridge.
Disadvantages of Refilling Toner Cartridges
Toner cartridges tend to be more expensive than their ink counterparts. In addition, there tend to be associated warm-up time delays when printing since the machine must be warm enough to melt the toner. So, refilling with toner is more expensive than refilling with ink. There may be costs incurred when sending the toner cartridge to be refilled or having it collected. Check the details carefully when looking for an online company to refill the cartridge.
Ensure Long-Lasting Use of Toner Cartridges
When a toner cartridge is new, maintain it well so that the toner last for as long as possible. Buyers should avoid taking toner cartridges out of their original packaging until they are ready to be installed. This prevents the toner from drying out prematurely.
Removing Toner Cartridges
Buyers should take special precautions when removing the old toner cartridge from the machine. Some toner and drum units appear to be bundled together. However, buyers should note that the drum must be replaced in the machine so that it can be reused. It is important to handle toner cartridges with care. Buyers should wash their skin and clothes immediately if they come into contact with toner.
Reinstalling Refilled Toner Cartridges
Once the refilled toner cartridge has been removed from the packaging, buyers should shake it gently in order to loosen the toner power. This ensures that the toner is not compacted.
How to Buy Toner Cartridges and Refills on eBay
Buying toner cartridges and refills online offers buyers a wide variety of choice in any price range to meet any budget. Buyers can search for toner cartridges easily by using eBay's keyword facility. Buyers are free to type in any related keywords such as "refilled toner cartridges". This is likely to render a large number of listings. For more limited search results, buyers should type in more specific keywords, such as "HP refilled toner cartridges".
Alternatively, a buyer can use eBay's advanced search function. This allows users to limit their search by price or condition. Buyers can also limit results to items sold by Top-rated sellers. Top-rated sellers are recognised by the eBay community for their high levels of customer service. These sellers receive consistent positive feedback ratings that are left by past buyers.
Sellers must use standard terminology to describe the condition of their items, as outlined in eBay's guidelines, and each listing includes a brief definition of the item's condition in the Item Specifics section.
Conclusion
Buyers who own a laser printer, fax machine, or photocopier eventually need to replace or refill a toner cartridge. When originally purchasing toner cartridges, buyers should first ensure compatibility between the cartridge and the device. Buyers should also consider quality. OEM toner cartridges are considered to be of the highest quality, as they produce finer images. However, those on a budget should opt for compatible or third-party toner cartridges. These can often be found at the same great quality for a fraction of the price. As an alternative option to getting toner cartridges refilled online, buyers can purchase user-refillable cartridges that allow them to refill the cartridges themselves.
When getting toner cartridges refilled online, buyers should ensure that the correct colour of ink is used and that they add in any costs incurred when sending the cartridge away to be refilled. Refilling toner cartridges as opposed to purchasing new ones not only cuts costs, but also helps to save the earth's resources. eBay can help buyers to find the perfect printing accessories for their requirements.