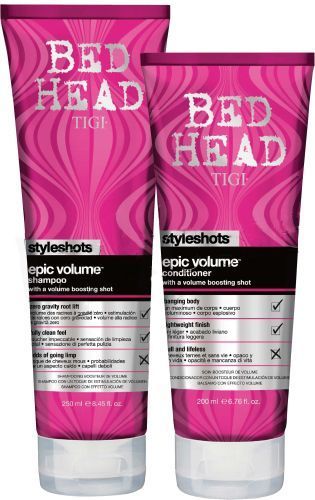 Getting volume into thin or fragile hair is a problem for people the world ove. However, there are a variety of hair care products and techniques available that can add extra lift and thickness to hair without any effort needed.
This guide will aid buyers in understanding the various ways in which they can add volume to their hair, along with the products used and how these can be found on eBay - the site with the widest online market available.
Buying Volumising Products
Buyers searching for volumising products on eBay should keep in the mind the various factors that will affect their choice, such as:
* Price - costs will vary from product to product, and choosing a budget before searching is an easy way to guide choices.
* Technique -different products will be required depending on the technique chosen, which will have an impact on costs.
* Condition - various products are available new or used, and the buyer should consider the condition they would prefer, as well as remembering that prices will vary depending on condition.
Products for Volumising Hair
There are many products on the market that offer various ways to add volume to hair, and with a range so wide in can be difficult for buyers to identify what would suit them and their hair. The main products used to gain volume are:
Shampoo and Conditioner - although a basic product, shampoos are often the most effective way to clean hair and add volume.
* Advantages: Quick and easy as well as cost-effective, this is the most popular way to attain more volume.
* Disadvantages: If hair is particularly thin or straight this may not be enough to gain a great deal of volume.
Hairdryer - the original way to dry hair, hairdryers are used with alternate hot and cold air to style and shape.
* Advantages: Hairdryers are widely available in a variety of makes and prices, and many come with attachments useful in adding body to hair.
* Disadvantages: Using hairdryers to attain volume can take practice, and the heat may damage and dry out hair.
Curling Iron - a round hot iron used to put curls and ringlets in hair.
* Advantages: An easy way to gain volume, as curls look naturally bigger and more voluminous than straight hair.
* Disadvantages: Curling irons can be costly, and using heat can remove vital moisture from hair, leaving it appearing lifeless.
Hot Brush - a combination of a curling iron and a round hairbrush, these hot brushes are used to dry and style hair simultaneously.
* Advantages: Much easier than juggling a hairdryer in one hand and a brush in the other, these are very simple to use.
* Disadvantages: Heat will dry out hair, and the large brushes used to attain volume may not be compatible with those who have short hair.
Styling - including mousses,gels and hairsprays, these products can be used not only to style and hold hair in position, but also add volume.
* Advantages: Most of these products are pocket-sized, so volume can be added while on the move, and they can add instant lift to hair.
* Disadvantages: These may not add as much volume to hair as other techniques.
Hair Rollers - whether traditionalrollers or heated rollers, these can be put in hair and dried or even worn overnight to achieve volume.
* Advantages: Rollers can be left to do the work, and heated rollers cut out the need for blow-drying.
* Disadvantages: Traditional rollers need time to work, and may not stay put in fine, delicate hair.
Volumising Spray - used in conjunction with blow-drying, these sprays are used at the roots to add volume.
* Advantages: Only a small amount is needed to take effect, and they are widely available.
* Disadvantages: These are only very effective when used with hairdryers, so they cannot be used independently.
Inserts - these inserts are shapes - often plastic or foam - that can be placed under hair to add volume.
* Advantages: Affordable and easy to use, these are a quick way of adding volume to hair without having to use heat or chemicals.
* Disadvantages: With fine hair the inserts might show, and the teeth used to keep them in place may pull out delicate hair.
Dye - hair dye does not add lift, however adding highlights or lowlights to hair is a great way to produce the impression of extra volume.
* Advantages: Kits can be bought to be used at home, saving on the expense of a salon trip
* Disadvantages: The strong chemicals used in hair dye weaken hair, so restorative treatments should be combined with dyeing to reduce damage.
Extensions - the simplest way to add more volume to hair is just to add more hair; real or synthetic extensions can be glued, woven or just clipped into hair.
* Advantages: Extensions are widely available in many price ranges and in many hair colours. Clip-in extensions can be done without assistance.
* Disadvantages: Extensions that must be glued or woven in require the skills of a professional and will be costly. Synthetic extensions are also vulnerable to heat, so they cannot be blow-dried or straightened/curled.
Many of these products can be used in conjunction with each other, and are often used to extract the maximum potential from hair. However, these products are only the beginning of attaining volume, and there are also techniques used with products to gain extra volume.
Techniques for Adding Volume to Hair
There are many techniques that can be used to add body and volume to hair, and they can vary in complexity and time required. The main techniques favoured by many include:
* Shampoo/Conditioner - the most basic way to add volume, and for many it is the start of their hair care regime. Chemicals in the shampoo and condition add thickness to hair follicles, but the most basic effect is that clean hair is lighter, and therefore has more bounce.
* Backcombing - also known as teasing, this technique forces volume into hair by forcing it to bunch up. Dedicated backcombing brushes are available, and hairspray can be used to clean the hairstyle in place.
* Blow-drying - a simple and effective way to add volume, a hairdryer and brush are used from the roots outward to create lift.
* Curling - using curling irons or rollers is a way to create the impression of lift as curls and waves look naturally bigger. Wide curling irons or rollers are used to create large curls and hairspray is used to maintain the look, as curls will naturally drop after time.
Whichever technique a buyer opts for is their decision, but they should keep in mind the various effects these techniques may have on hair. When using heat, it is advised that heat protection serums or creams should be used to minimise any damage.
Buying Volume Products on eBay
Whichever technique the buyer settles on they can be reassured that there is a huge range for them to choose from on eBay. Buying on eBay is perfect way to find the ideal product with easily customisable search preferences and options and the many helpful and well-informed sellers. When searching for volumising products, buyers should keep in mind:
* Product - there are many products that add volume available, and the buyer should make their choice depending on what would suit their hair and their lifestyle.
* Technique - technique is an important decision, as the different ways of adding volume require different products, prices and time commitments.
* Price - prices are dependent on the type of product being sold as well as the technique used. Searches can be adjusted to meet the budget of the buyer through the search preferences bar, and there is something for every price range. There is a wide range of products available for an Auction or a Buy It Now purchase, allowing for flexibility while buying.
* Condition - condition is a big factor in the final cost of an item, and with products available bothnew and used buyers should consider which they would prefer.
* Local Sellers - buying items from local sellers is a good way to keep costs down, especially with many items - e.g. a heated roller set - being large and therefore expensive to ship.
If in need of more advice on how to search eBay, buyers should make sure to consult eBay's Search Tips page for even more advice on how to get the search result they need. If buyers have any questions about any of the products they see advertised or are in need of more information, they should not hesitate to ask the seller.
Conclusion
Choosing the product that will produce the ideal amount of volume can be difficult, especially with the variety of products and techniques catering to that desire. With this guide buyers will be able to identify the technique they would prefer and select the products to achieve it, and understand the results they get.
When searching for products on eBay, buyers should always keep in mind the security benefits they will get by buying products usingPayPal, eBay's most advised way to purchase extra eBay Buyer Protection.